Holiday Entertaining Tips & Recipes: Main Dishes
November 14, 2012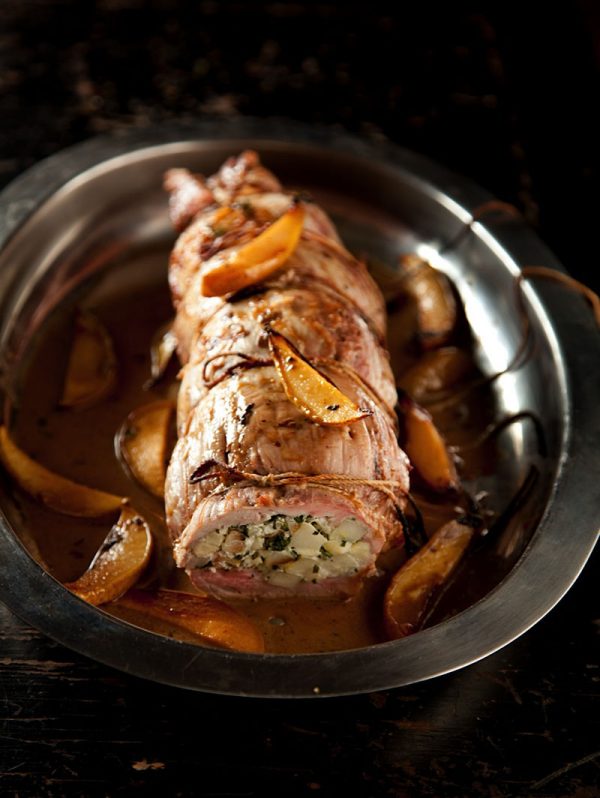 GOAT STUFFED PIG (WITH PEAR PAN GRAVY)
Many people supplement their holiday turkey dinners with a piece of pork and this is where Libbie Summers comes in with her Goat Stuffed Pig recipe. Knowing Libbie like we do, we are not surprised by the ease of this recipe, nor her attitude towards adding it to your holiday table.
"Fast and impressive–the attributes found in my favorite cars, lovers and recipes. This one is no exception."
—Libbie Summers, Author of The Whole Hog Cookbook.

Ingredients:
1 (2 pound) pork tenderloin
kosher salt and freshly ground pepper
2 ripe pears, peeled and diced
1/2 cup chopped dried pears
2 garlic cloves, minced
4 ounces goat cheese, room temperature
1/2 cup chopped flat leaf parsley
1/4 cup pecans, toasted and chopped
2 firm pears, thickly sliced (skin on)
1 1/2 cups pork stock, divided (can substitute chicken stock)
1/4 cup pear brandy (can substitute apple brandy)
1 cup apple cider
1/4 cup heavy cream
1/2 teaspoon fresh thyme, minced
2 tablespoons butter
Directions:
Preheat oven to 400º F.
To butterfly tenderloin, use a sharp knife and make a cut (lengthwise) down the center of the pork tenderloin to within 1/2 inch of the bottom. Open the cut meat and lay flat between two pieces of plastic wrap.
Pound the meat until it is of even thickness. Remove top sheet of plastic wrap. Lightly salt and pepper uncovered side of tenderloin.
In a small mixing bowl, stir together diced ripe pears, dried pears, garlic, goat cheese, parsley and pecans. Spread mixture over the top of the butterflied roast to within 1″ of the edges. Roll up log side, removing plastic wrap. Tie with butcher's twine every 2 inches to secure. Salt and pepper lightly.
Place tenderloin in a shallow roasting pan along with sliced pears and 1/2 cup pork stock. Roast until internal temperature reaches 155º F (approximately 12 to 18 minutes).
Remove from oven and allow tenderloin to rest on a cutting board for 10 minutes before removing butcher's twine and slicing into thick slices. Serve warm with Pear Pan Gravy.
Makes 6 servings.
For Pear Pan Gravy:
With a slotted spoon, transfer the pears in the roasting pan to a bowl and keep warm. Pour off any fat from the roasting pan, leaving the meat juices on the bottom. Put pan over medium-high heat, add apple brandy and deglaze pan allowing the alcohol to burn off and being sure to scrape up all the brown bits on the bottom of the pan (approximately 1 minute) . Transfer mixture to a medium saucepan. Whisk in remaining stock, apple cider and thyme. Increase heat to high and bring liquid to a boil. Reduce heat and simmer, stirring occasionally, until reduced by half. Stir in cream and simmer for another 5 minutes. Salt and pepper to taste. Remove from heat and stir in butter and pears. Serve warm, poured over Goat Stuffed Pig. Makes 2 cups.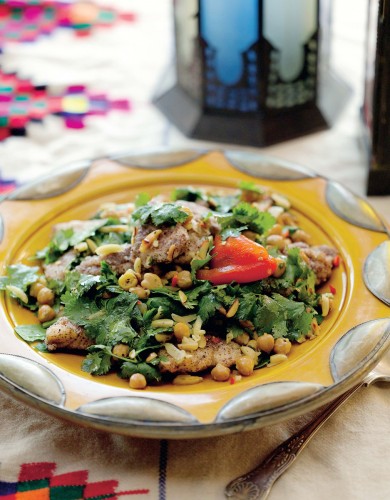 SUMAC AND ZA'ATAR ENCRUSTED SNAPPER WITH ROASTED CHICKPEA SALAD
"Using traditional Moroccan herbs and spices this succulent fish dish with chickpeas will add an exotic flavor to your holiday table. Traditionally chickpeas can be served for the Jewish new year, their circular shape signifying the cyclical nature of life and the wish for an abundant, well rounded new year."
-Gaye Weeden and Hayley Smorgon, authors of Cooking from the Heart
Ingredients:
2 eggs
4 snapper fillets, each cut into 4 pieces
150 g potato flour
1/3 cup za'atar
1/3 cup sumac
1 cup vegetable oil
Coriander, to garnish
Lemon zest strip, to garnish
Roasted chickpea salad:
400 g can organic chickpeas, drained
1 tablespoon olive oil
2 bunches coriander, roughly chopped
1 cup pine nuts, lightly toasted
Dressing:
3 garlic cloves, finely chopped
2 red chilies, finely chopped
Juice of 2 lemons
3 tablespoons olive oil
Directions:
Preheat over to 180C (Gas 4)
In a bowl, whisk the eggs lightly with some sea salt and freshly ground black pepper, then add the fish and gently mix to coat. Let it sit for a few minutes.
Mix the flour, za'atar and sumac in a bowl, then gently mix the fish pieces around in the mixture, completely coating them. Set the fish aside ion a tray for frying just before serving.
To make the chickpea salad, spread the chickpeas on a baking tray, drizzle with the oil and toss to coat. Roast for 8 minutes, then leave to cool for a few minutes. Gently toss them in a bowl with the coriander and pine nuts. Combine the dressing ingredients in a small bowl and season with sea salt and freshly ground black pepper, then pour the dressing over the salad.
Heat half the oil in a heavy-based frying pan (preferably cast-iron) over high heat. Fry half the fish until golden, about 1 minute on each side. Drain the cooked fish on paper towel. Heat the remaining oil, fry the remaining fish and drain on paper towel.
Spread the chickpea salad on a wide, shallow serving platter and scatter the snapper pieces on top. Garnish with coriander and lemon zest and serve.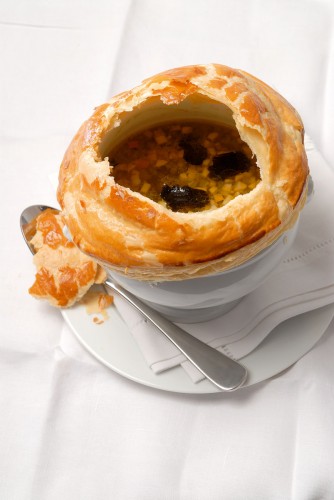 ELYSÉE TRUFFLE SOUP (Soupe aux truffes Elysée)
"This truffle soup was originally created for former French president Valéry Giscard d'Estaing and his wife, and served at a sumptuous dinner for the finest French cooks. This soup is prepared with fine, rich ingredients-the perfect way to celebrate and savor the holidays!"
—Paul Bocuse, author of Paul Bocuse: The Complete Recipes
Individual servings (quantites can be multiplied for additional servings)
Preparation time: 20 minutes
Cooking time: 40 minutes
Ingredients:
2 tablespoons of finely diced mixed carrots, onions, celery, and mushrooms in equal proportions
Butter for sautéing
2 oz. (50 g) fresh raw truffles
⅔ oz. (20 g) foie gras
1 cup (250 ml) chicken stock
2 ½ oz. (60 g) puff pastry
1 egg yolk
Equipment:
a ramekin or small ovenproof soup dish, such as one you would use for a single portion of soup
Directions:
Preheat the oven to 425°F (220°C).
Sauté the diced vegetables gently in butter.
Slice the truffle irregularly and cut the foie gras into differently sized pieces.
Place the sautéed vegetables in a soup bowl together with the truffle slices, pieces of foie gras, and the chicken stock.
Roll out the puff pastry very thinly and brush it with egg yolk.
Fit it snugly over the soup bowl so that the contents are airtight.
Place the soup bowl in the oven. It will cook fairly quickly. The puff pastry will rise and turn a lovely golden color when it is done.
Tip: To enjoy this soup, break the puff pastry with a spoon so that the crumbs fall into the bowl.