Holiday Entertaining Tips & Recipes: Appetizers
November 14, 2012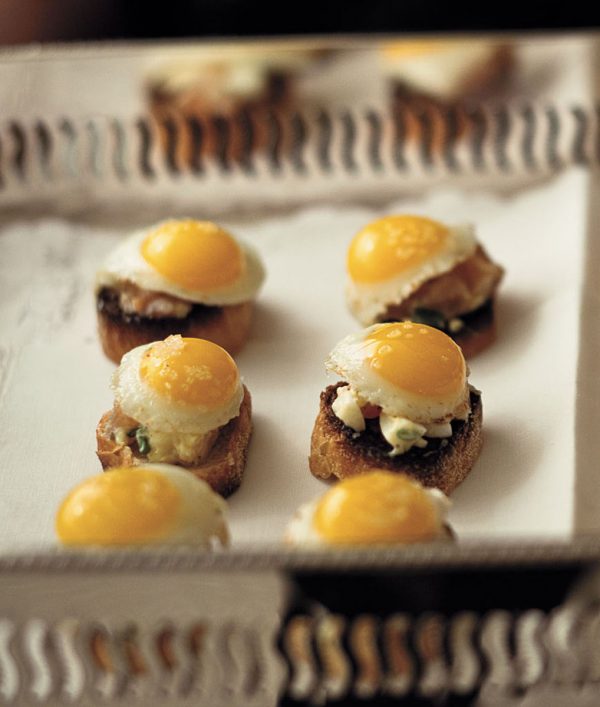 SWEDISH GRAVLAX SALAD ON TOAST
"I love Swedish Gravlax Salad on Toast for a holiday gathering! It goes perfectly with champagne, and what could be more festive for the holidays than a little bubbly! Warning, expect guests to linger right at your elbow if you are making these yourself, or stalking the caterer if you have them for a larger group! Sometimes the trays of these get accosted before the poor server steps a foot past the kitchen threshold!"
-Danielle Rollins, author of Soiree: Entertaining with Style
Gravlax is a Swedish-style raw salmon cured in sugar and salt. You can find it at gourmet food shops or online.
Ingredients:
3 large eggs
1 pound Swedish gravlax, chopped
1 cup mayonnaise
6 tablespoons freshly squeezed lemon juice (about 2 lemons)
1 tablespoon chopped fresh dill
Maldon salt and freshly ground black pepper
1 baguette
1 cup extra-virgin olive oil
1 tablespoon unsalted butter
8 to 10 fresh quail eggs
1. Place regular eggs in a medium pot and add enough cold water to cover. Turn heat to high and when water comes to a boil, turn off heat, cover the pot, and let the eggs sit 12 minutes. Remove eggs and shock in an ice bath. Peel eggs, rinsing gently to remove their shells, then chop very finely and put in a large mixing bowl. Add gravlax, mayonnaise, lemon juice, dill, and Maldon salt and pepper to taste. Mix gently. Refrigerate the salad while making toasts or until ready to serve.
2. Preheat oven to 375°F. Cut baguette into 1⁄8-inch slices, approximately 30 slices. Place slices on a baking sheet and brush with oil then sprinkle with salt. Toast until just crisp and golden, about 8 minutes per side.
3. To serve, gently heat butter and about 1 teaspoon of oil over low heat in a nonstick pan. When butter begins to sizzle, turn off heat and crack quail eggs carefully into the pan to barely cook sunny side up just until the whites are set but the yolk remains uncooked. Repeat as necessary to cook all eggs. Divide the gravlax salad evenly on the pieces of toast; garnish each with a fried quail egg, and serve immediately.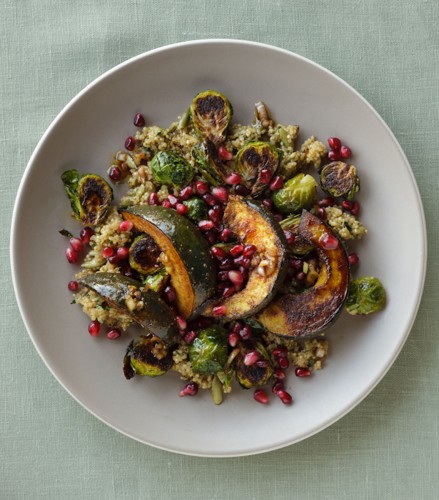 ROASTED ACORN SQUASH AND BRUSSELS SPROUT SALAD WITH QUINOA, PEPITAS, AND POMEGRANATES
This salad blends my fall-produce favorites with protein-packed quinoa. Quinoa is an ancient grain that is native to South America. It comes in golden, red and black varieties, with the golden variety being the most readily available and delicately flavored. You can purchase quinoa, along with the Pepitas (hulled, toasted pumpkin seeds) at a natural foods store. Pomegranate molasses adds a robust sweet-tart flavor to the vinaigrette—find it at Middle Easter markets such as Vartan's on Washington or from an on-line purveyor. It's not necessary to peel the acorn squash, as the skin is edible.
-Jeanne Kelley, author of Salad for Dinner
Ingredients:
Vinaigrette
¼ cup minced shallot
3 tablespoons extra virgin olive oil
1½ tablespoons apple cider vinegar
1½ tablespoons pomegranate molasses
2 garlic cloves, pressed
½ teaspoon kosher salt
Salad
2 cups vegetable broth
1 cup quinoa
1 pound Brussels sprouts, cut in half
3 tablespoons extra virgin olive oil, divided
1 (1- to 11/4-pound) acorn squash, cut into 16 wedges
1 teaspoon ground coriander
½ teaspoon ground allspice
1/2 teaspoon paprika
½ teaspoon kosher salt
½ cup pepitas, toasted
1 cup (about) pomegranate seeds, from 1 pomegranate or 1 (5.3-ounce) package
For the vinaigrette:
Whisk the shallot, oil, vinegar, pomegranate molasses, garlic, and salt to blend in a small bowl.
For the salad:
Bring the broth and the quinoa to a boil over medium-high heat; reduce the heat and simmer until the liquid is reduced by half, about 10 minutes. Reduce the heat to low,  and cover and cook until the quinoa is tender and the liquid is absorbed, about 10 minutes. Remove the quinoa from the heat and set aside.
Position one rack in the lower third and one rack in the upper third of the oven and preheat to 450ºF. Brush 2 heavy large baking sheets with olive oil. Toss the Brussels sprouts with 2 tablespoons olive oil in a medium bowl. Arrange the Brussels sprouts, cut-side down, on one prepared baking sheet. Toss the squash with the remaining 1 tablespoon olive oil, coriander, allspice, paprika and ½ teaspoon kosher salt in the same medium bowl. Arrange the squash in a single layer on the second prepared baking sheet. Roast the Brussels sprouts on the bottom rack and the squash on the top rack of the oven until the Brussels sprouts are well browned on the bottom and tender when pierced with a sharp knife and the squash is tender, about 15 minutes.
Stir the Italian parsley, toasted pepitas, and 2 tablespoons of the vinaigrette into the quinoa. Divide the quinoa among 4 plates.
Return the Brussels sprouts to the same medium bowl and toss with 1 tablespoon vinaigrette. Spoon the Brussels sprouts over the quinoa, dividing evenly. Divide the squash wedges among the plates. Sprinkle the salads with the pomegranate seeds, drizzle with the remaining dressing, and serve.
Makes 4 servings.