The Rizzoli Holiday Cooking Guide
November 8, 2018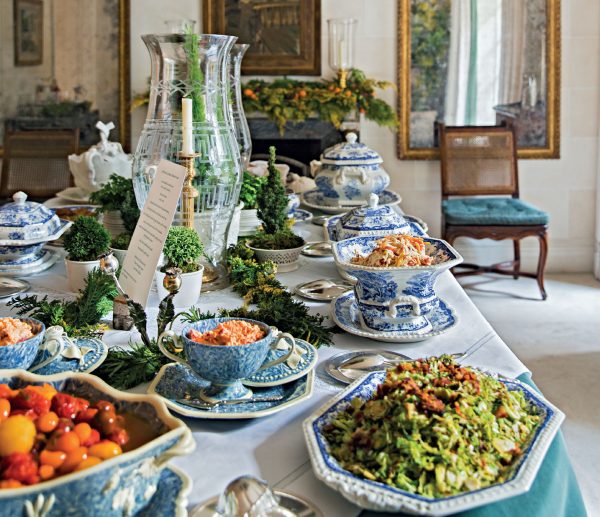 Whether coordinating a Thanksgiving dinner, hosting a Christmas celebration, or lighting the Hanukkah menorah, our menu planner and entertaining tips are the perfect mix of food, drink, and holiday cheer.
---
THE STYLISH HOLIDAY TABLE
---
Renowned and beloved interior designer and tastemaker Charlotte Moss shares how she personalizes her table with beautiful table linens (including how to fold them) and how using place cards shows you made the extra effort to thoughtfully consider the best seat for each guest.
---
COCKTAILS
---
Mezcal Mule
A smoky twist on the classic Moscow Mule, which ditches the vodka for mezcal and ginger beer.
Champagne Cocktails
From American Bar, the classic bar guide that launched a generation of cocktail lovers.
Wine Pairings
A simple guide to pairing wines with every dish on your menu.
---
STARTERS
---
Grilled Eggplant Spread
A modern take on the smoky, tangy, and velvety spread, inspired by the traditional Greek recipe.
Red Kuri Squash Soup
A silky autumnal bisque filled with magical condiments that add instant acidity, heat, and umami.
Spinach-and-Feta Phyllo Triangles
Chef Pano Karatassos's take on traditional spanakopita—always the first to go at his family gatherings.
Seared Octopus
A favorite of the paladares of Cuba, updated by two-time James Beard Award-winning chef Guillermo Pernot.
Falldorf Salad
Faithful to its name, this salad delivers on autumnal colors and is perfect for passing around the Thanksgiving table.
Baked Ricotta
A creamy, indulgent, crowd-pleasing cheese spread that's perfect on vegetables, crusty bread, and crackers alike.
---
MAIN COURSE
---
Lamb Guard of Honor
Created by chef Tommy Banks to celebrate Wimbledon, the lamb is trimmed to represent the Guard of Honor received after victory.
Christmas Duckling and Roast Turkey with Parsnip Stuffing
Two classic signature dishes from beloved TV chef Graham Kerr's The Galloping Gourmet.
Argentine Beef Shepherd's Pie
A combination of Argentine flavors and those of the Welsh immigrants that settled in Argentina during the 1860s.
Roast Stuffed Pork with Apples
A mouth-watering roast that is always welcome at the holiday table.
Shell-baked Scallops
Cooked simply in its shell, the combination of succulent scallop with astringent spruce tips and creamy celeriac brings the whole dish together perfectly.
Eggplant Parmigiana
This recipe is not only delicious but is a flavorful classic Italian dish that is perfect for your vegetarian guests.
Duck Rigatoni
A rich, full-flavored traditional Venetian recipe is one you'll tend to make for every occasion.
Osteria Fish Stew
A dish you find along the entire coast of the Adriatic Sea—perfect for the traditional Italian-American "Feast of Seven Fishes".
---
SIDE DISHES
---
Roasted Squash with Toasted Seeds and Sage
All you need to do is soften them and highlight their natural flavor with herbs and condiments, and nature takes care of the rest.
Braised Grenaille Potatoes
World-renowned chef Alain Ducasse's flavorful herb-butter potatoes cooked in a cocotte (a covered, heatproof dish also known as a casserole or Dutch oven).
Sauteéd Porcini
This recipe brings together the meaty texture and heady, earthy fragrance of Porcini mushrooms with the flavors of garlic, herbs, butter, and white wine.
---
DESSERT
---
Raspberry Tartlet
Bringing together the perfect balance of tangy and sweet, these tartlets are are almost too pretty to eat.
Apple Pie
A take on the comforting, universally liked pie with a dough that is not brushed with the traditional egg wash, allowing its crumbly texture shine through.
Rum Savarin
Savarin au rhum—a yeast cake moistened with a syrup—is like a large rum baba, a French classic from the Lorraine region.
Black Forest Cake
This classic found in most pastelerías (pastry shops) in Argentina is a result of the large wave of German immigration to Argentina dating back to the 1870s.
Chocolate Soufflé
Dark and intense in flavor, yet with a light texture, these individual-serving chocolate souffles are pure chocolaty decadence.
Hot chocolate with Churros
Perfect for kids, who will love the novelty of dunking this much-loved Argentine classic into their hot chocolate.
---
BRUNCH
---
Bacon Hash
A twist on traditional corned beef hash that substitutes in the savory flavor of bacon.
French Toast with Apples
Apples and a warm cider butter—made with hard apple cider and apple brandy—top off this classic comfort food.
Whitefish Salad
A staple in many Jewish kitchens. Although often served on a bagel, it can go on everything from challah to crudités.