HOLIDAY RECIPES: An Inspiring Menu for Your Holiday Celebrations
November 12, 2021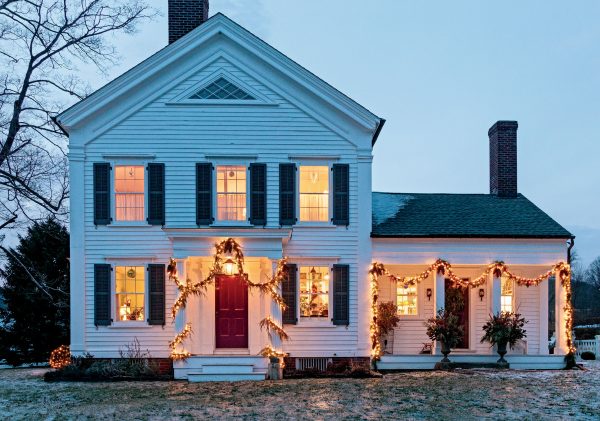 With life easing back to normal, this year's holidays mean more than ever. With a return to larger family gatherings, we can finally come together again and revel in the holiday spirit with our loved ones.
To help you create a decadent spread for these joyous celebrations, we present the following recipes for delicious Main Course, Appetizer & Side, Dessert, and Brunch dishes.
We thank you, as always, for your continued support.
---
THE MAIN COURSE
---
Cocoa-Crusted Rack of Lamb
"This technique for smoking lamb creates, in my opinion, the best-tasting barbecue you will ever have…It is perfect for an elegant dinner entrée or a cocktail party. Don't take my word for it: I have won many accolades and awards with this recipe."
---
Roasted Pork Cutlet and Prunes
Pork and prunes are a classic combination for good reason. Family and guests will really enjoy the tender cutlets with the honey-like sweetness and subtle hint of berry that figs provide.
---
Vegan Roasted Turkey
A plant-based alternative to a holiday tradition, vegan turkey is easier to make than you may think and is the perfect excuse to make some killer sides to go with this plant-based centerpiece.
---
Wild Mushroom Lasagne
The meatiness of mushrooms is an excellent alternative to meat, but there is no need to pretend they are meat, they are a compelling ingredient in their own right! *Vegetarian option
---
Confit of Duck
Duck Confit is an adored, age-old French preparation for duck. CalledConfit de Canard in French, duck legs are slow-cooked in duck fat until the meat is meltingly tender, then the skin crisped to golden perfection.
---
Pot Roast and Pasta Sauce
In this classic recipe, a chuck roast is slow-cooked in aromatics and wine until tender. The resulting sauce is filled with a deep, rich Italian flavor that is used to dress ravioli or other pasta dishes. The roast is then sliced thin and served as a second course.
---
APPETIZERS & SIDES
---
Southern Cheese and Charcuterie Platter
Putting together a successful charcuterie and cheese platter takes minimal effort with splendid results. The key is not stressing about exactly what you choose to showcase.
---
Poached Oysters with Hollandaise and Caviar
These poached oysters topped with creamy hollandaise sauce and caviar make for a perfect warm canapé or appetizer.
---
Fried Calamari with Spicy Aïoli
There's a reason fried calamari is such a popular dish—it can be delicious when done right. The flavor of squid meat is pretty neutral, meaning it marries easily with many other flavors.
---
Saffron Corn Soup
This recipe takes the traditional Pennsylvania Dutch soup a few steps farther by blending the freshness of sweet corn, fall harvest vegetables, and the rich flavor of saffon into a farmhouse soup. It is the perfect starter soup for Thanksgiving, or the local Pennsylvania Dutch equivalent called Harvest Home.
---
Fried Pumpkin Ravioli
A slightly sweet pumpkin and cheese filling is encased in a wine-spiked dough and fried until crisp, golden, and irresistible. Remember to get a head start on this recipe; the shaped ravioli need to dry out at room temperature for a couple of hours before frying.
---
White and Greens Pizza
For an unexpected but not too filling appetizer, why not serve the salad course on a pizza? You can use almost any combination of crisp, spicy greens that you like.
---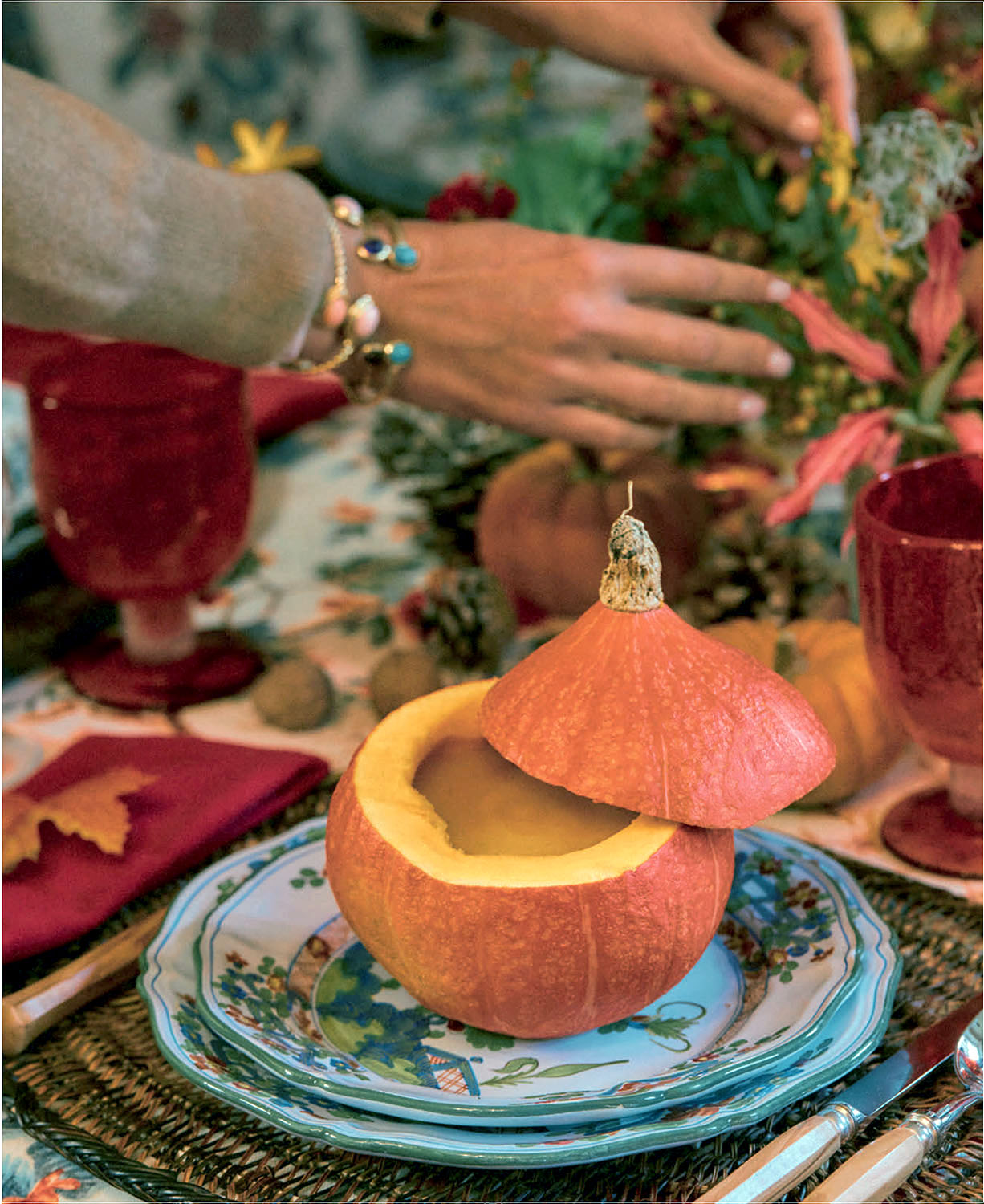 Red Kuri Squash and Red Lentil Soup
Red lentils and hearty squash are transformed into a smooth fragrant soup. If you're looking to add Fall colors to your menu, look no further.
---
Honeyed Winter Salad
Using the vegetables of the season, this salad combines the sweetness of honey with the spiciness of Dijon mustard, all mixed together with warm ciabatta bread.
---
Asparagus Prosciutto Wraps
Prosciutto-wrapped asparagus, roasted in the oven until crisp, is an easy way to present an elegant appetizer or side dish.
---
Stuffed Vegetables
Ripieni di verdura are yet another prime example of the endless Ligurian flair for stuffed foods. In this popular version, dried porcini mushrooms provide the umami, but you could easily substitute them with other dried mushrooms if necessary.
---
Smashed Potatoes
Cooked potatoes are roughly smashed into onion that has been cooked slowly in plenty of olive oil. It is a bit like a vegan version of mashed potatoes. Don't be alarmed by the amount of olive oil that is used, as olive oil is extremely good for you. It is a deceptively simple dish, but very, very good.
---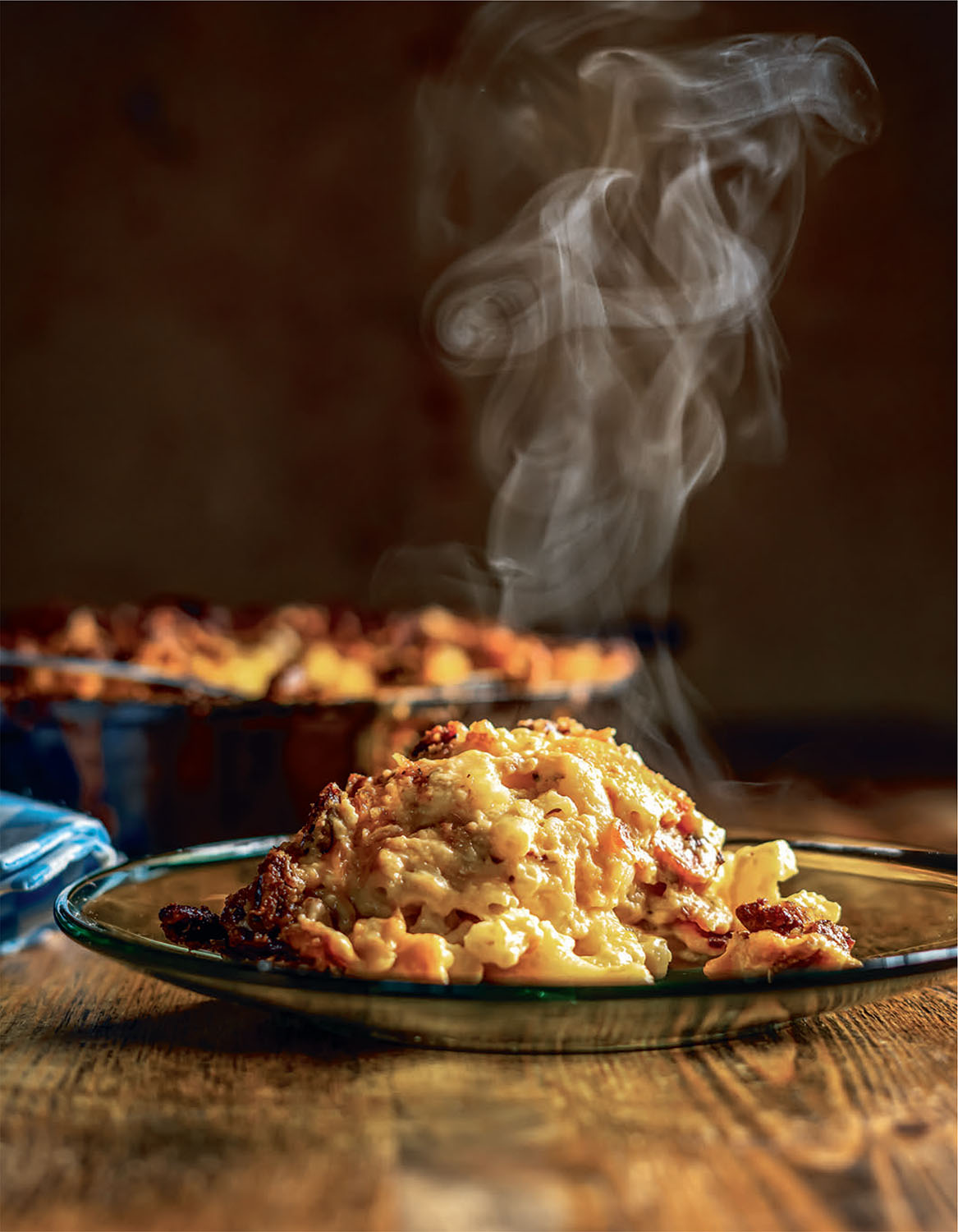 Bacon-Praline Macaroni and Cheese
Originally considered a refined dish with roots in Italy, France, and England, macaroni and cheese gained in popularity and became more of a comfort food for the masses. This updated version of the historic dish is great for serving groups and can be made days in advance.
---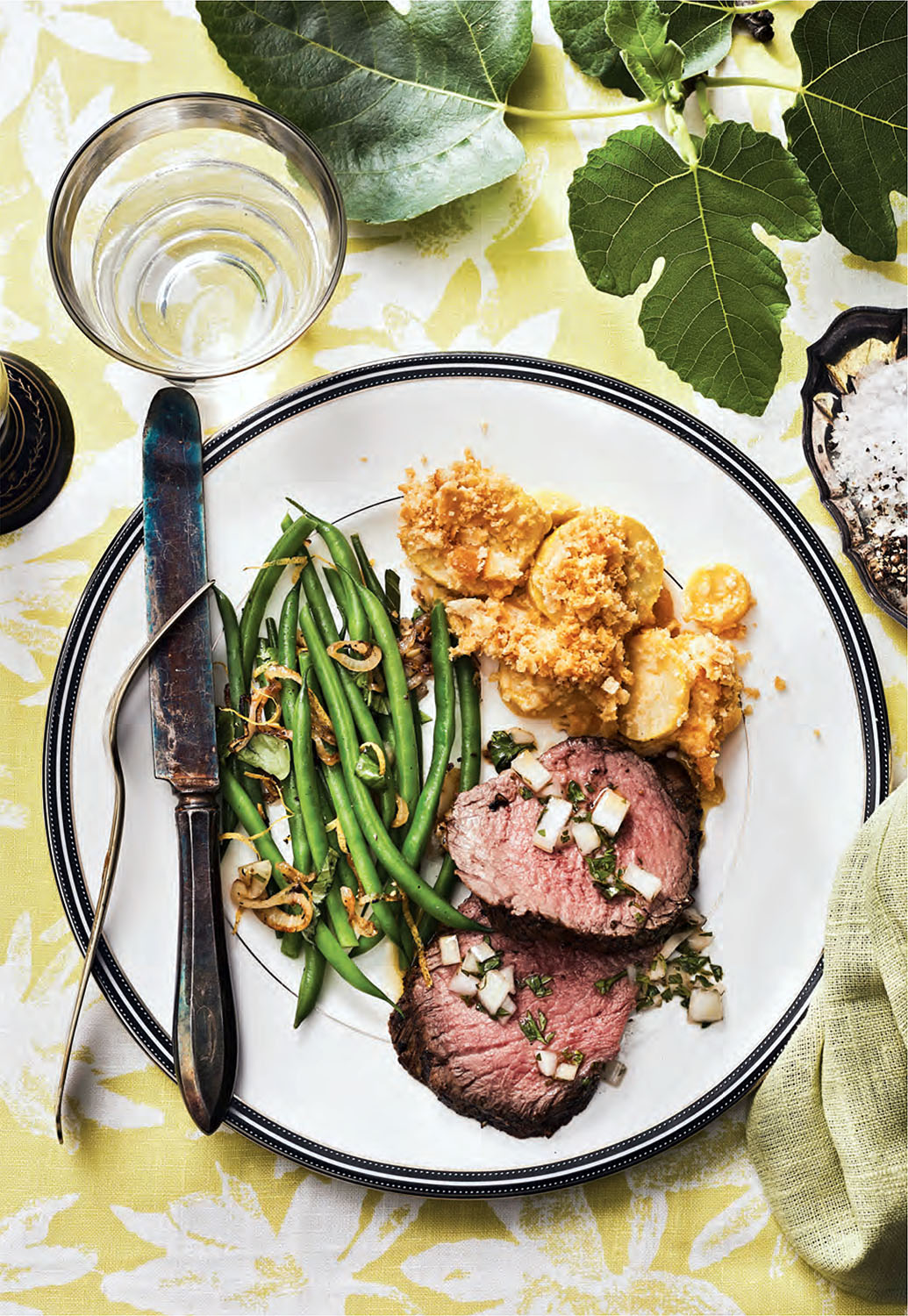 Squash Casserole
"If you haven't had the South's most comforting of casseroles, now is your time. Squash casseroles can be dressed up with anything from saltines to French fried onions to homemade breadcrumbs. My go-to recipe is the version from my childhood: a cheesy Southern classic that's covered in Ritz crackers. It would be sinful to skip the crackers and butter on top."
---
Vietnamese-style Sautéed Artichokes
This side dish combines the traditions of Vietnamese cooking: a balance of textures and flavors that are known to be fresh and light, with the versatile fish sauce known as nuoc mam making an appearance.
---
Genoa's Christmas Cake
Pandolce is to Genoa what the now-famous panettone is to Milan. This compact, fruit- and nut-filled Christmas cake is obligatory in Liguria during the holiday season. Steeped in history, folklore, and tradition, pandolce is adorned with a sprig of bay leaves to symbolize Christmas.
---
Slow-Cooker Apple Crisp
Having a warm dessert ready in a slow cooker is such a gift to anyone who entertains. Thanks to cinnamon and maple syrup bubbling away, your house smells heavenly when guests arrive.
---
Whisky Babas with Chantilly Cream
"After testing this recipe with different alcohols while we were filming the series, I concluded that I liked whisky best (but I already knew that). I also discovered, thanks to Jade, that gin works well, too. As for Tom, he had a soft spot for tequila. Let your own personal tastes guide you when choosing the right liquor for your babas."
---
Chocolate Buttermilk Pie
Although this pie's roots are in the United Kingdom, it is considered a traditional pie of the South. It is mildly sweet with deep chocolate flavor, smooth, and custardy, with a great tang from the buttermilk.
---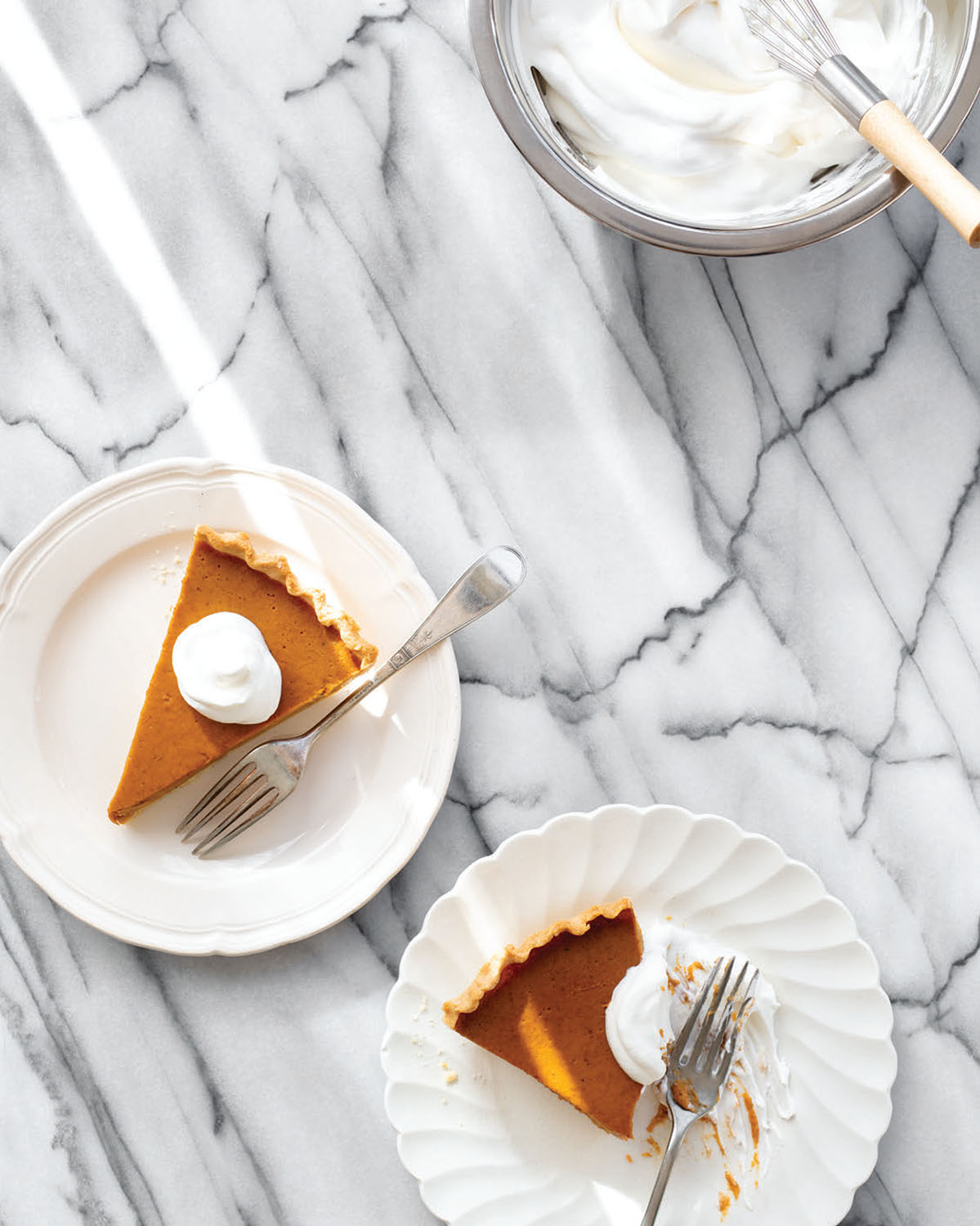 Buttermilk Pumpkin Pie
"I love the tanginess of the buttermilk which makes the filling light and smooth without being overly thick and heavy as many pumpkin pie fillings can be. I also enjoy the sultry blend of spices, which I think is just perfect." *Gluten-free option
---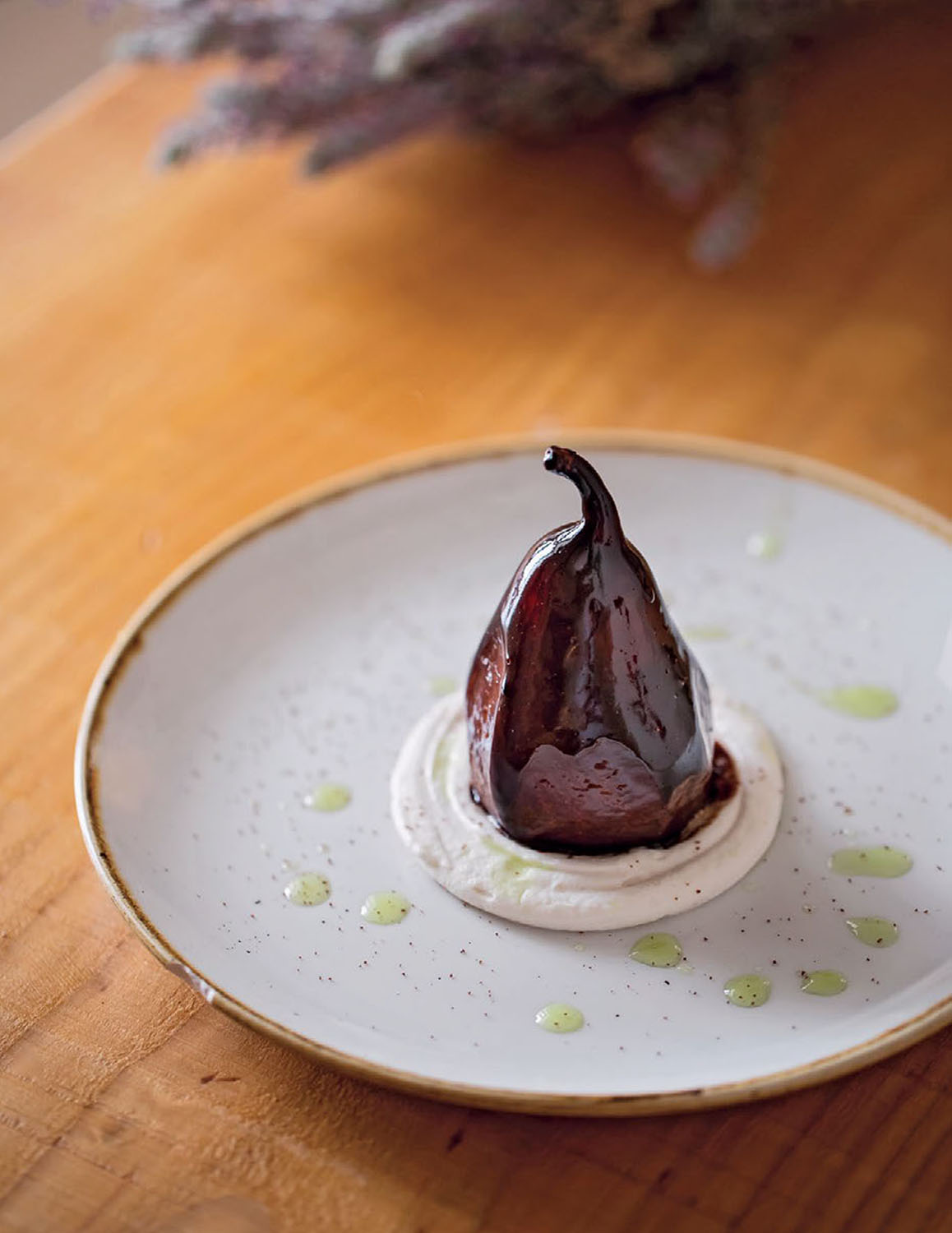 Poached Pears in Carob Chocolate with Minted Milk Cream
Poached pears are the perfect holiday dessert, thanks to their delicious taste and incredibly elegant look. In this recipe, the Montaruli brothers of Italy updated this well-know dish by combining quintessentially Italian flavor with a contemporary approach.
---
Créme Caramel
This traditional French dessert looks difficult to make but is deceptively easy, leaving all your time to impress your guests. It's luscious, creamy, sweet, and has a strong delightful caramel flavor.
---
Roasted Hazelnut Soufflé with Chocolate Sauce
"I want to reassure you that a soufflé is not scary. Think of it simply as a thickened base, here a crème patisserie, with a simple French meringue folded through it. Not that difficult, see? The rise on this is a thing of beauty and it is like eating a fluffy Ferrero Rocher, a true crowd-pleaser."
---
---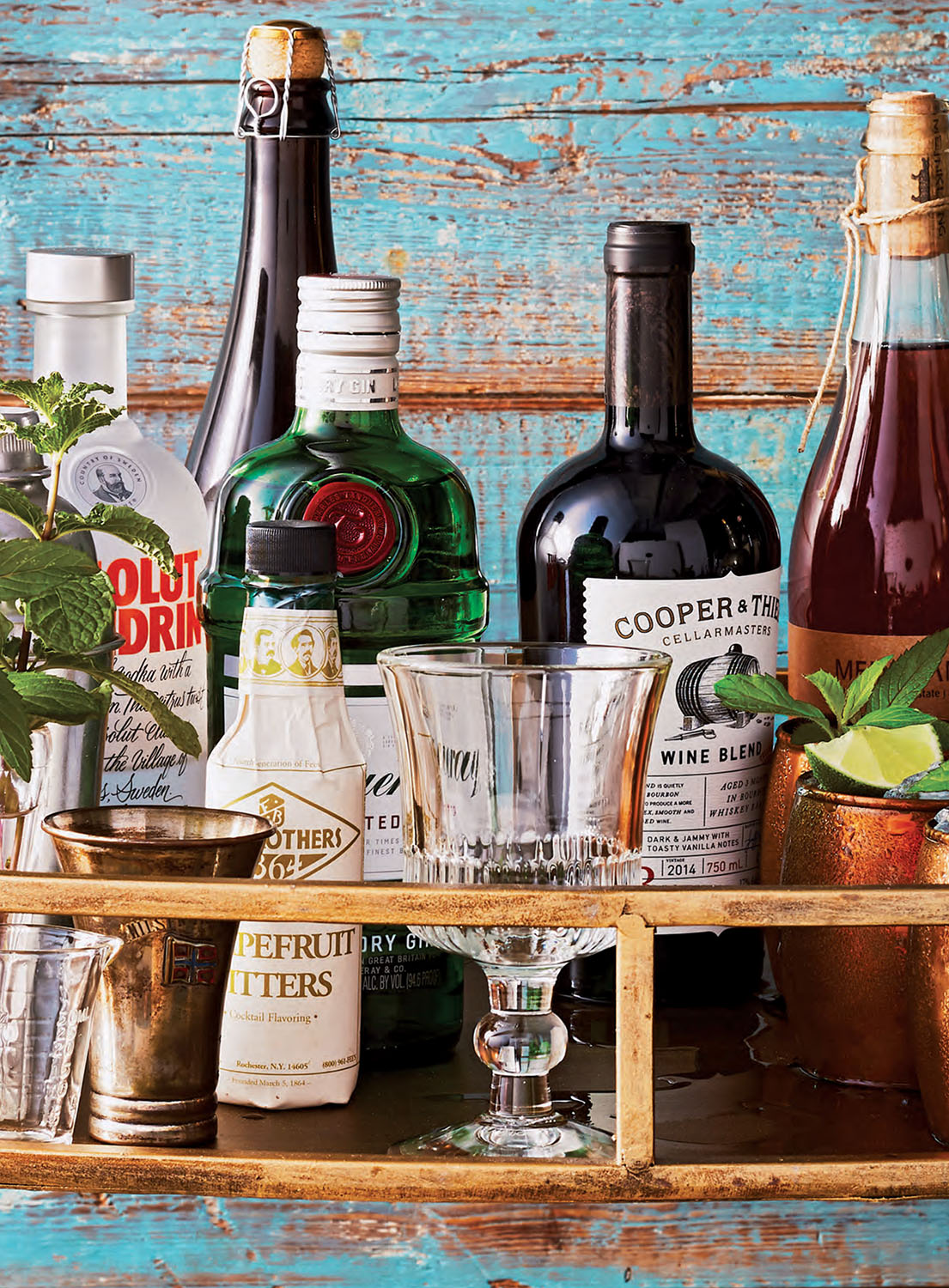 Think of starting your first bar as a collection that takes a while, sometimes years, to acquire as much variety as you want. Luckily, even the ones you purchase first will last a long, long time.
---
BRUNCH
---
Corn Pancakes with Smoked Salmon, Caviar, and Chive Crème Fraîche
"I love this combination of flavors—the simple corn cakes get amped up with silky slices of smoked salmon and a kick of salt from the caviar. If you don't have fresh corn, you can substitute sliced scallions. I prefer to serve the pancakes a little warm. You can also serve them with Smoked Salmon Pâté."
---
Pumpkin Walnut Bread with Cream Cheese Icing
"We make this pumpkin bread every fall in the cafés and I look forward to it with great anticipation! I love the fall flavors, and this recipe has all of those warm spices, plus crunchy nuts and my absolute-favorite cream cheese icing." *Gluten-free option
---
Field Mushroom, Roast Vegetable, and Gruyère Quiche
An outstanding quiche relies on a few simple elements: a creamy egg custard, buttery homemade crust, and flavorful cheese and vegetables. Roasting the vegetables before using them in the quiche really brings out all the sweetness and flavors. Baking the crust and roasting the veggies can be done a day ahead, making the prep on the day of a snap.
---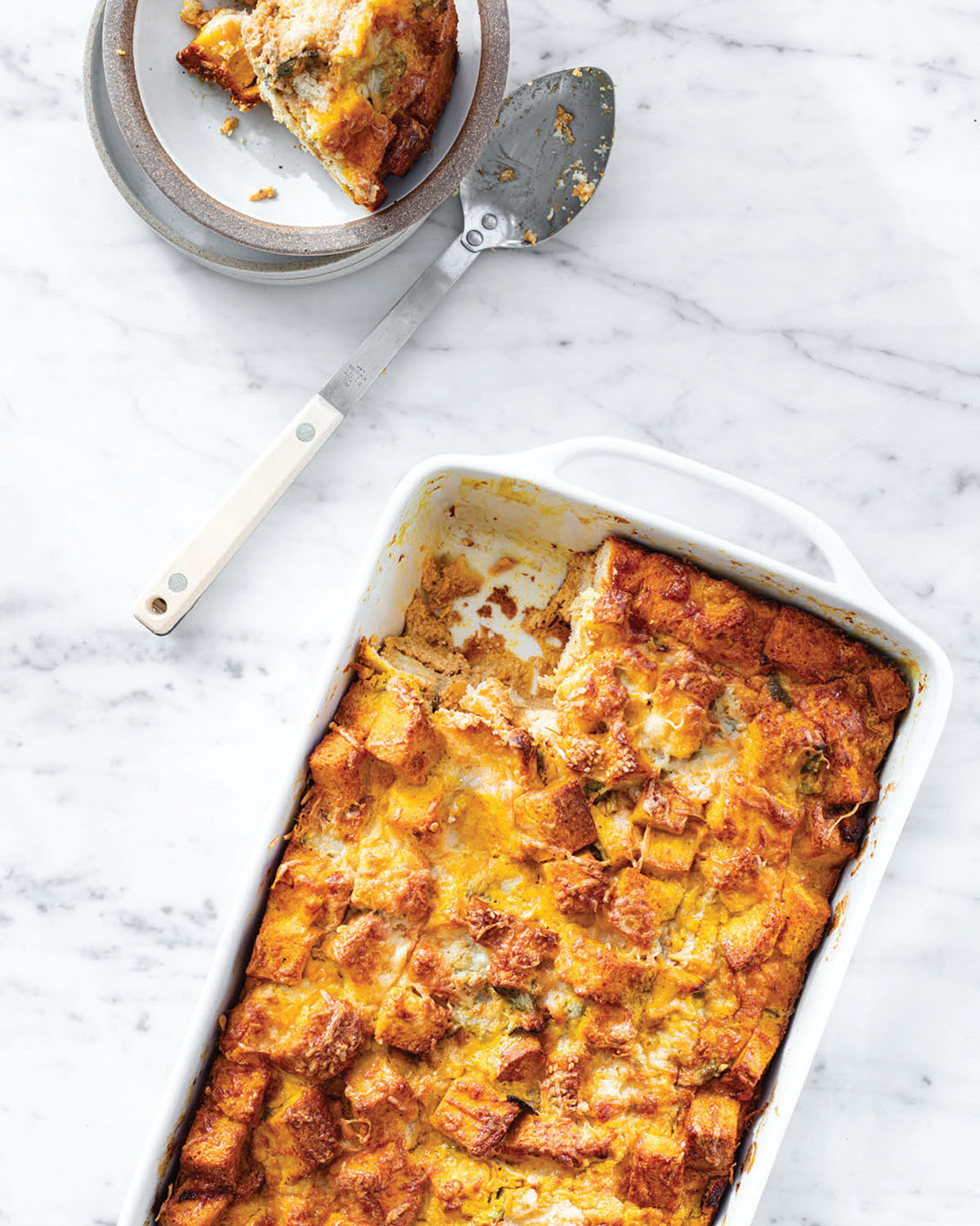 Pumpkin, Roasted Squash, and Gruyère Strata
"What exactly is a strata? It's essentially a savory bread pudding…Strata is a great make-ahead option to feed a crowd and I couldn't think of anything better for a holiday-morning breakfast. You can [just] reheat while everyone is busy opening presents. It's a no-fuss crowd-pleaser." *Gluten-free option
---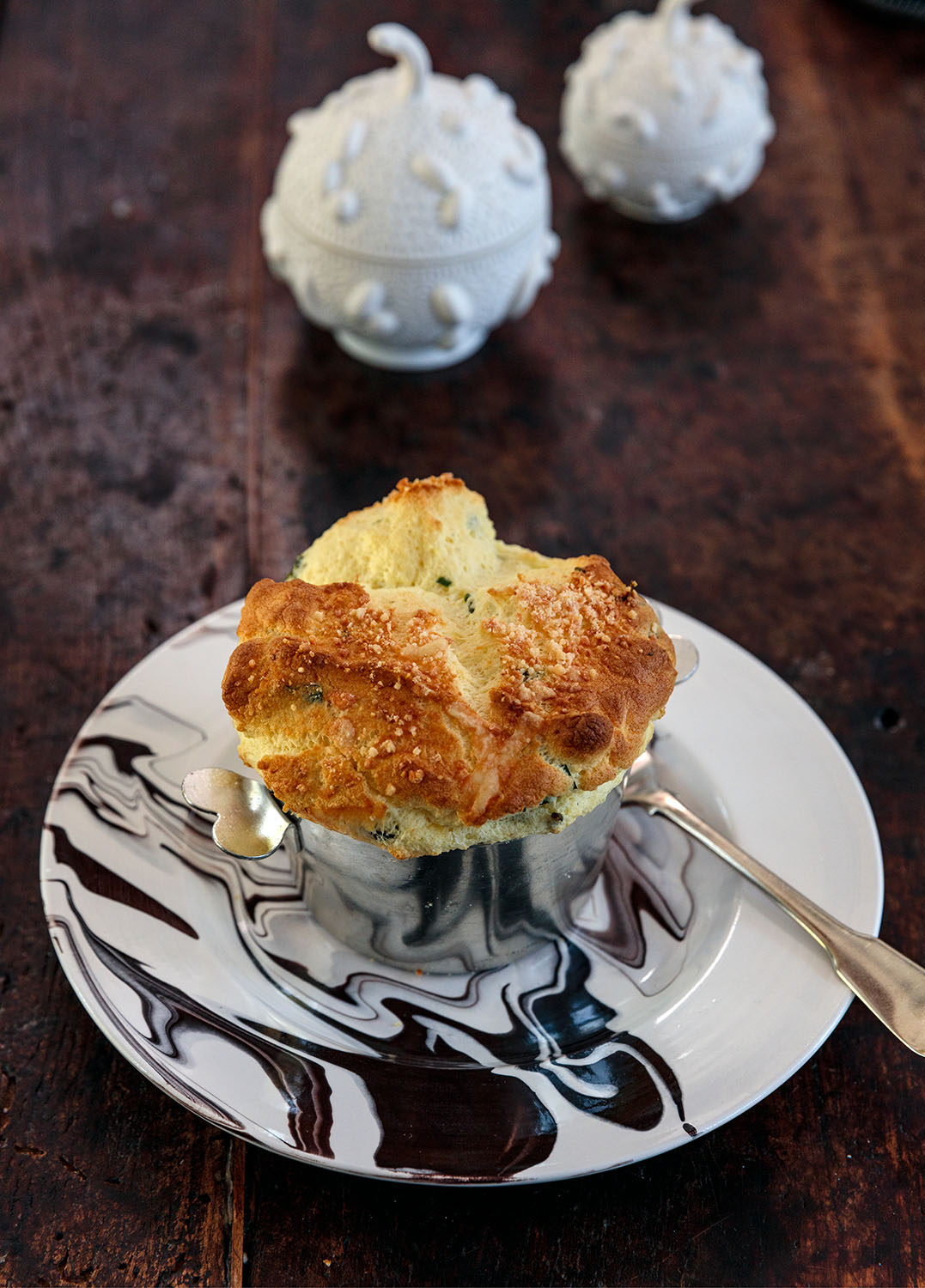 Cheese and Herb Souffle
A savoury twist to the decadent French souffle. Oozing with melted parmesan and Gruyère cheese, this dish is just right for an impressive holiday brunch.
---
Deviled Eggs with Smoked Salmon and Caviar
"I like to dress up my deviled eggs. Try to find farm-fresh eggs, which will have bright yellow yolks that make the filling stand out. You can easily prep these in advance and assemble them at the last minute. Use a piping bag to fill the whites with the yolks to make these look extra fancy."
---
Crème Fraîche Loaf, Roasted Plums and Pistachio Cream
"Serve it by the slice, gently toasted and buttered, with the best seasonal fruit you can find—we used apricots and fresh raspberries here, but I urge you to try the plums and pistachio cream version!"
---
Top image from A Year at Clove Brook Farm. Photograph by Gemma & Andrew Ingall.