HOLIDAY RECIPES: An Inspiring Menu for Your Holiday Celebrations
November 11, 2022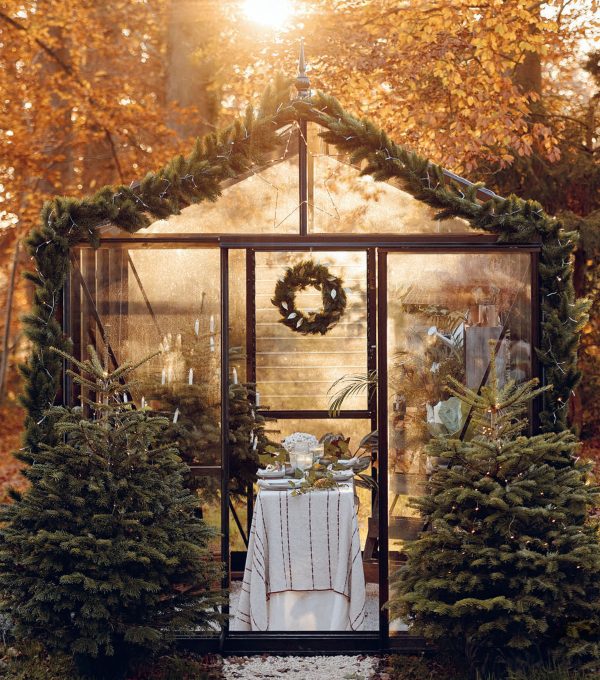 Once again, we are proud to present Rizzoli's Annual Holiday Meal Planner.
As a thank you for your support over the past year, we're sharing a decadent menu of recipes to help you prepare for your holiday celebrations. Taken from our most recent cooking & entertaining titles, we present the following recipes for delicious Main Course, Appetizer & Side, Dessert, and Brunch dishes, plus an array of tantalizing Cocktails.
We thank you, as always, for your continued support.
---
PLANNING & PREPARATION
---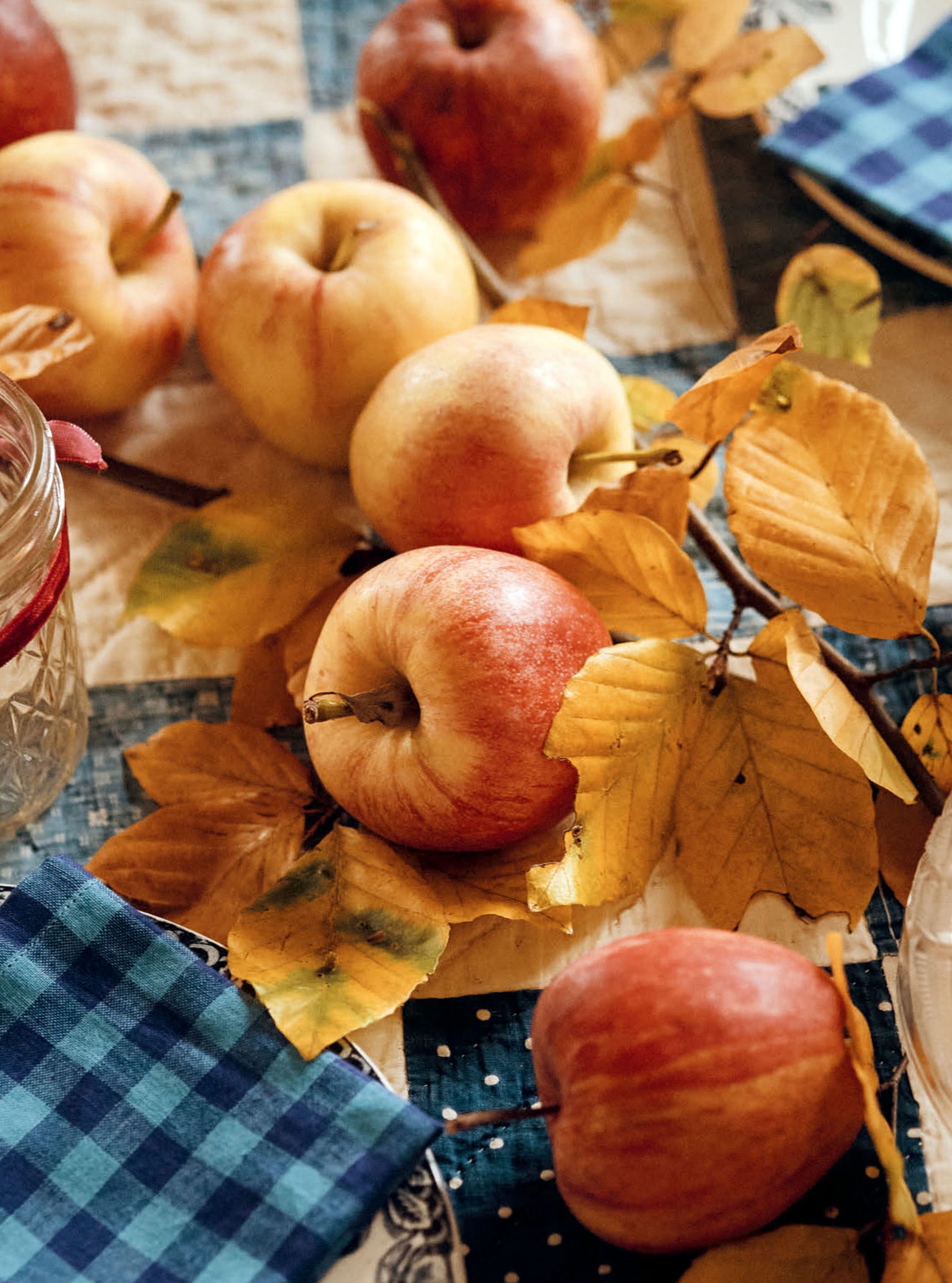 Warm Autumnal Colors and Cozy Gatherings
Thanksgiving décor is all about celebrating the beauty and bounty of the fall season. Here are some autumn-inspired decorating ideas to help your guests feel warm, welcome, and blessed to be a part of your celebration.
---
Happy Holidays Without the Stress
Every year, the frenzy of the holiday season can leave us feeling a little frazzled. Here are a few reminders and planning tips to help you enjoy this festive time of year as serenely as possible. This timeline was made with Christmas in mind, but it can easily be adapted to suit any holiday.
---
THE MAIN COURSE
---
Mustard-Crusted Rack of Lamb
This easy, splendid dish is perfect to serve as a seated dinner or as part of a buffet. It's special and spectacular enough for a holiday meal, yet uncomplicated to prepare.
---
Virginia Ham with Pickled Peaches
"Family Christmas is not complete without Virgina ham 'sliced thin as smoked salmon' and Nancy Lancaster's pickled peaches.'"
---
"Three Way" Chicken
This dish—designed to please all your guests—features moist chicken breasts served with an array of sauces to choose from: Dijon Mustard Sauce, Lemon-Basil Cream Sauce, and Mushroom Sauce.
---
Seafood Tower
Nothing epitomizes the glamour and over-the-top opulence of Delmonico's like the signature seafood tower. This dish, sure to satisfy your "Feast of Seven Fishes", can be arranged on a large platter if you don't have a tiered tower.
---
Puff Pastry-Topped Mushroom Pot Pie
Puff pastry, which can be found in the freezer section of most grocery stores, is the simplest and, arguably, most impressive-looking way to top a pot pie. It's delicious and fun to eat. Here it is paired it with a luxurious mushroom stew—an elevated cream of mushroom soup that evokes a dish you'd have at a fancy French restaurant.
---
Holiday Roasted Pork Tenderloin
"This roasted pork tenderloin (bujenina) is one of the most famous Slavic cold cuts. My mom usually makes bujenina for big religious holidays like Easter. She serves it thinly sliced with some mustard and Beet and Horseradish Hot Sauce on the side."
From BUDMO!: Recipes from a Ukrainian Kitchen
---
Pappardelle with Duck Ragú
"This is our basic pasta dough recipe; I use it consistently in all our pasta recipes. Here at La Fortezza, rolling out pasta by hand takes about 10 to 15 minutes and is a great workout, plus it's meditative and very satisfying. You can, of course, use a machine. This recipe shares both techniques." Paired with duck ragú that can be made a day ahead.
From At the Table of La Fortezza: The Enchantment of Tuscan Cooking from the Lunigiana Region
---
Zucchini & Mozzarella Ratatouille with Gremolata
*Vegetarian & Gluten-free option
"This dish makes a beautiful centerpiece to a shared meal or a great addition to a potluck dinner and, despite its simplicity, I think it really makes the zucchini shine. I love serving it alongside garlic bread and a simple leafy salad. If you have a good ovenproof frying pan, this is a great one-pan meal."
---
APPETIZERS & SIDES
---
Roasted Grape and Ricotta Crostini
"Every September, right around my birthday, there is the grape harvest. One year our vintner left the most gorgeous arrangement of our grapes on the terrace table. It took my breath away. I made all sorts of things with them, including this aperitivo accompaniment."
---
Crispy Potato Kremzlyky (Potato Pancakes)
"Kremzlyky is the Ukrainian name for Jewish latkes aka potato pancakes. It's also one of my favorite savory brunch dishes. I usually serve them with plenty of sour cream and topped with luscious salmon roe or thinly sliced Cured Salmon. Here I have finished them with just sour cream and chives."
---
Curried Cauliflower Soup
A spin on the classic cauliflower soup made with roasted cauliflower, Thai-flavors, and coconut milk, making it so creamy and rich with flavor.
---
The Absolutely Perfect Creamed Spinach
"I have published at least four super-delicious, creamed spinach recipes in my career—but this is, hands-down, the very 'bestest' of all, so delicious I could sit in bed and eat it."
---
Bistro Salad with Roasted Vegetables
Inspired by classic French bistro salads, this hearty salad is perfect for an autumn or winter meal.
---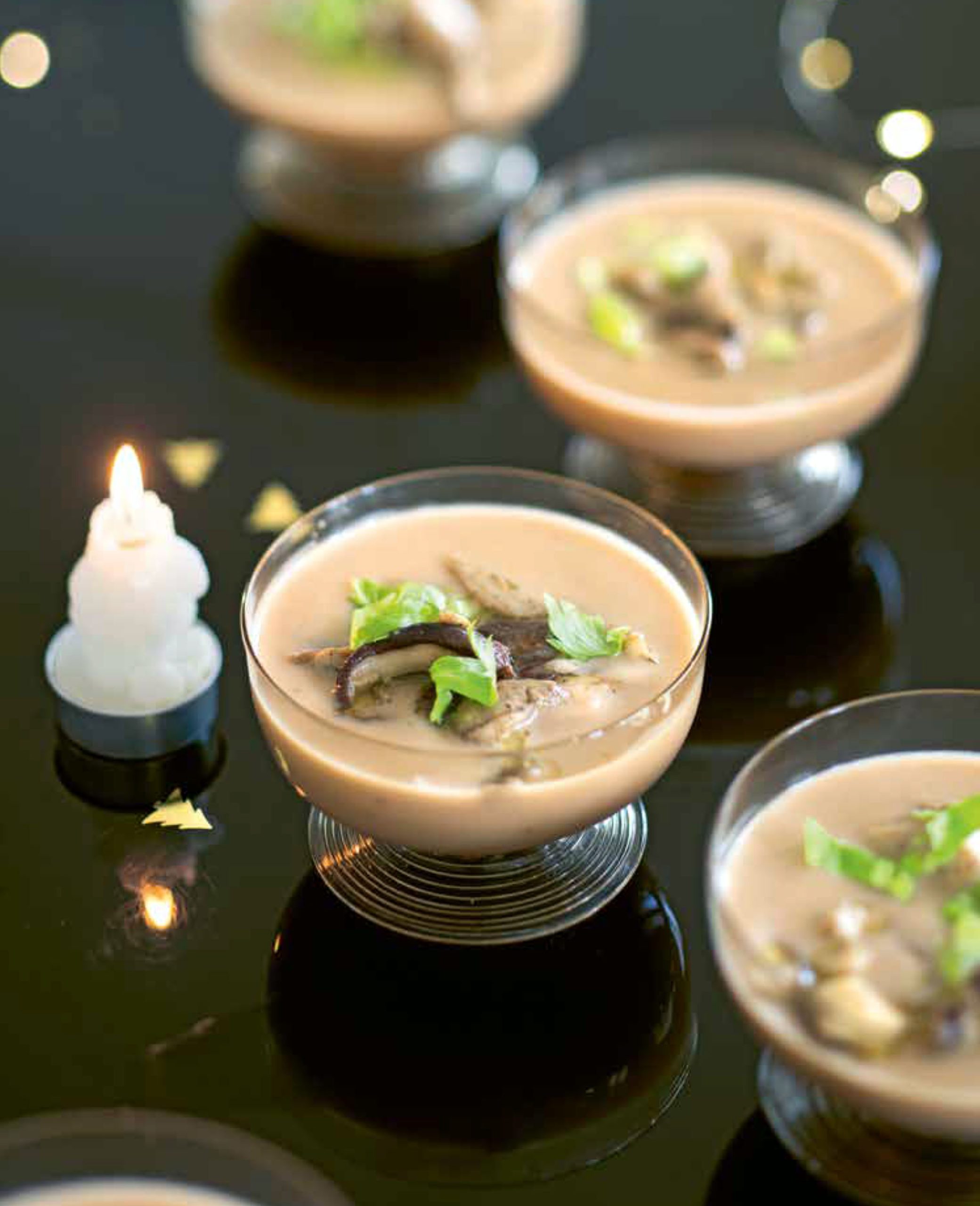 Festive Chestnut Velouté with Porcini
With three contrasting yet complementary flavors and textures, this velouté is both elegant and luxurious. Quick and easy to prepare, it makes an ideal starter for a holiday dinner.
---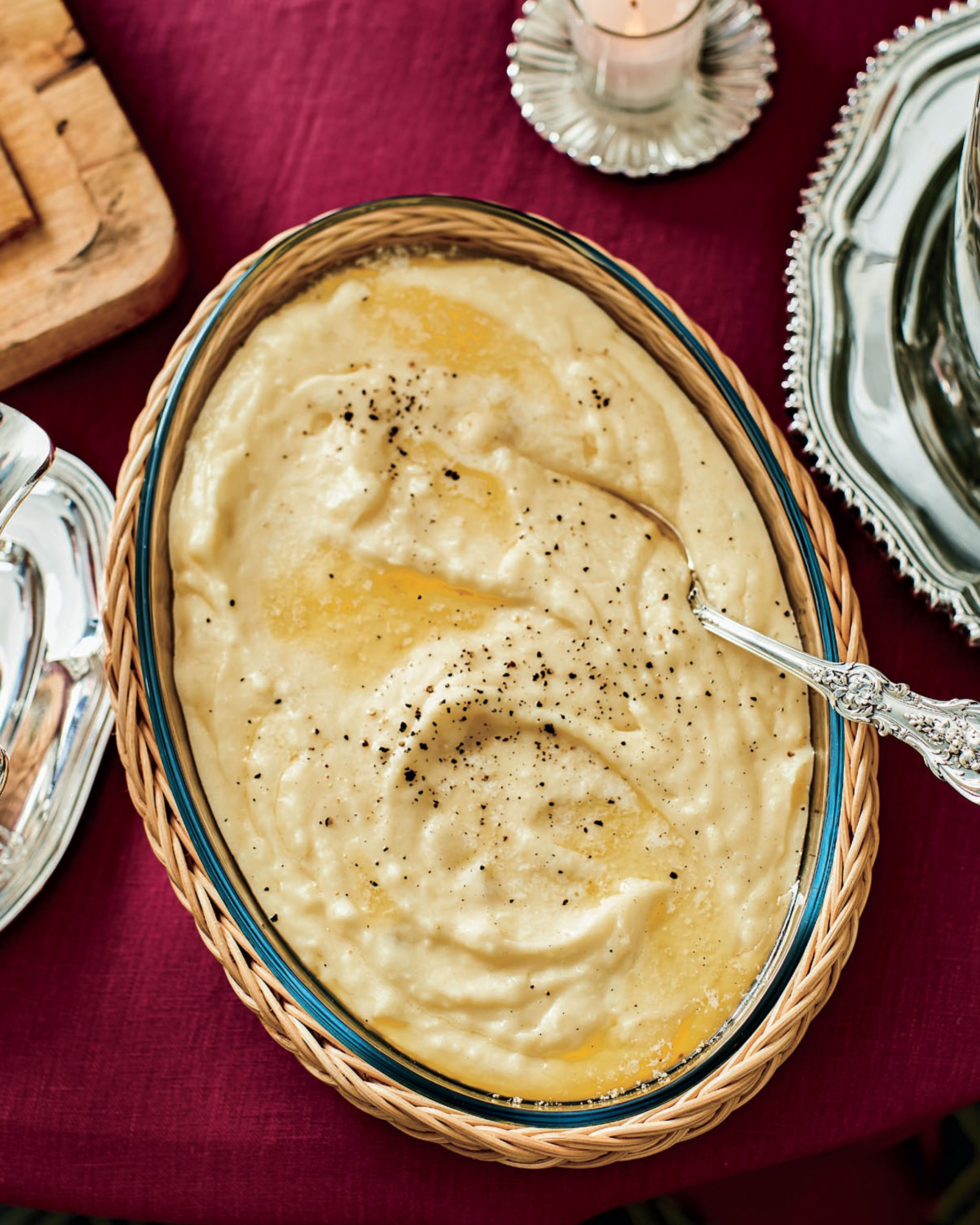 Swa's Most-Decadent Pomme Puree plus Susan's Curried Corn
Two delectable, easy to make side dish recipes—both perfect examples of each hostess's signature artistry.
---
Chicken and Mushroom Crepes
"Here, my mom's legendary thin, buttery crepes enclose a savory filling. She usually makes this version for family gatherings and special occasions; the bundles are tied at the top with a length of green onion, which makes them look especially festive and cute on the table."
---
Cream of Fennel Soup
With its smooth and delicate texture and sweet, licorice-like flavor, this wholesome, delectable, ivory-color soup creates a moment of peace in your system. The tarot root is the secret behind its velvety, creamy texture.
---
Garlic and Thyme Carrot Confit
"Slowly cooked in olive oil, these carrots are exquisite, especially if you love caramelized notes as much as I do. In this recipe, the sweet caramelized flavor is imbued with hints of garlic and thyme that evoke Provence. Although nothing like a dessert, these carrots are just as much of a treat."
---
Adjarian Khachapuri
Flatbread filled with cheese, butter, and egg
"BUDMO! would not be complete without this lavish flatbread filled with cheese, butter, and egg from the Adjara region of Georgia. It looks impressive, but it's much easier to make than you might think, and I guarantee everyone will be wowed by both its look and, most importantly, its fantastic flavor and texture."
---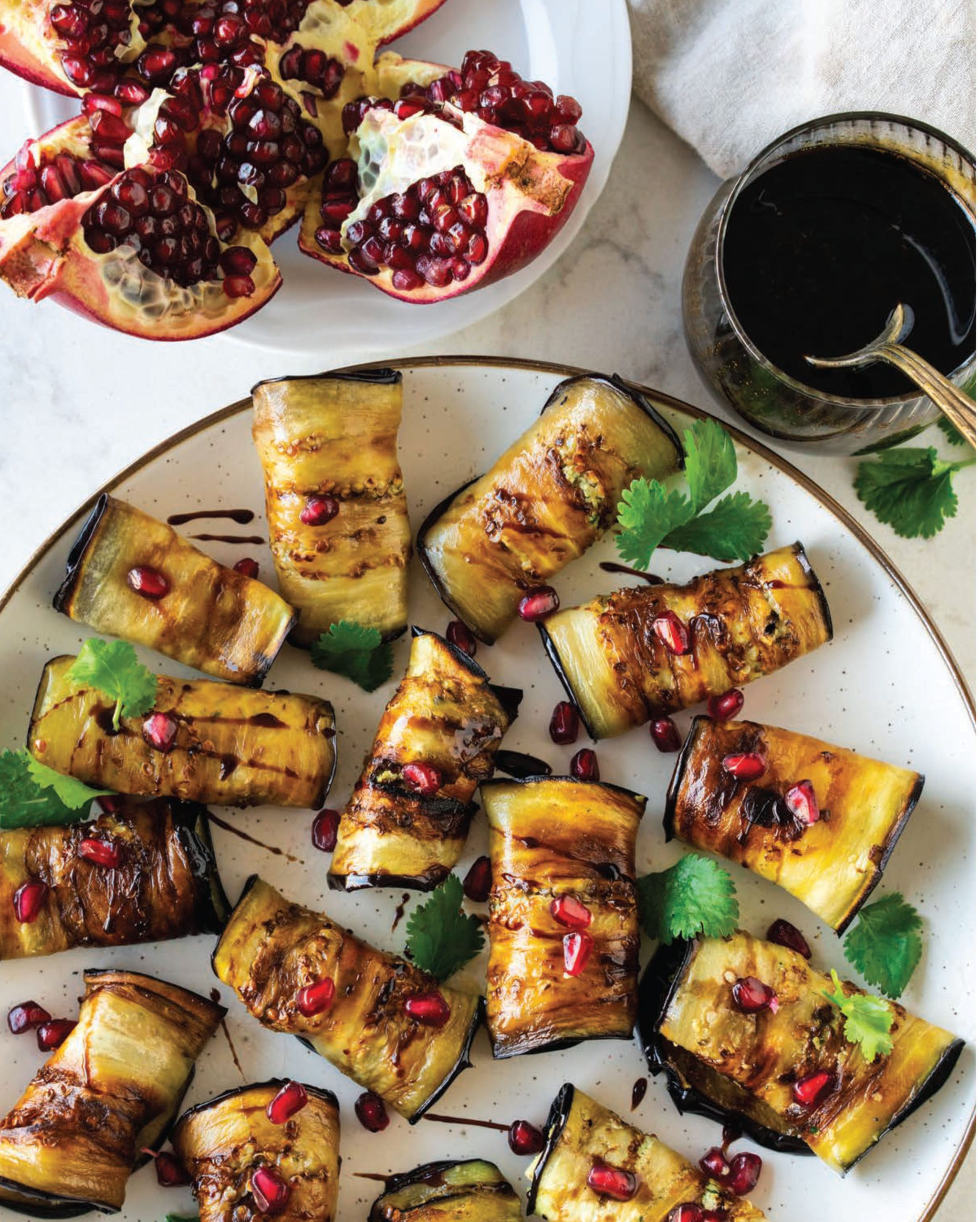 Georgian Eggplant Rolls
*Vegan option
"Eggplant rolls are one of my favorite Georgian appetizers. They are the ultimate crowd-pleaser and are my first choice for taking to a vegan potluck. Make sure to sprinkle them with pomegranate seeds right before serving. And don't skip the pomegranate molasses. It really makes these rolls shine."
---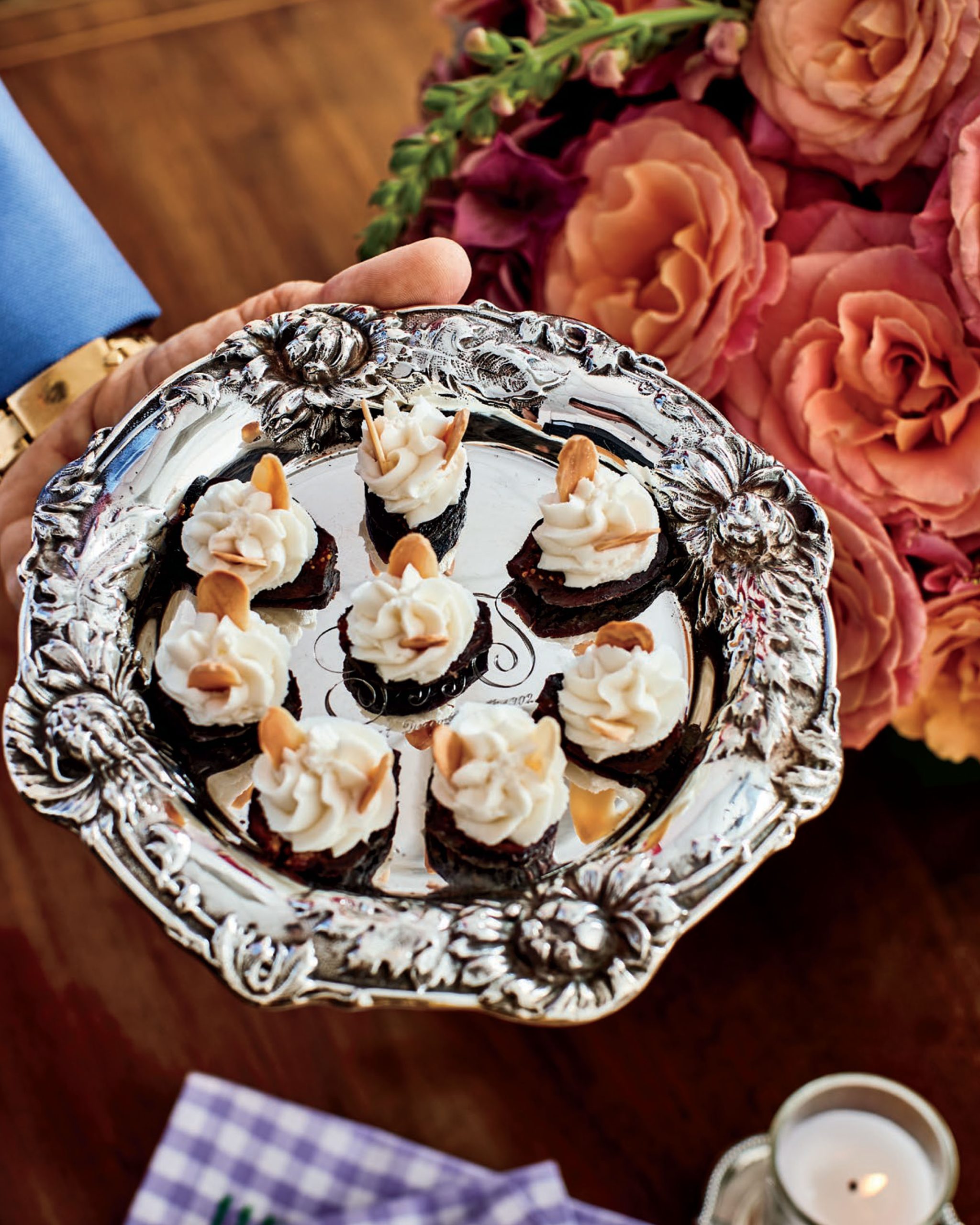 Figs Stuffed with Goat Cheese and Almonds
As elegant as they are delicious, these appetizers will set the mood for the rest of your holiday feast.
---
Sweet Potato—or Pumpkin, for that matter—Pie
"When I started writing recipes and developing desserts, I made a pact: None of mine would ever be considered unworthy. The result? All are full-bore no holds barred, over-the-top decadent. And worth every last one of the zillions of calories they contain."
---
Tiramisú
Tiramisù is Italian for "pick-me-up," and that's just what this coffee-tinged no-bake treat does at the end of the meal.
---
Avocado Cheesecake
"We devised this dish to avoid wasting any part of the avocado: the cheesecake is made with the pulp, the leaf and toasted grated seed is for the ice cream. It's an exercise that shows the versatility of this Mexican ingredient."
---
Pear Tart with Multigrain Crust
"We are surrounded by pear trees at La Fortezza, and when they ripen in the autumn, the fruit is the most delicious I have ever tasted. I make jam and this tart is always a hit."
---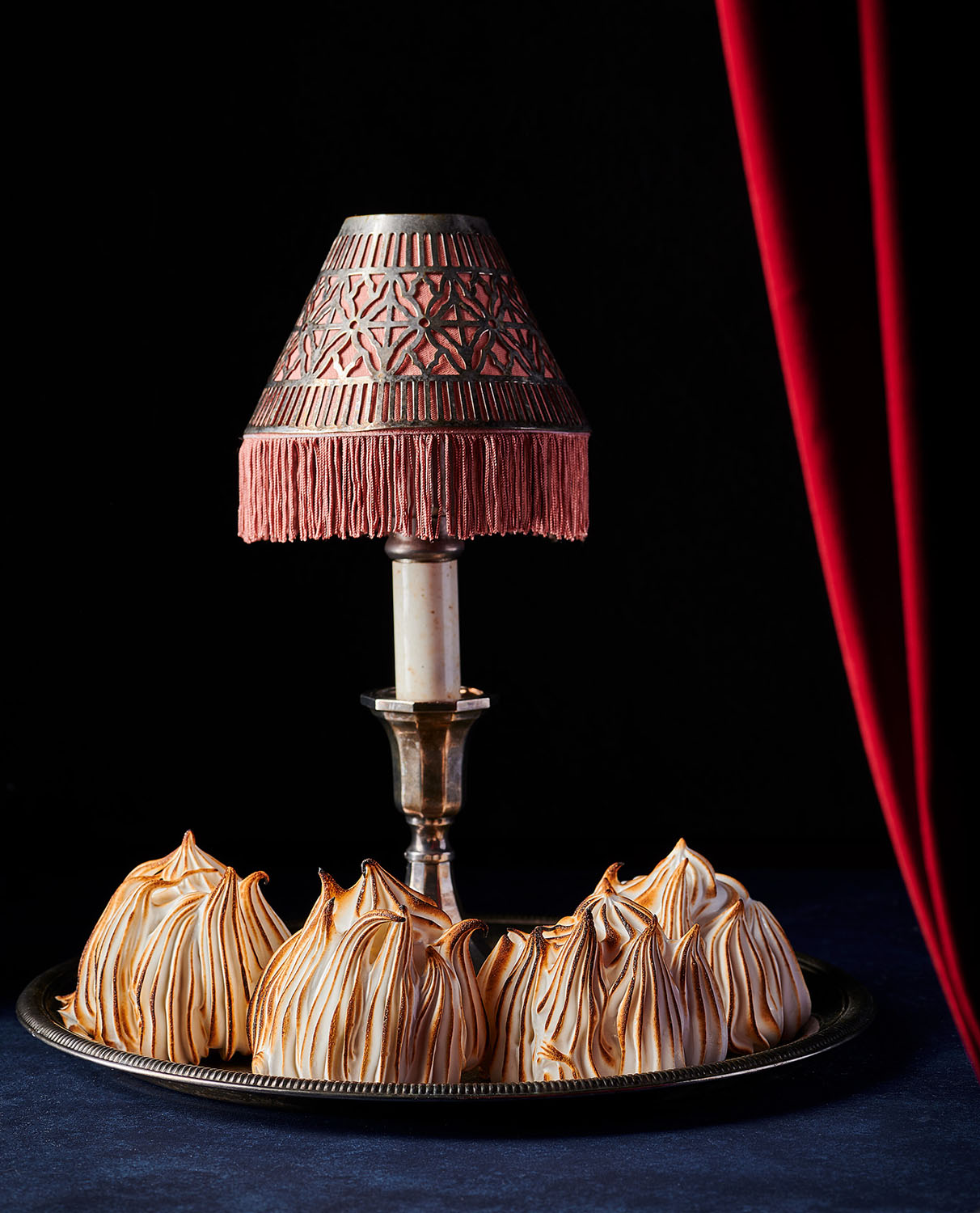 Flaming Baked Alaska Cupcakes
"As a young man, I was told that Delmonico's chef Charles Ranhofer invented baked Alaska—cake and ice cream under a blanket of toasted meringue. Originators aside, Delmonico's certainly made baked Alaska famous. Letty Alvarez, who competed on TLC's Cupcake Wars, created this variation."
---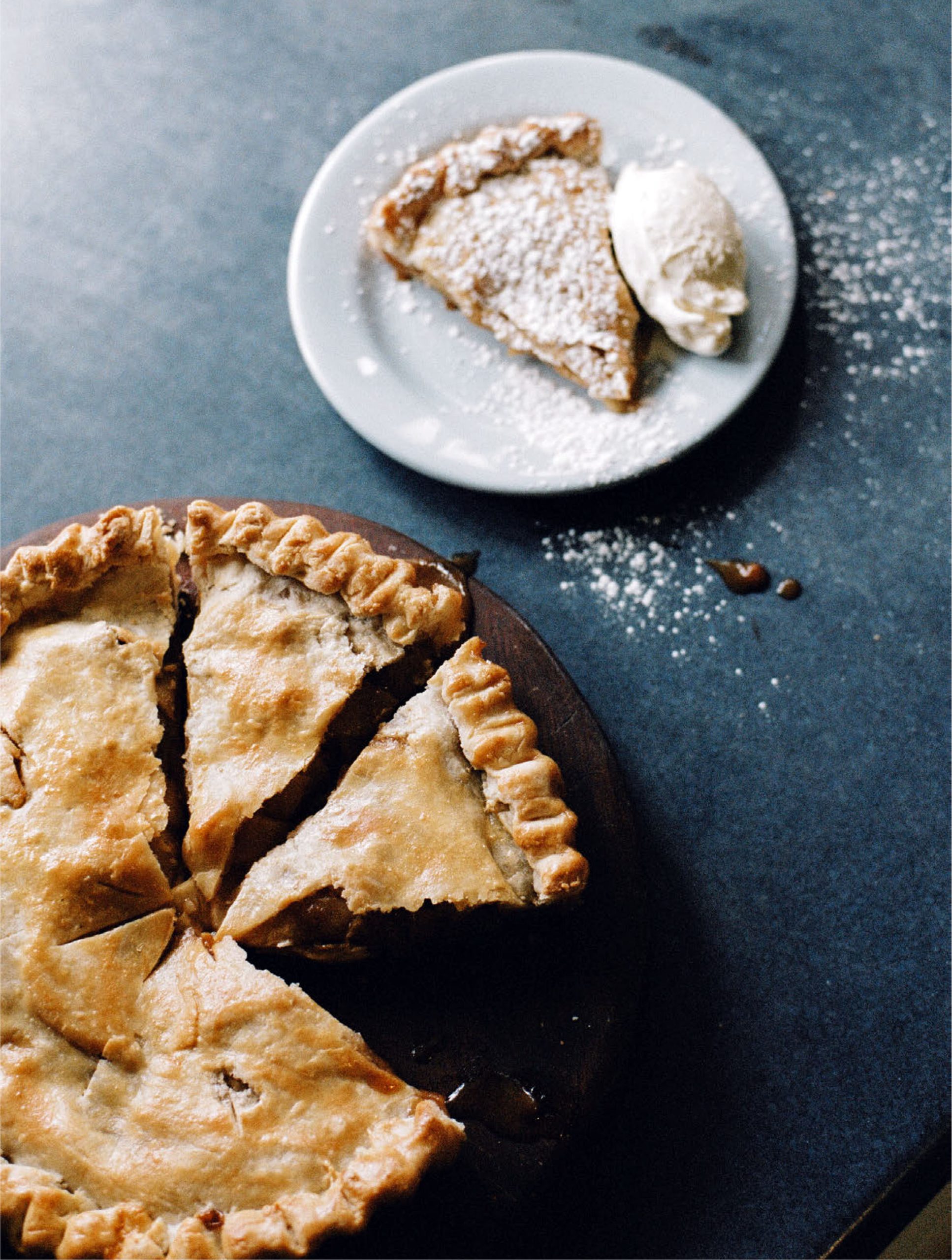 Rustic Apple Pie
*Vegan option
"This is the first time I've made vegan pastry that genuinely competes with all-butter pastry. In fact, I am willing to say you might not even pick it's vegan. Coconut oil, with a few key tricks, disperses through the flour in a very similar way to butter, and when kept cold by using iced water and working quickly, it creates an amazingly crispy and flaky crumb."
---
Plum Chestnut Tartlets
*Vegan option
Unlike butter pastry, this dough is unfussy and easy to handle. Fill these tasty tartlets with plums and grapes, bake until soft and jammy, and finish with a dollop of crème fraiche for a scrumptious, elegant dessert.
---
Walnut-Orange Cake with Honey Syrup
"If you're a fan of syrupy desserts, try this wholesome option. Succulent, not too sweet, and with an unexpected crunch of walnuts, this cake is satisfying and grounding. Its rustic look reminds one of home."
From Joy of Balance: An Ayurvedic Guide to Cooking with Healing Ingredients
---
Baba au Cognac
Shirley Garrier and Mathieu Zouhairi, the Parisian duo behind The Social Food, share their unique approach to this French classic. Their Baba, a brioche-like cake, is served soaked in cognac instead of the usual rum.
---
---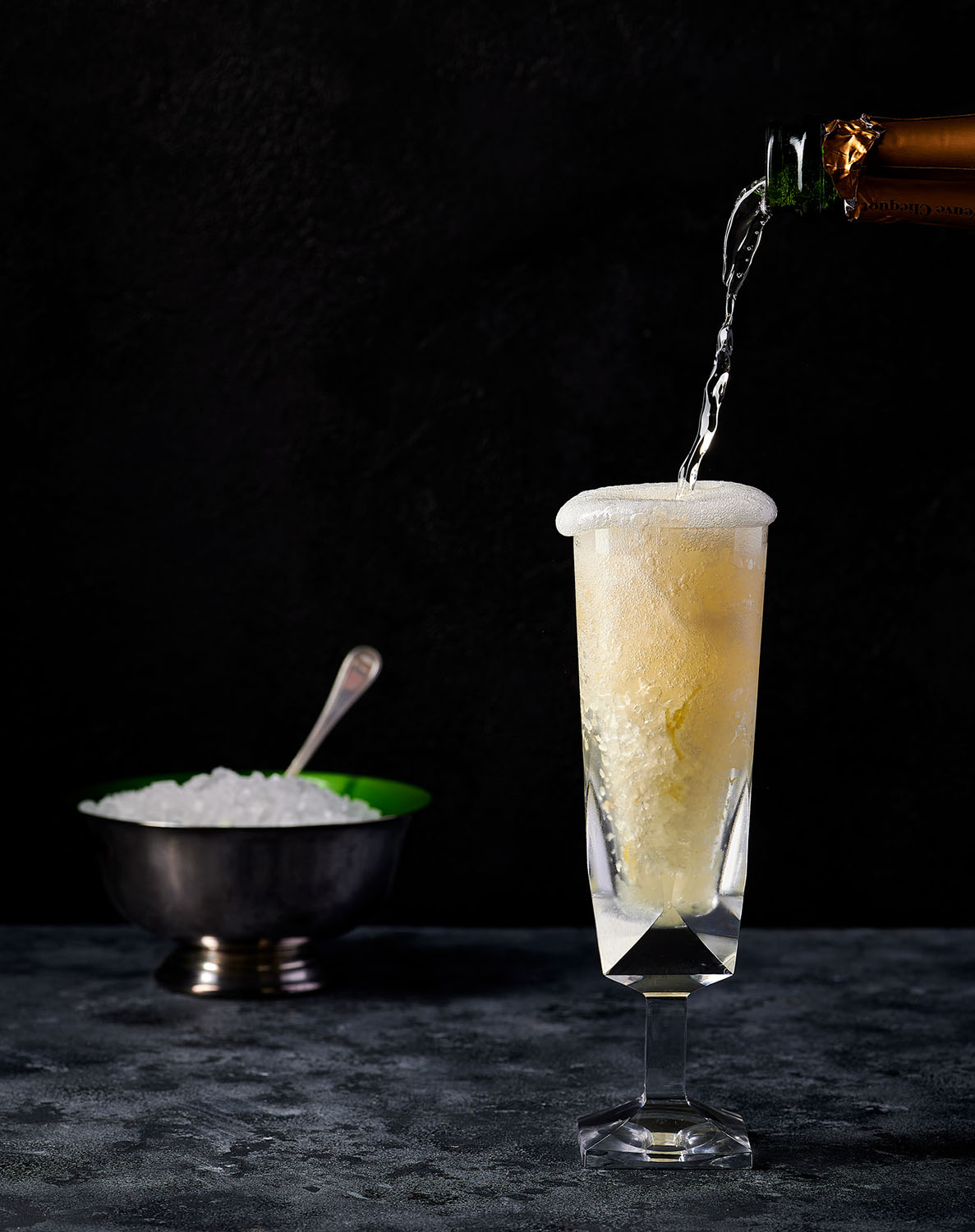 Champagne Frappé a la Glace
Delmonico's has a history of granitas like this Champagne cocktail, lauded in a 1965 writeup in the Park Avenue Social Review. This recipe can take quite a while to freeze, so start it at least one day before you plan to serve it.
From The Delmonico Way: Sublime Entertaining and Legendary Recipes from the Restaurant That Made New York
---
Elderflower Martini
Elderflower lends fragrant tones along to the earthiness of ginger for this twist on a vodka martini.
From Cocktail Botanica: 60+ Drinks Inspired by Nature
---
Hot Apple Cider Toddy
Warm and cozy, this Apple Cider Hot Toddy is perfect for sipping on by the fire this holiday season.
From Entertaining in Style: Nancy Astor and Nancy Lancaster
---
Orange Nikki
An orange-flavored vodka cocktail named for the Delmonico's regular, Wall Street maverick, and one of the most celebrated socialites in New York and Beverly Hills, Nikki Haskell.
From The Delmonico Way: Sublime Entertaining and Legendary Recipes from the Restaurant That Made New York
---
Vanilla and Pear Gin
The possibilities of adding flavor to your gin are endless, and this combination of pear and vanilla is a great way to add depth to one of the world's most popular liquors.
---
BRUNCH
---
Baby Benedicts
"The first print reference to eggs Benedict appeared in The Epicurean by Delmonico's chef Charles Ranhofer. According to Delmonico lore, Ranhofer named the dish after Mrs. LeGrand Benedict, a longtime customer who one day barged into the kitchen and demanded something new. This version from Tara Cox uses small Dutch baby pancakes in place of the traditional English muffins."
---
Super Crispy Waffles
Making compote—a fruity, jammy sauce made with little more than fruit, sweetener, and a little time to concentrate the flavors—is a simple thing with a big return. Here it's paired it with super crispy waffles, which are as buttery as they are light.
---
Chipped Beef with Poached Eggs
"Chef Kyle Mendenhall inherited a recipe for chipped beef from his great-grandmother, Marie, that dates back to 1911. An Oscar's Delmonico menu dated April 28, 1942 featured Oscar's version of the dish. This recipe combines both of those, with a few modern updates."
---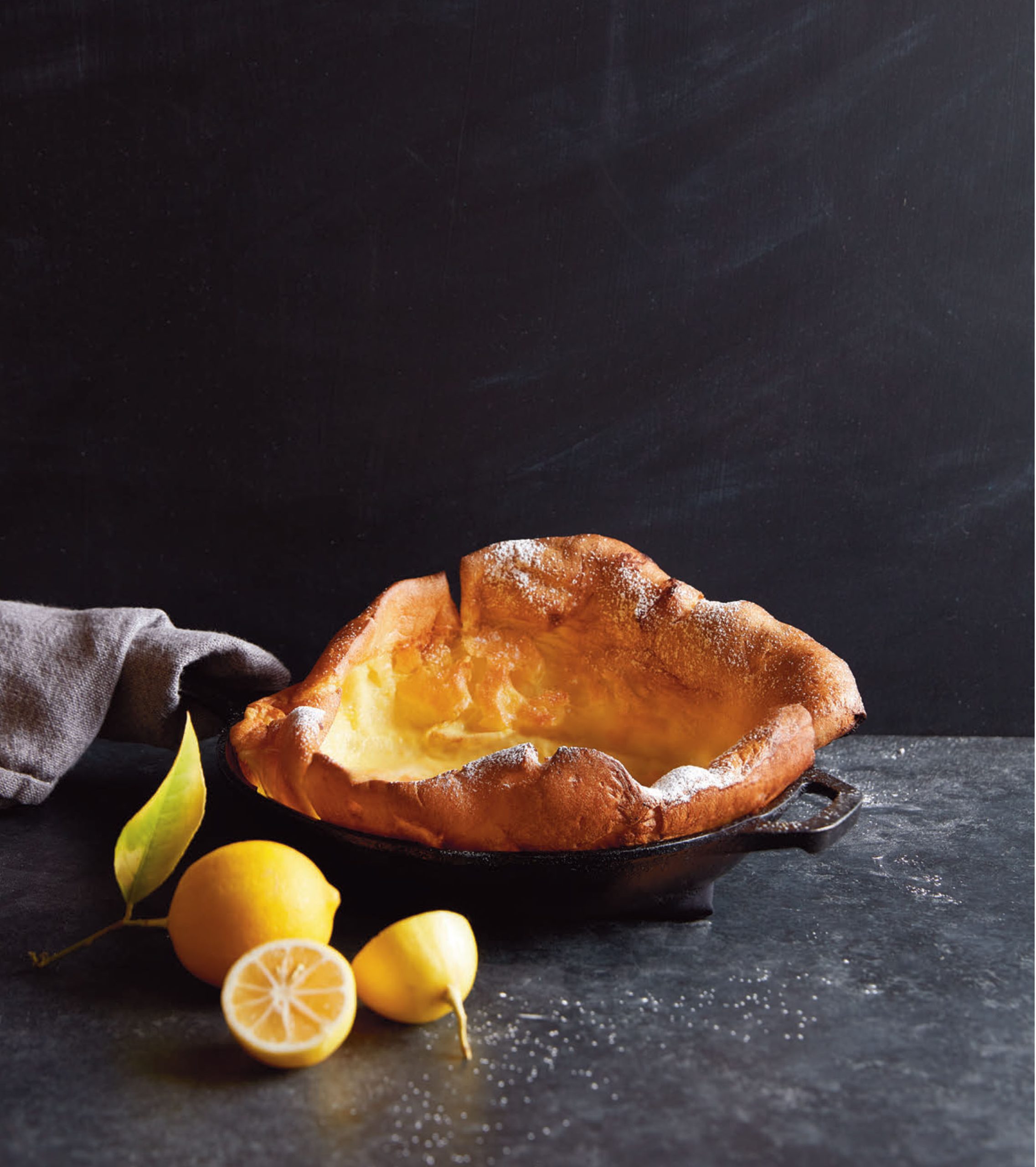 Caramelized Apple Puff Daddy
This is what you'd get if a Puff Daddy—also known as a a Dutch baby or German pancake—had a baby with a tarte tatin. In other words, it's dessert you can pass off as breakfast.
---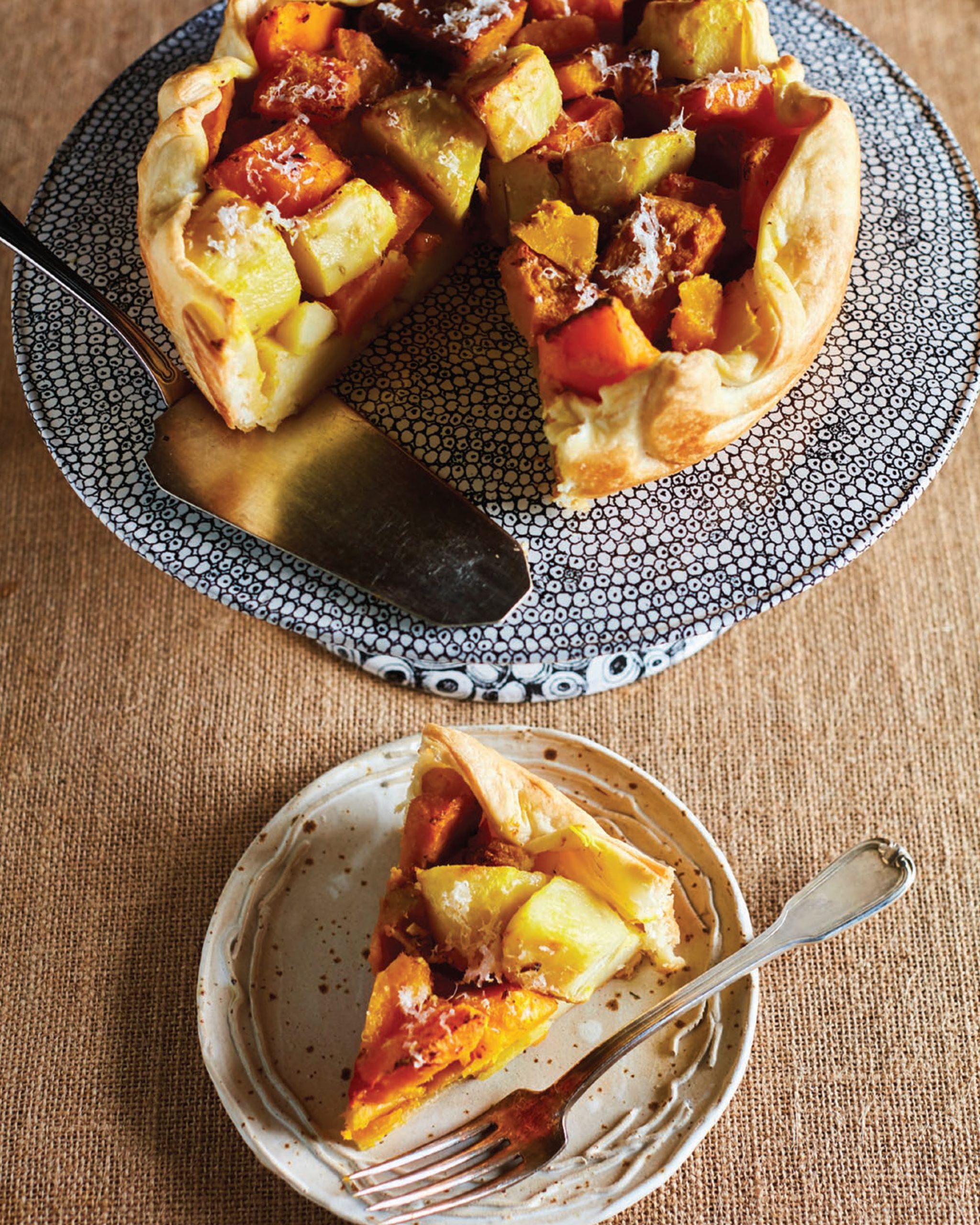 Butternut Squash and Potato Pie
"I prepare a lot of squash from the garden. This pie is filling-and inexpensive to prepare. The buttery flavor is rich and satisfying, and this pie tastes great, warm or cold, and it serves as a main dish for vegetarian meals."
---
Banana Poppy Seed Bread
*Vegan option
This sweet, moist, and tender quick bread is flavored with dates, vanilla, true cinnamon, and nutmeg. Enjoy a slice or two fresh or lightly toasted with a bowl of fruit and a cup of tea for a delightful breakfast.
---
Sweet Cheese Fritters
"Syrnyky are the Slavic version of breakfast cheese fritters. They got their name from syr, the popular Ukrainian farmer's cheese. I usually make them on weekends for my husband and serve them piping hot with some homemade jam and sour cream. They make a very filling and delicious breakfast."
From BUDMO!: Recipes from a Ukrainian Kitchen
---
Pasta Soufflé
"Soufflés can be daunting if you haven't made one, but once you've made one successfully, you'll feel so triumphant and you'll want to do more."
From Deeda Blair: Food, Flowers, & Fantasy
---
Gruyère Roulade
"This is essentially a soufflé wrapped in a roll around a salad! A friend gave me this recipe almost forty years ago because she knew I would love it, and indeed it has become a great favorite."
From Deeda Blair: Food, Flowers, & Fantasy
---
Maple Caramel Doughnuts
Decadently delicious, these doughnuts are filled with caramel and maple syrup reminiscent of a pancake breakfast. There's really nothing not to love about these cute (and sweet) treats.
---
Top image from My Art of Entertaining. Photograph by Christophe Roué.
---