Holiday Recipes from Rizzoli: Side Dishes
October 28, 2014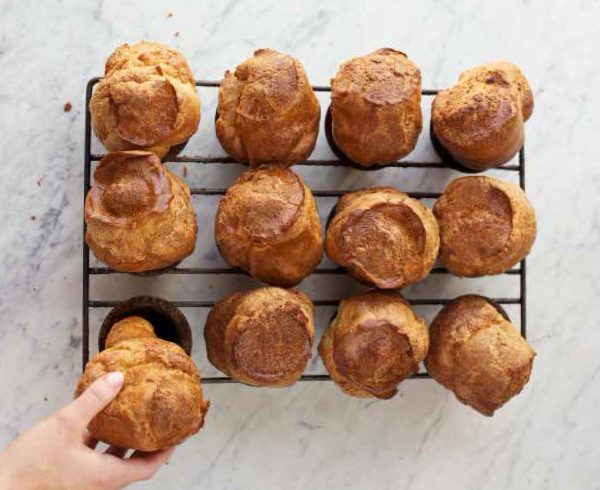 As we creep closer and closer to the holiday season, it's time to start thinking about what you'll serve your guests this Thanksgiving and beyond. Whether you'll make a traditional turkey or choose to break away from the holiday norm, Rizzoli has tons of great recipes and entertaining ideas for you to follow.
Enjoy these SIDE DISH recipes below, or visit News & Publicity page for recipes for Appetizers, the Main Course, Vegetarian options, Desserts, Wine & Cocktails, and a New Year's Lobster Fest. You can also visit the Food & Wine section of our website for plenty of inspiring cookbooks to spur your creativity.
---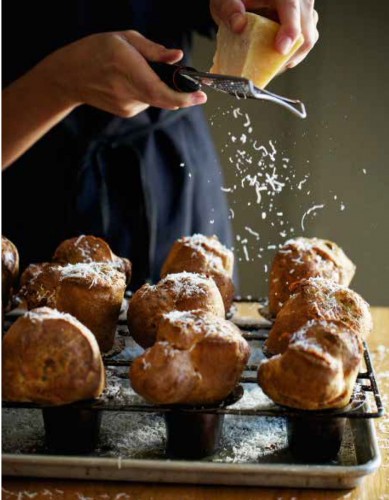 Neiman Marcus Savory Parmesan Popovers
"It's good to try new things and introduce some diversity to the popover universe. Besides, I'm more of a savory guy than a sweet guy, so this one works for me. When you have a winning recipe like the Neiman Marcus popover, you have to be careful how you change it up so as not to offend anyone. This savory version is often used in our catering business to accompany one of our great salads."
–From Neiman Marcus Cooks
Yields 12 popovers
3 1/2 cups milk
4 cups all-purpose flour
1 1/2 teaspoons kosher salt
1 teaspoon baking powder
6 large eggs, at room temperature
1 1/2 cups grated Parmesan cheese
1/4 cup mixed dried herbs, such as thyme, rosemary, and parsley
4 tablespoons unsalted butter, cut into 12 pieces
To prepare the popovers, place the milk in a bowl and microwave on high for 2 minutes, or until warm to the touch. Sift the flour, salt, and baking powder together into a large mixing bowl. Crack the eggs into the work bowl of an electric mixer fitted with a whisk and beat on medium speed for about 3 minutes, until foamy and pale in color.
Turn down the mixer to low and add the warm milk. Gradually add the flour mixture and beat on medium speed for about 2 minutes. Pour the batter through a wire-mesh strainer into a container. Cover and leave at room temperature for 1 hour.
Preheat the oven to 450 degrees F. Spray a well-seasoned popover pan with nonstick spray. Place the empty popover pan on a cookie sheet and place in the preheated oven for 10 minutes.
Remove the pan from the oven and fill the cups almost to the top with the batter. Sprinkle each popover with 1 tablespoon of the cheese and 1 teaspoon of the herbs. Add a piece of the butter to each cup.
Transfer to the oven and bake for 15 minutes. Turn the oven temperature down to 375 degrees F., rotate the pan, and bake for an additional 30 to 35 minutes, or until the popovers are a deep golden brown on the outside and airy on the inside. Before carefully transferring the popovers to a rack, sprinkle with the remaining cheese.
Tips:
The Ingredients
Another key factor in the final outcome is the preparation and quality of the ingredients. For perfect batter, take the time to warm the milk to 120 degrees F. before mixing with fresh eggs that have been left out to warm to room temperature. When combining the eggs and milk in an electric mixer, be sure to beat for up to 10 minutes (on second speed) or until the liquid gets foamy and pale yellow in color. Use a good-quality brand of flour, such as Gold Medal all-purpose bleached white flour, as well as premium baking powder and kosher salt, and allow the batter to rest for about an hour at room temperature before baking.
Baking the Popovers
Plan on baking the popovers as close to dinnertime as possible, and allow two per guest. The cooking aroma is an added bonus. Once you're ready to bake, preheat the popover pans on a cookie sheet. Bear in mind that popovers do not freeze well, and avoid saving leftover batter in the refrigerator — it's best to bake all the popovers, wrap the leftovers in plastic wrap, and keep them until the next day. Rewarm in a preheated 350 degree F. oven — do not microwave.
---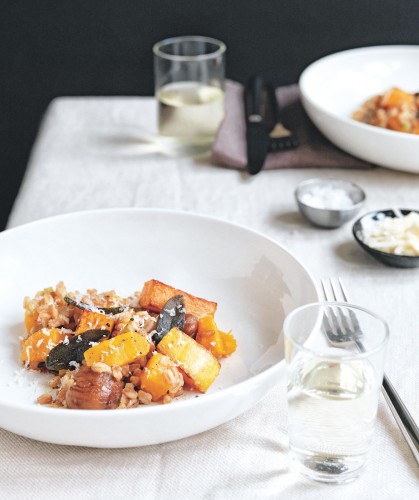 Pumpkin, Chestnut & Farro Risotto
"Risotto made with farro has a different texture from regular risotto–it is still a little creamy but has a deeper, nuttier flavour. It works particularly well with autumnal and wintry ingredients like pumpkin (winter squash) and chestnuts, and makes a good side dish for roast pork."
–From Grains: 150 Recipes for Every Appetite
Serves 4
2 tablespoons olive oil
3 oz butter
10 1/2 oz farro
salt and freshly ground black pepper
4 cups chicken or vegetable stock
2 3/4 oz cooked chestnuts, frozen or vacuum-packed
grated parmesan, to serve
1 lb 12 oz pumpkin (winter squash), peeled, seeded and cut into chunks
1 small onion, very finely chopped
2 garlic cloves, very finely chopped
1 celery stalk, very finely chopped
16 sage leaves
Heat the olive oil in a saucepan over a medium–high heat and cook the pumpkin in batches until the outside is slightly caramelised in patches – you just want to colour the pumpkin, not cook it through. Remove with a slotted spoon and set aside. In the same pan, melt 20 g (¾ oz) of the butter and add the onion, garlic and celery. Cook over a low heat until the onion is soft and translucent. Add the farro and stir, making sure the grains are well coated. Stir in the pumpkin. Season lightly with salt and pepper, and cover with the stock. Cook for about 35 minutes. Put the lid on for the first half of cooking, then continue uncovered. Unlike traditional risotto, you only need to stir this dish occasionally, but you will still end up with a mixture that is creamy like risotto. Taste for seasoning.
While the risotto is cooking, melt 30 g (1 oz) of the butter in a small frying pan over a medium heat and quickly fry the chestnuts until glossy and warm. Gently stir the chestnuts and their frying butter into the risotto, cover and remove from the heat.
Quickly fry the sage leaves in the remaining butter until crisp.
Spoon the risotto into soup bowls and top with the sage leaves. Drizzle over the sage frying butter, grind over some black pepper and top with parmesan. Serve immediately.
---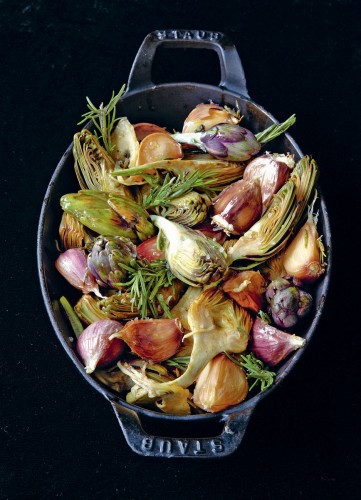 Poivrade Artichokes
Enjoy this recipe for Poivrade Artichokes from Olivier Bon, Pierre-Charles Cros, and Romée de Goriainoff–the trio behind the Experimental Cocktail Club in New York's Lower East Side. Regularly featured in the likes of The New York Times and Vogue, they are making a name for themselves as legendary entertainers and artisans of good food and drink.
–From Beef Club: From Classic Steaks to High-Brow Burgers and Experimental Cocktails
Serves 4
12 garlic cloves
olive oil
2 sprigs thyme
2 sprigs rosemary
1 bay leaf
8 baby artichokes
juice of 1 lemon
1/2 oz butter
First blanch the garlic: remove the papery white outer layer of the garlic cloves, leaving the last layer of skin on. Immerse the cloves into a pan of boiling water using a slotted spoon and remove after a few seconds. Repeat this process once more – this will sweeten their flavour – then drain.
Put the blanched garlic cloves in a saucepan, cover with oil, add the herbs, leaving aside a few rosemary leaves for later. Simmer gently for 45 minutes. This is your confit.
Break the stalks off from the artichokes, cut off the hard outer leaves and cut off the tops. As you do so, put the prepared artichokes into lemon water to prevent oxidation.
Cut the artichokes in half and remove the chokes, if any. In a frying pan, brown gently in olive oil over a fairly high heat, then add the butter and the rest of the rosemary; cook over a more moderate heat for 7–8 minutes until tender but still firm to the bite.
When it has finished cooking, add the garlic confit and serve.
You can make a little extra garlic confit and keep it in a jar in the fridge, covered with its oil.