Holiday Recipes from Rizzoli: Appetizers
October 28, 2014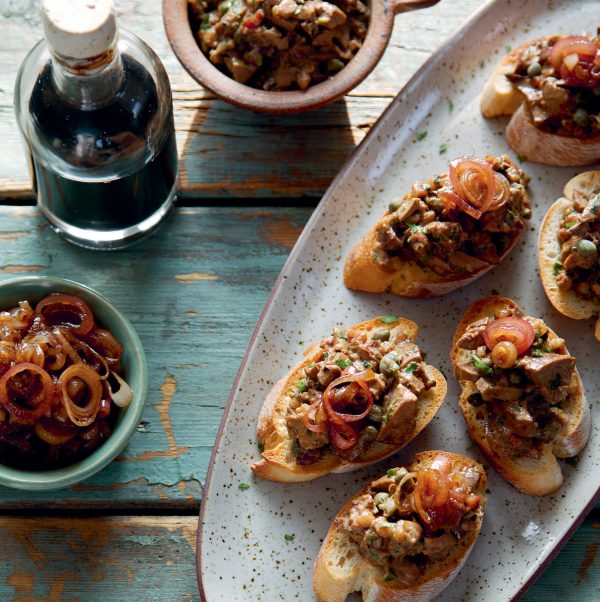 As we creep closer and closer to the holiday season, it's time to start thinking about what you'll serve your guests this Thanksgiving and beyond. Whether you'll make a traditional turkey or choose to break away from the holiday norm, Rizzoli has tons of great recipes and entertaining ideas for you to follow.
Enjoy these APPETIZER recipes below, or visit News & Publicity page for recipes for the Main Course, Side Dishes, Vegetarian options, Desserts, Wine & Cocktails, and a New Year's Lobster Fest. You can also visit the Food & Wine section of our website for plenty of inspiring cookbooks to spur your creativity.
---
Chopped Chicken Liver Crostini with Balsamic Shallots
(picture at top)
"If you love chicken liver pâté, you are going to adore this recipe. The Italian version is a little more rustic but it's packed full of flavour."
–From Little Italy: Italian Finger Food
Makes 20
a knob of butter
2 tablespoons olive oil
2 shallots, finely sliced
80 g (2 ½ oz/ ½ cup) pancetta, finely chopped
2 garlic cloves, chopped
500 g (1 lb 2 oz/2 cups) chicken livers
2 tablespoons brandy
2 tablespoons dry marsala
2 tablespoons baby capers
4 tablespoons double (heavy) cream
2 tablespoons flat-leaf parsley, chopped, plus more to garnish
2 tablespoons oregano leaves, chopped
sea salt and freshly ground black pepper
1 baguette, sliced and lightly toasted
Balsamic Shallots
1 tablespoon olive oil
4 banana shallots, sliced
2 tablespoons caster (superfine) sugar
3 tablespoons red wine vinegar
1 tablespoon balsamic vinegar
Melt the butter with the oil in a large frying pan, add the shallots and pancetta and cook over a medium-high heat until the pancetta is crisp. Add the garlic and chicken livers and cook for 2–3 minutes or until the chicken livers have browned on each side, seasoning well. Deglaze the pan with the brandy and marsala. Allow the alcohol to reduce completely before stirring though the capers, cream and herbs. Remove from the heat, mix well and allow to cool.
For the balsamic shallots, pour the oil into a medium frying pan, add the shallots and cook over a low heat until softened. Increase the heat to medium and add the sugar and vinegars, and mix until the sugar has dissolved and the onions are coated in a syrupy glaze.
Scoop out the livers from the cooled mix. If you want the mixture coarse, roughly chop them, keeping it chunky. For a smoother consistency, pulseblend the mixture in a food processor. Pile the chopped chicken livers on to the toasted baguette slices and add a few balsamic onions to each. Sprinkle with flat-leaf parsley and a little extra black pepper and serve with a glass of Chianti.
---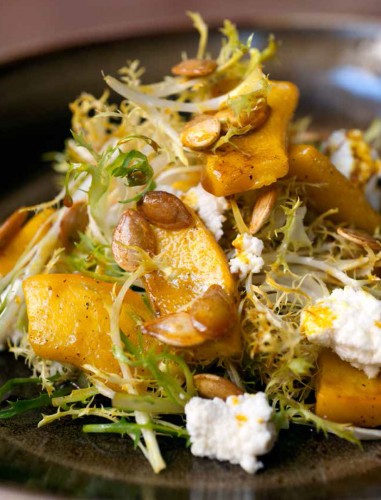 Sugar Pumpkin Salad
with Whipped Ricotta, Toasted Seeds, & Curry Oil
"Sugar pumpkins are the small ones that appear at farmers' markets and farmstands in early fall. Add creamy ricotta and bitter frisée, plus the floral aroma and spice of cardamom and chiles, and you've got one beautiful dish."
–From The New England Kitchen
Serves 4
2 teaspoons curry powder
6 tablespoons extra-virgin olive oil
1 small sugar pumpkin
Kosher salt and freshly ground black pepper
2 tablespoons unsalted butter
1/4 teaspoon ground cardamom
1 cup ricotta cheese
1/4 cup heavy cream
1/2 teaspoon chile flakes
1 head frisée lettuce, root end removed, leaves washed
2 teaspoons freshly squeezed lemon juice
Toast the curry powder in a small dry sauté pan until just fragrant. Add 3 tablespoons of the oil and heat until just warmed. Let the curried oil sit at room temperature for at least 1 hour, and refrigerate in an airtight container until ready to use. Mix well before serving.
Preheat the oven to 350°F. Line a baking sheet with foil.
Trim the top and bottom off of the pumpkin and peel with a vegetable peeler. Cut the pumpkin in half from top to bottom and remove and save the seeds. Rinse off the seeds and let them dry on paper towels. Cut each half of the pumpkin into thirds and then into 1⁄2-inch chunks. Toss the chunks with 2 tablespoons of the oil and place on the prepared baking sheet. Season with salt and pepper and bake for 15 to 20 minutes, until the chunks are soft enough to pierce with a skewer, but not mushy. Let the pumpkin cool.
In a small saucepan, melt the butter and pour into a small bowl. Toss the butter with the pumpkin seeds and cardamom. Place the mixture on another foil-lined baking sheet; bake for 10 minutes. In a stand mixer fitted with the paddle attachment, combine the ricotta, cream, chile flakes, and salt and pepper to taste, and mix for 20 seconds (or, if using a wooden spoon, for 1 minute). The mixture should be light and creamy.
Spread the ricotta on individual serving plates in a thin layer. Place a few chunks of pumpkin on top of the ricotta. Toss the frisée with the remaining 1 tablespoon oil and the lemon juice, and put a small tuft on top of the pumpkin. Sprinkle the toasted seeds over the frisée and drizzle the curry oil around the salad. Serve at once.
---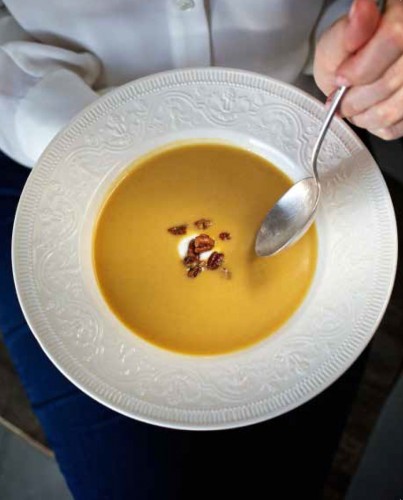 Butternut Squash Soup
"Nothing means fall season like butternut squash soup being served at our restaurants, and so many of our customers adore this version. The hardest thing for a chef is that when you appreciate and love the customers, you don't want to disappoint them or let them down by changing the menu. We usually take it off the menu once fall ends, but if we could find butternut squash year-round, I'm sure it would remain by popular demand! I love the way the squash gets infused with that nutty flavor from roasting."
–From Neiman Marcus Cooks
Yields 19 cups (15 servings)
For the Spicy Pecans
1 tablespoon kosher salt
2 teaspoons celery salt
1 teaspoon garlic salt
1/4 teaspoon cayenne
2 tablespoons vegetable oil
1 pound shelled pecan or walnut halves
For the Soup
2 butternut squashes
1 tablespoon olive oil
2 tablespoons unsalted butter
2 cups diced onions
2 shallots, diced
1 teaspoon chopped fresh thyme
2 teaspoons kosher salt
1/8 teaspoon freshly ground white pepper
8 cups prepared vegetable broth
2 cups heavy cream
1/2 cup honey
8 to 10 teaspoons sour cream, for garnish
To prepare the spicy pecans, mix together the salt, celery salt, garlic salt, and cayenne in a bowl and set aside. Heat the oil in a heavy-bottomed saucepan over medium heat. When the oil is hot, add the nuts and cook for about 2 minutes or until they begin to brown; it is important to keep shaking the pan while the nuts are cooking to avoid burning them. Drain the nuts on paper towels. Transfer the nuts to a bowl while still warm and sprinkle with the salt mixture. Mix thoroughly until the nuts are evenly coated. Let cool to room temperature.
To prepare the soup, preheat the oven to 400 degrees F. Carefully cut the butternut squashes in half lengthwise and remove any seeds. Rub a cookie sheet generously with the olive oil and place the squash on it, flesh-side down. Transfer to the oven and roast the squash until soft, about 45 minutes. Remove from the oven and let cool slightly. Scoop out the squash flesh and set aside.
In a large, heavy-bottomed saucepan, melt the butter over medium heat and add the onions, shallots, and thyme. Add the salt and pepper and sauté for 6 minutes or until translucent. Add the reserved butternut squash and vegetable broth. Bring the soup to a boil and then turn down the heat to low. Simmer for 30 minutes, stirring occasionally. Turn off the heat. Use an immersion blender to blend the soup in the pan; be careful as the soup will be very hot. Add a little of the cream and honey at a time and continue blending until the soup is completely smooth. Taste the soup and adjust the seasonings. Ladle into serving bowls and garnish with the spiced pecans and sour cream.
Chef's note: I recommend using an immersion blender; if you don't own one, you can leave the soup unblended.
---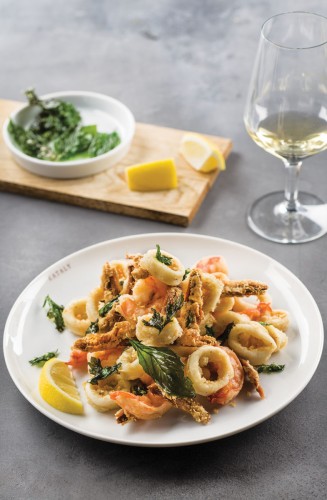 Fritto Misto di Pesce (Fried Seafood)
"Frying tends to intimidate people, but one bite of crispy fried fish and shellfish and you'll agree that it's worth the effort. The biggest objection people have to frying is that it makes a mess. Be sure to work with a pot with high sides and a small diameter to limit splattering as much as possible. Of course, if you have an electric fryer, it will be very useful here. Instant flour is a finely ground low-protein flour. Smelts are so small that they are entirely edible-bones, heads, and all."
–From How To Eataly
Serves 6
1 pound medium shrimp
1 pound squid
1 1/2 cups instant flour
1 cup cornstarch
Pinch sugar
Pinch ground cayenne pepper
2 teaspoons fine sea salt, plus more to taste
2 teaspoons freshly ground black pepper
6 cups olive oil
2 cups canola oil
1 pound smelts or sardines, cleaned and left whole
2 cups whole milk
2 sprigs flat-leaf parsley
1 lemon, cut into eight wedges
Peel and devein the shrimp. Separate squid tentacles from bodies. Leave the tentacles whole and slice the bodies into rings.
In a bowl, combine the flour, cornstarch, sugar, cayenne pepper, 2 teaspoons salt, and pepper. Line a baking sheet with paper towels.
Place the olive oil and canola oil in a Dutch oven or stockpot (there should be 8 inches of oil). Clip a candy thermometer to the pot and place over medium heat. Bring the oil to 275 degrees F and keep it at that temperature as you fry the fish.
Dip the fish and shellfish in the milk, then dredge in the flour mixture. Shake off any excess and fry in the hot oil until golden brown and crispy, about 5 minutes. Work in batches if necessary to keep the temperature of the oil steady.
As the fish is ready, transfer it to the prepared baking sheet with a slotted spoon and salt immediately. When all of the fish is done, add the parsley sprigs to the oil and fry until crisp. Remove them, place them on the prepared baking sheet, and sprinkle them with salt, then transfer the fish to a serving platter and pull the fried parsley leaves off of the sprigs and scatter them on top. Serve piping hot with lemon wedges.