Holiday Entertaining: Cocktail Hour
December 2, 2015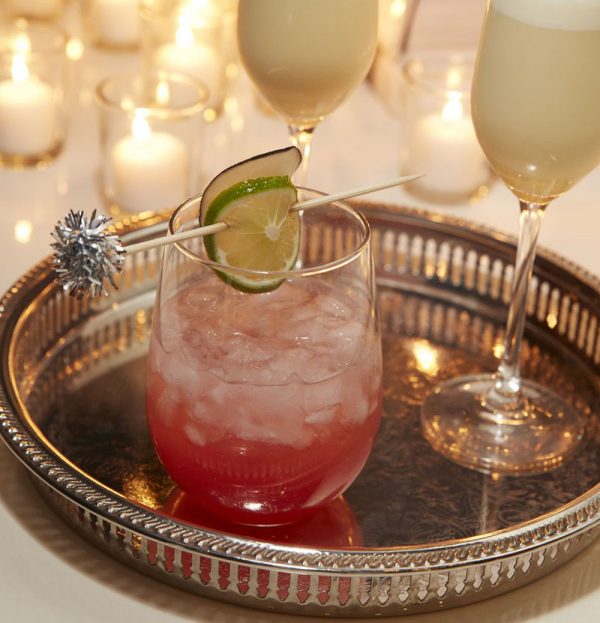 Make your guests feel welcome. Introduce everyone, and be sure when you do to include a complimentary comment about who they are and/or what they do. After making introductions, offer each of your guests the drink of his or her choice. During the cocktail hour, play background music. I suggest compiling a playlist of French standards by Edith Piaf or hits by Carla Bruni.
Setting Up the Bar
Setting up the bar is key to successful entertaining. Do not serve too much alcohol or food to your guests before dinner as you want to make sure that they have an appetite. I set out bowls full of nuts (I prefer hazelnuts), edamame, and radishes with sea salt, which are always appreciated.
Equipment
A tray for serving drinks should be readily available. A polished silver tray is best as it
is impervious to rings from cold bottles or glasses. A range of glassware is essential—
from crystal tumblers (heavy in your hand is perfect for whiskey) to stem glasses in different sizes. Cocktails are best served in small 2-to-3-ounce glasses, not in giant fishbowls. You want your guests to be happy, not sloppy. Other necessary pieces of equipment include a medium-size ice bucket (one made of crystal or silver is elegant), a few stirrers, a silver shaker, and a small plate for sliced and quartered lemon and limes. Select brightly colored cocktail napkins in fun patterns, and make them readily available.
Liquor, Wine , and Soft Drinks
Always have the following beverages available:
• An array of whiskey (Irish, bourbon, and Scotch), gin, vodka, rum, and dry vermouth, along with any special type of liquor that your friends enjoy, along with mixers, such as tonic, ginger ale, and bitters.
• A bottle of chilled white wine (opened or ready to be) and a bottle of red wine. I usually serve red wine with dinner. Chilled champagne is a chic addition.
• Bottles of Perrier or San Pellegrino for nondrinkers.
—From French Chic Living: Simple Ways to Make Your Home Beautiful
RECIPES
Rum Flip
Use best-quality aged rum in this holiday favorite and shake each drink individually.
Serves 8
1 1/2 cups aged rum
8 large eggs
8 tablespoons heavy cream
8 rounded teaspoons sugar
Ice cubes
For each drink, combine 3 tablespoons rum, 1 egg, 1 tablespoon cream, and 1 rounded teaspoon sugar in a cocktail shaker. Add about 1 cup ice cubes and shake vigorously until frothy, about 20 seconds. Strain the drink into a coupe glass and serve.
—From Pret-a-Party: Great Ideas for Good Times and Creative Entertaining
Southside Royale
Tastes a little strong, sweet and sour
60 ml (2 fl oz) dry gin
20 ml (¾ fl oz) fresh lemon juice
15 ml (½ fl oz) sugar syrup (see page 19)
4–6 mint leaves
approximately 100 ml (3½ fl oz) Brut Champagne (or dry sparkling wine)
a mint sprig to garnish
Put the first four ingredients into a shaker, add plenty of cubed ice and shake hard until the shaker is very frosty. Fill a glass halfway with crushed ice and fine-strain the drink into it. Top with Champagne and float the garnish on top.
Perfect Manhattan
Tastes strong, a little sweet and aromatic
45 ml (1½ fl oz) Canadian whisky (or rye whiskey)
15 ml (½ fl oz) dry vermouth
2 teaspoons red vermouth
dash of orange bitters
a maraschino cherry and a twist of orange peel to garnish
Put the ingredients into a mixing glass, add plenty of cubed ice and stir gently until the drink is very cold. Strain into a chilled glass (if using an old-fashioned glass add more cubed ice) and add the garnish.
White lady
Tastes a little creamy, strong, sour and, if you use 4 teaspoons of liqueur, sweet
60 ml (2 fl oz) dry gin
20 ml (¾ fl oz) fresh lemon juice
2– 4 teaspoons curaçao (or triple sec)
1 egg white
a thin slice of lemon to garnish
Put the ingredients into a shaker, shake hard without ice for 20 seconds, then add plenty of cubed ice and shake hard for another 10 seconds. Fine-strain into a chilled glass and float the lemon carefully on top of the foam.