Holiday Entertaining: Preparing for Your Guests
December 2, 2015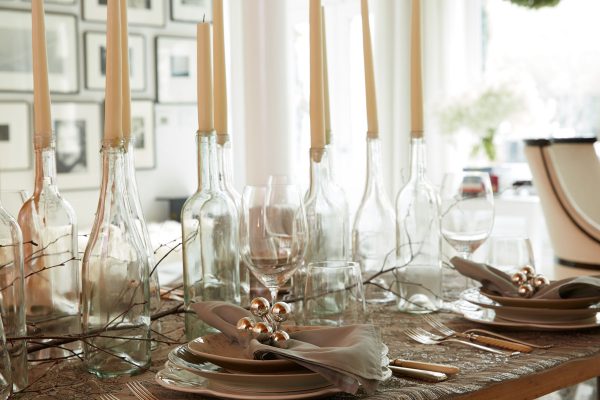 PREPARING FOR YOUR PARTY
Keep the guest list small: Don't invite more people than can comfortably eat in your home and that you feel able to cook for.
Match your menu: If your party has a theme, use that to guide everything that you serve, from cocktails through dessert.
State your intentions clearly: Use the word "dinner" rather than "party," and give people a specific hour (rather than a range of times) to discourage drop-ins. And don't forget to ask for an RSVP.
Make menu cards: Handwritten menus communicate that your guests are in for something special. A well-named signature cocktail can also go a long way in setting a formal (and fun) tone.
Don't try anything new: Seated dinners are not the time to experiment with new recipes. Stick with dishes that you have made before and you will be less stressed before and during the party.
Think ahead: Make as much ahead of time as possible to cut down on last-minute surprises. Many recipes (including the ones in this book) tell you what can be made in advance.
—From Pret-a-Party: Great Ideas for Good Times and Creative Entertaining
HOW TO SET THE TABLE:
In my opinion, setting a beautiful table is an art form. The table setting not only conveys a mood but also frames the food being served. When you are having a great time at a dinner party, it is rarely simply because the food is tasty. Stepping into a room with a lovely table setting gives the impression of good things to come. It shows that you care and have made an effort on behalf of your guests. Often a glorious setting can bring simple fare to the next level.
Gather elements to set a particular scene—from selecting the right napkins and plates to enhancing them with the sparkle of glasses and the shine of the silverware. Do not save your good china, glasses, and silver for special occasions.
Make anytime special and use what you have. Even better—mix styles to create a more personal tablescape.
When it comes to forks, spoons, and knives, there is a "right" way to lay them on the table. The concentration of cutlery and glassware on the right-hand side of the plate is thought to have originated in France, with the idea that you should hold your napkin with your left hand and eat with your right. The conventional rule is that the fork should be on the left, and the knife and soup spoon on the right. All utensils and glasses are organized in order of use—from the outside in. If soup is the first course, the soup spoons are placed to the far right of the knives, unless a small shellfish fork is needed for the first course. A dessert fork and spoon may be placed horizontally above the dinner plate.
There are a few variations when it comes to glassware, but generally the water goblet is placed directly above the knife, a champagne flute just to the left, and the red and/or white wine glass to the right. Some people prefer to arrange their glasses by height. Just be sure they're lined up, and slightly curved toward the guest, not creeping toward the adjacent diner. The bread plate (optional) is placed directly across from the glasses, aligned over the forks.
To ensure guests have adequate elbow room, established rules of etiquette dictate that there should be a minimum of 15 inches between place settings, or approximately 24 inches from the center of one place setting to the middle of the next. Make sure that your guests will never be without a plate in front of them. Two plates on top of one another will make the service easier. Besides, stacked plates of varying sizes also look good on the table. Or, you can put the soup bowl on top of the plate that will be used for the next course. The same goes for the salad plate if you start with a salad.
To make serving easier, have a pitcher filled with cold water on the table before everyone is seated. Or, even better, fill everyone's water glasses before you sit down. Place salt and pepper on the table ahead of time, too, along with wine, bread, butter, or olive oil. This will save you unnecessary trips to the kitchen during dinner.
—From French Chic Living: Simple Ways to Make Your Home Beautiful