HOLIDAY RECIPES: An Inspiring Menu for Your Holiday Celebrations
November 9, 2023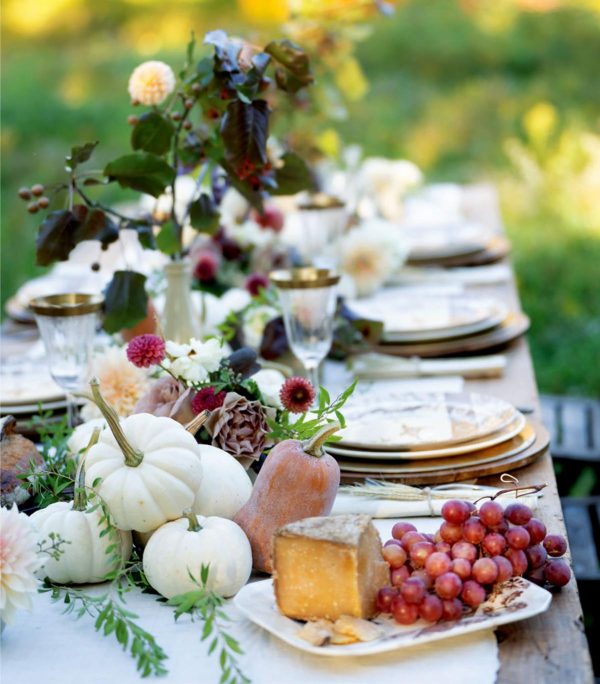 Welcome to our annual Rizzoli Holiday Meal Planner.
As a thank you for your support over the past year, we're sharing a decadent menu of recipes to help you prepare for your holiday celebrations. Taken from our most recent cooking & entertaining titles, we present the following recipes for delicious Main Course, Appetizer & Side, Dessert, and Brunch dishes, plus an array of low-or-no alcohol Cocktails.
We thank you, as always, for your continued support.
---
INSPIRATIONAL CENTERPIECES
---
"Fall in New England has a magical quality, especially in my garden. As the weather turns cooler, the foliage and florals take on a richer, more exciting look…I often have to remind my clients that some of the most striking arrangements take advantage of autumn's unexpected treasures."
---
THE MAIN COURSE
---
Stuffed Leg of Lamb
This recipe from Renaissance Italy is not "stuffed" in the sense we think of today but "forced," meaning the meat is minced with other ingredients and reshaped around the bone and then encased in caul fat and grilled or roasted. It is a delicious showpiece at the center of a grand meal.
---
Boeuf Bourguignon with Fresh Pasta
Explore the classic elegance of Boeuf Bourguignon, a quintessential French dish that shines as the centerpiece of your holiday table. Tender beef melds seamlessly with a rich burgundy-infused sauce, crafting a robust and flavorful experience that embodies the essence of French tradition.
---
Farro and Porcini–Filled Quail with Chanterelles and Chestnut Sauce
"Mushrooms are paired with another ingredient we all need to embrace out of the Valhalla of rarefied, challenging ingredients to which it's been unjustly relegated: quail…Quail cook quickly, and it takes more skill to mess them up than it does to nail them. And if the price was ever a factor, look again: quail can be sourced for as little as $2.50 a bird, less than the average for one pound of organic chicken breast."
---
Pork Tenderloin in Seasoned Bread Crust
"There is an inverse proportion between how easy this unusual roast is for the cook and how much it impresses the eater. It came to life as an improvisation to make some unexpected guests feel welcome. It was such a hit that within two weeks it made it into the regular class rotation and became one of the dishes my students treasure."
---
Chianti-Braised Oxtails with Porcini Mushroom Risotto
"I love osso buco. I have cooked it more times than I can count, and it is the inspiration for this recipe. The mushroom risotto is earthy and creamy, and really complements the oxtails. It is easier to find dried porcini mushrooms than fresh, and they are less expensive. To me, whether dried or fresh, porcinis have the best flavor of any mushroom out there."
---
Tomato Sauce in the Spanish Style with Rack of Lamb
This derives from the earliest known tomato sauce recipe, written in 1692 by Antoni Latini in his Lo scalco alla moderna, where it is described as "a very tasty sauce, for boiled dishes and anything else." It is paired with simple racks of lamb, adapted from the same period, as it was meant to go with a meat dish.
From A History of the World in 10 Dinners: 2,000 Years, 100 Recipes
---
Breaded Baked Goat Cheese, Frisée, Wild Mushrooms, and Asparagus (Vegetarian option)
"The first time I made [baked goat cheese salad], I followed Alice Waters's recipe carefully, to excellent results…This version, unlike the original, is chunky with big, crunchy bits of country bread. Sitting on a "nest" of frisée, roasted mushrooms, and asparagus, the Franco-Californian standard transforms into a fine main course."
From Vegetarian Salad for Dinner: Inventive Plant-Forward Meals
---
Acorn Squash, Wilted Red Cabbage, and Apple with Pumpkin Seed Dressing (Vegetarian option)
"I have never been to Austria except in my imagination. In that idyll, a white tablecloth restaurant with a glorious view and plenty of vegetarian menu options would serve this as their specialty. In keeping with the setting, accompany the salad with sourdough rye and chilled Grüner Veltliner."
---
APPETIZERS & SIDES
---
French Onion–Stuffed Mushrooms with Bitter Greens
"I ate a lot of stuffed portobello mushrooms during my days as a vegetarian…Of all the iterations I've worked my way through, though, these French onion soup–inspired stuffed mushrooms win first prize. An abundance of jammy caramelized onions is loaded into the portobello caps before they're topped with nutty Gruyère cheese and baked. A smattering of toasted bread crumbs mimics the crispy bits of the cozy, classic soup."
---
Slow-Cooked Classic Collard Greens and Skillet Cornbread
"A cinnamon stick is the secret ingredient in my collards. Cinnamon is also a great addition to cornbread. My grandmother used to sprinkle a little cinnamon and sugar on top of her cornbread batter before baking it, just giving it a little extra sweetness."
---
Wild Mushrooms en Papillote with Pecorino and Thyme
"Mushrooms prepared this way have become a recurring Thanksgiving side in my home, but the dish is also hearty enough to serve as a main course. I always make more than I expect to need, as the leftovers make a delightful pasta sauce."
---
Acorn Squash Wedge Salad
When we think of cooking winter squash, our minds often go straight to incorporating sweet ingredients like brown sugar or cinnamon. Here, crispy crumbled salami chips, nutty aged Gouda, and earthy fried sage leaves prove squash can play just as well with salty, savory flavors, too. Though, to be sure, a little honey is snuck in for balance.
---
Roasted Brussels Sprouts and Carrots with Almond Mole
North of the border, we tend to think of mole as a sauce for poultry, and not without reason. Perhaps the most famous mole dish is turkey with mole poblano. But that is only one dish, and mole poblano is just one of hundreds of moles. Mole almendrado would certainly work well with poultry but perhaps pairs even more successfully with roasted vegetables.
---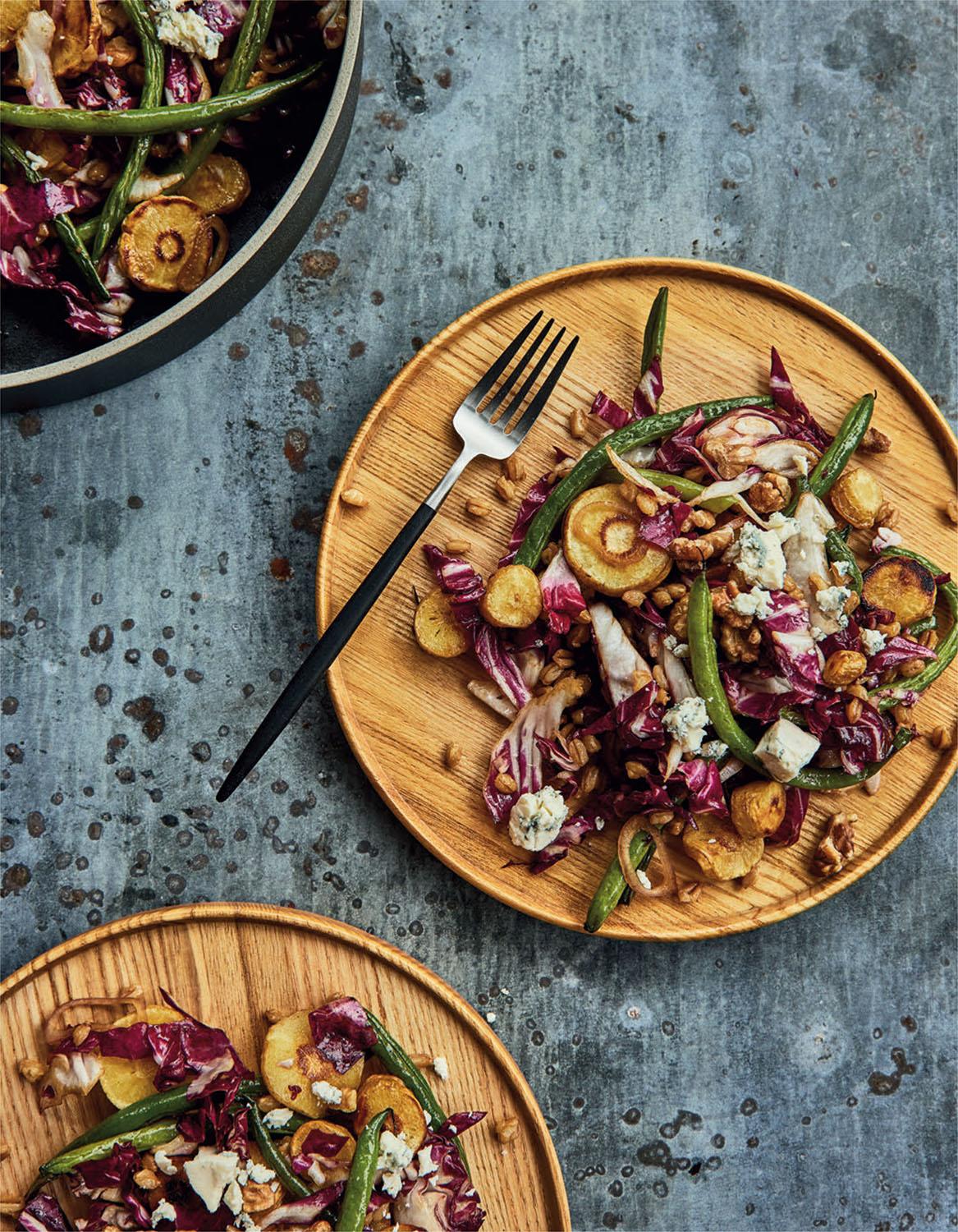 Charred Green Beans and Parsnips, Farro, Radicchio, Gorgonzola, and Walnuts
Parsnips are the starchy white cousins of carrots. When roasted, they take on a satisfying chewy texture. Mixing the thinly sliced shallots into the hot-from-the- oven green beans softens and sweetens them. Enjoy this wintery salad with a glass of Barbera d'Asti.
---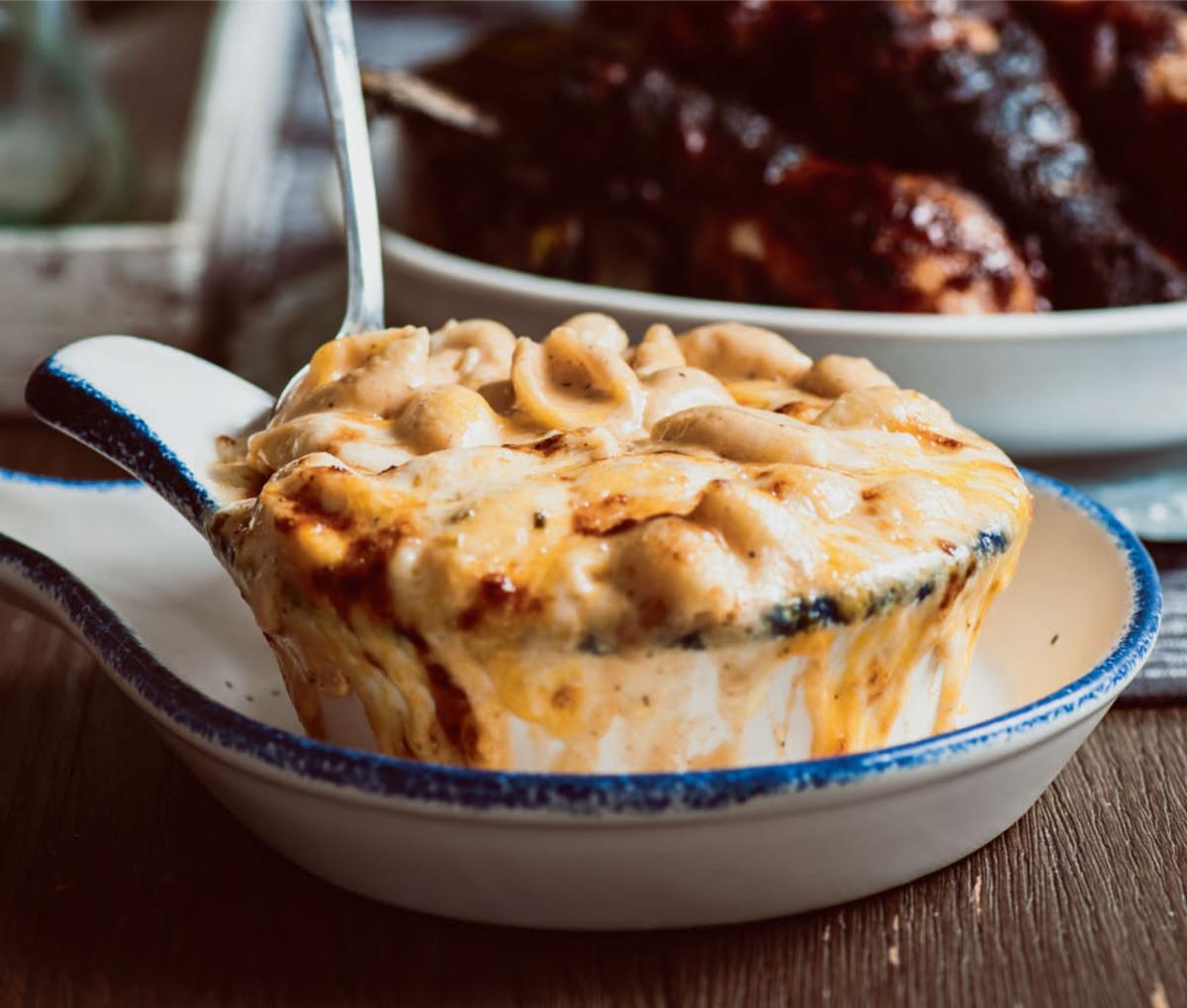 Anna's Mac & Cheese
"When my wife, Anna, and I opened our first restaurant together, we knew we had to have mac & cheese on the menu. People loved it, but Anna always felt it was missing something. One day I watched her make her mac & cheese. She added a cheese combination similar to my pimento cheese—and a new variation was born."
---
Brown Sugar Apple Pie
*Standard and Gluten-Free Pie Crust Recipes Included
This classic apple pie recipe is a real treat, with a flaky, buttery crust and a tender, lightly spiced apple filling. Use a combination of your favorite apples for the best flavor, and bake until the top is golden and the filling is bubbly.
---
Chocolate-Bourbon Pecan Pie
Pecan pie is a traditional Southern dessert, but in Kentucky, they add chocolate and bourbon. The variety of spices in this dish is what makes this pie unique. Fire-spice powder is a combination of cinnamon, star anise, fennel seed, Sichuan pepper, and cloves, creating a complex blend, which, combined with chocolate and bourbon, provides layers of flavor in each bite.
---
Honey Cake
"This is one of my favorite cakes to bake in the fall. The spices perfume the house and I feel it is time to sharpen my pencils and head back to school. I use hazelnut coffee and orange blossom honey for this sticky, sweet dessert."
---
Bourbon-Baked Apples with Cinnamon Toast Croutons
This playful dessert ensures your entire kitchen will be filled with the heady aroma of spiced baked fruit and all the cozy, sweater-weather feels that come with it. A big splash of bourbon in the bottom of the baking dish prevents the apples from burning in the oven, and, as it reduces, com- bines with the butter and brown sugar to become a nutty pan sauce for the fruit.
---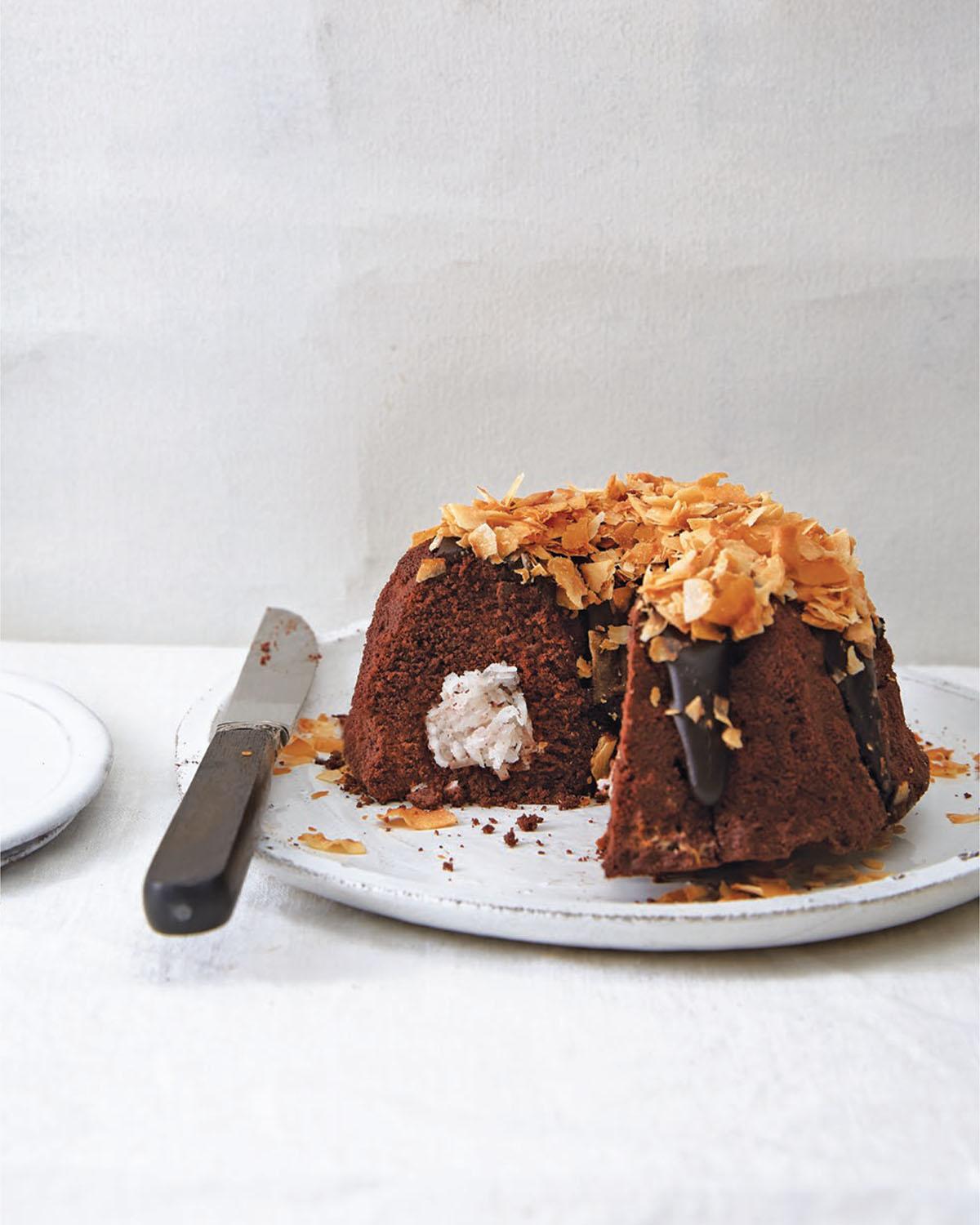 Chocolate Cake with Choice of Four Fillings
Start with this recipe for the rich chocolate cake base. The varied fillings—including coconut, peanut butter, chocolate cream cheese, and jam— are how you make it your own.
---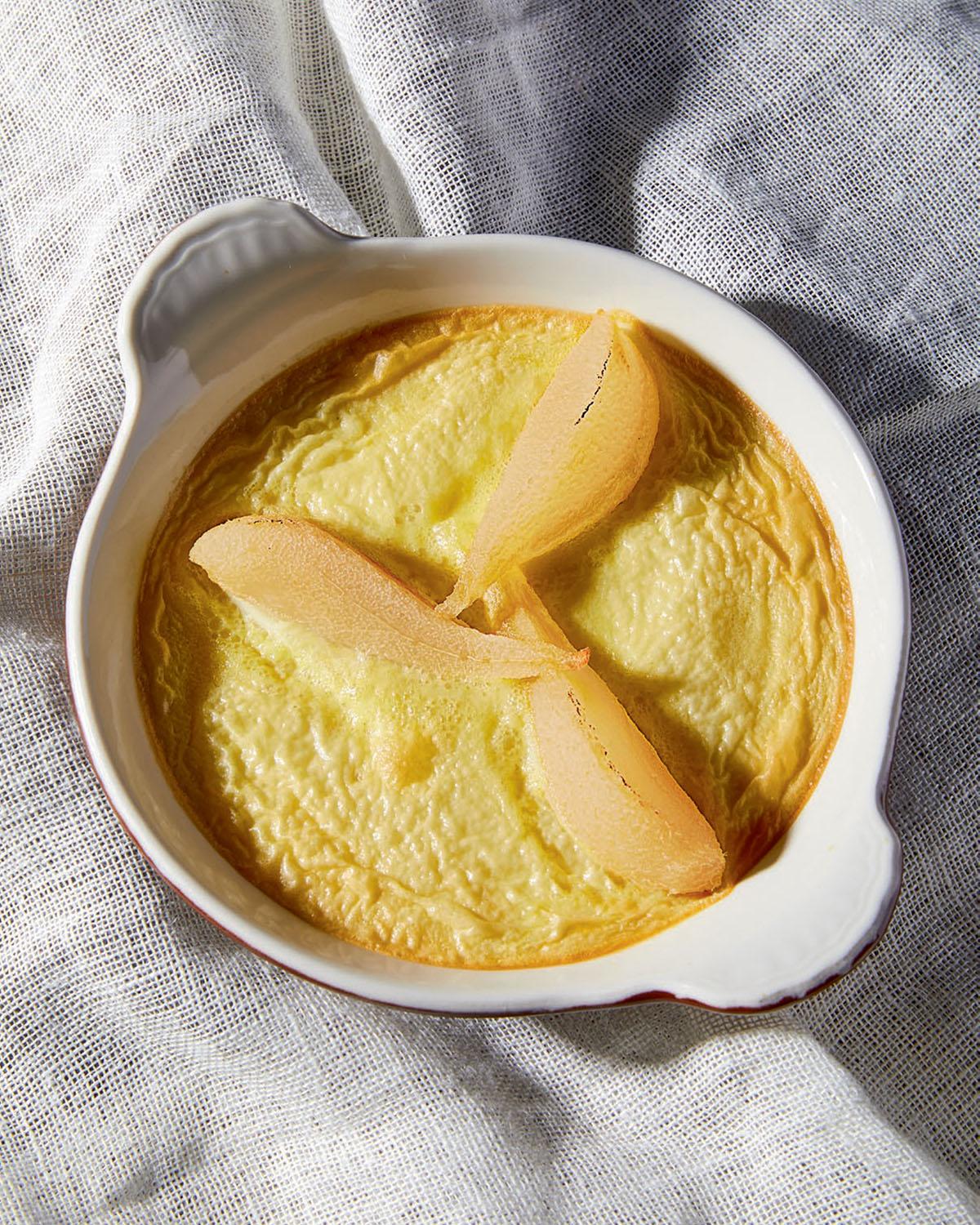 Polenta Custard Tart with Pears and Amaretti
The elegance of wine-poached pears is central to this clever technique from ancient Rome that incorporates the poached pears in a delicate custard, elevating them even further.
---
LOW-TO-NO ALCOHOL COCKTAILS
---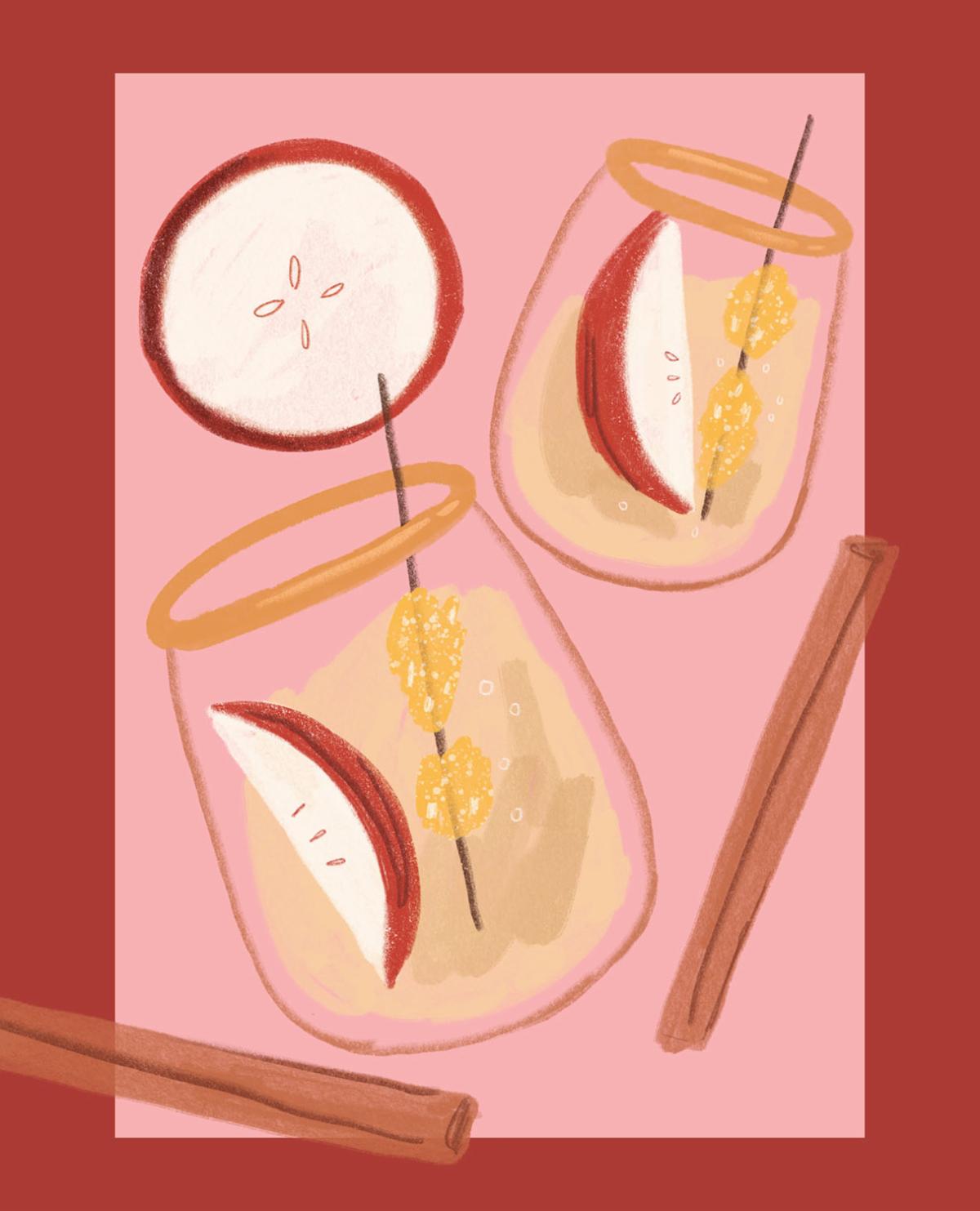 Spiced Apple Punch
Whether it's autumn, or you'd just like to evoke the comfort of gathering around the fire, this punch will make you feel warm and cozy. A bit of sweet, a bit of spice, and a whole lot of delicious, whip up a pitcher whenever you have guests in need of cheer.
From Nixology: Low-to-no Alcohol Cocktails
---
Chambord Royale
Add a splash of Champagne, and you've elevated your drink to a royale. The formula started with kir, but it's a delicious template that works well with any fruit liqueur. In this case, we use Chambord. Produced in France's Loire valley, the liqueur's rich, black raspberry flavour is very sippable. Just add Champagne to finish off this trip to France.
From Nixology: Low-to-no Alcohol Cocktails
---
Sober Mary
M􏰀ost Bloody 􏰀Marys are so flavor-packed that you'd be hard-pressed to notice vodka's presence – or absence. This recipe's blitzed herbs, celery salt, pickle juice, cayenne pepper, Tabasco and garnishes are more than enough to wake you up at brunch.
From Nixology: Low-to-no Alcohol Cocktails
---
Bubbly Pear Punch
When the days get colder, ginger and pear are a warming combo. The kick from the ginger lifts this sparkling punch and is delicious matched with the pear's sweeter notes. Garnish yours with cranberries and rosemary sprigs for a perfectly festive set of glasses.
---
BRUNCH
---
Eggs Baked in Tomato Pulp with Feta, Olives, and Oregano
Forget eggs Benedict and redefine brunch with a dish that is as short in difficulty as it is long in flavor. It can be assembled ahead and baked right before being carried to the table. Toasted slices of country bread are soulmates to this casserole, and a bowl of red chili flakes will cull those who like spice.
---
Rich Cheese Tart
The recipe for this dish comes to us from the Tudor England in the 1490 cookbook Gentyll Manly Cokere and is perfect for your celebratory feast. It's rich, delicious, and a great way to show off the subtlety of white pepper.
---
Rolled Mushroom Omelet
Perfect for a leisurely post-holiday brunch, this Rolled Mushroom Omelet—a harmonious blend of earthy mushrooms wrapped in a fluffy egg embrace—is a quick and flavorful choice that makes a lasting impression.
---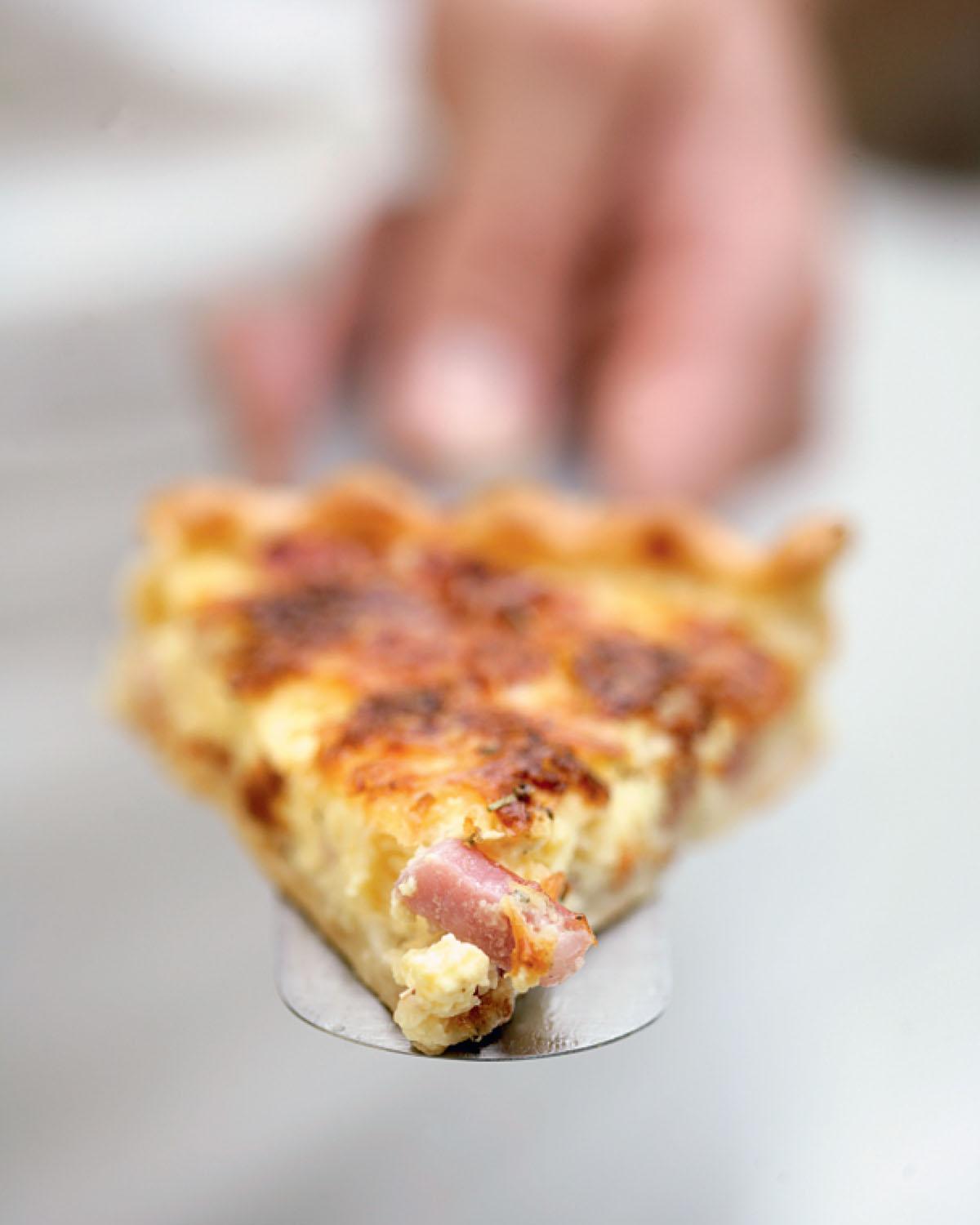 Quiche Lorraine
Quiche Lorraine is a classic French culinary masterpiece that tantalizes taste buds with each savory bite. The buttery, flaky crust filled with crisp bacon and creamy gruyère cheese creates a symphony of flavors ideal for a post-holiday brunch.
---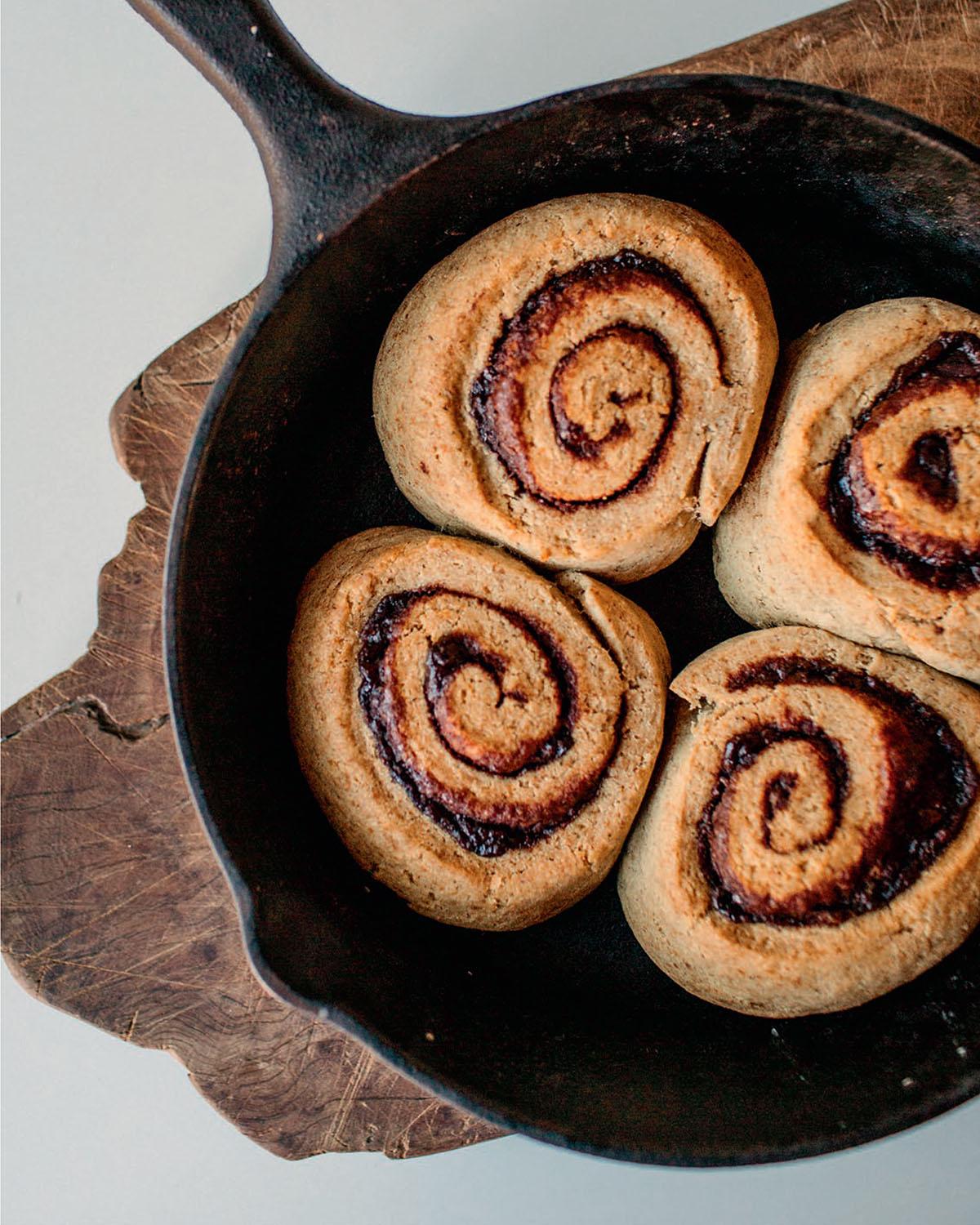 Gluten-Free Sourdough Cinnamon Rolls
Just like the traditional sourdough version, these cinnamon rolls use a variation on the sourdough biscuit recipe as a base, then cinnamon, sugar, and more butter and sugar are added to make them even more amazing.
---
Babka with Choice of Four Fillings
"This babka recipe is from a long-lost cousin who worked in a bakery many years ago. The fillings have varied over the years, per my family's requests. You can make all four babkas with the same filling, or mix them up…Many old-school bakeries either bake a streusel on each babka or, once cooled, add a thick layer of confectioners' sugar on top and then drizzle melted chocolate on top of the sugar."
---
Almond-Topped Cake
"In England, I tasted a few varieties of this type of dessert, often called plum cake or plum pudding, with fruit (traditionally raisins or currants) added but, interestingly, no plums. This rustic cake is made with confectioners' sugar, resulting in a tender and light crumb. It is wonderful served with caramel sauce on the side."
From Sweet Little Cakes from Mrs. Zabar's Bakeshop: Perfect Desserts for Sharing
---
FIGHTING FOOD WASTE
---

Food waste is one of the most pressing issues in the modern world, but as individuals, there is plenty we can do to help combat it, starting in our own kitchen. You'll be surprised how rewarding it feels to reduce how much you throw away.
---
Top image from French Blooms. Photograph by Kindra Clineff.
---