Rizzoli Enhanced Ebooks now on iTunes!
October 28, 2011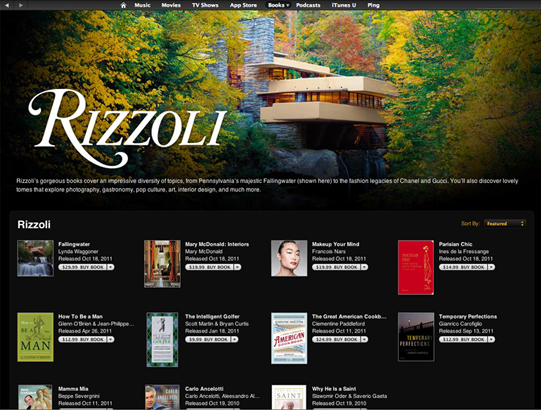 We are so pleased to announce that Rizzoli's new Enhanced Ebooks are now available on iTunes! These enhanced fixed-layout ebooks maintain the beautiful design and high-quality full-color images that you have come to love from Rizzoli books, and most include enhancements such as audio and video.
You can find Rizzoli's dedicated iBooks page by visiting itunes.com/Rizzoli (this will launch the iTunes application). In addition to a full listing of our all-text, black & white ebooks, Rizzoli's iBooks page lists our selection of enhanced fixed-layout ebooks, including:
Mary McDonald: Interiors: In her first book, award-winning interior designer Mary McDonald inspires readers to combine old-fashioned elegance with the joy of fearless, exuberant decorating.
Preston Bailey: Flowers: Preston Bailey, one of the world's preeminent floral and event designers, presents dozens of his most memorable arrangements. Our enhanced edition of Preston Bailey: Flowers includes several time-lapse videos that take the reader from the raw empty event space to the finished elaborate event.
Fallingwater: Fallingwater is a landmark volume published to commemorate the seventy-fifth anniversary of arguably the most significant private residence of the twentieth century. Our enhanced edition of Fallingwater includes a full video tour of the house and surrounding property filmed by the Western Pennsylvania Conservancy and narrated by author Lynda Waggoner.
Makeup Your Mind: From François Nars, one of the most respected and imitated cosmetics designers in fashion today, Makeup Your Mind is a totally new, revolutionary instruction manual on makeup for today's woman.
Parisian Chic: In Flammarion's best-selling Parisian Chic, celebrity model Inès de la Fressange shares the well-kept secrets of how Parisian women maintain effortless glamour and a timeless allure. Our enhanced edition of Parisian Chic includes narration from author Inès de la Fressange, as well as web links to all the stores and locations included in the book.