Holiday Entertaining Tips & Recipes: Winter Squash
November 14, 2012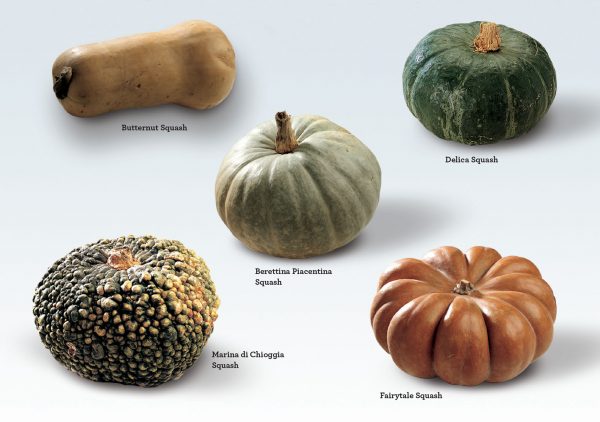 This holiday season, I'm going to start small and switch out the usual cranberry relish for a squash mostarda. It comes from La Cucina Italiana: The Encyclopedia of Italian Cooking. The Italians have an inventive way with winter squash (zucca); it pops up in pasta fillings, tarts, soups, and fritters. Here it's simmered in a sweet and sour sauce with a hint of mustard. I'm betting it will add just the zing to the turkey, without upsetting the traditionalists at the table.
—Christopher Steighner, Senior Editor, Cookbooks
WINTER SQUASH
Winter squash, as the name implies, is harvested in the colder seasons of the year. It is a keeping vegetable and can be stored in a cool, dry place for several months. It is a staple of rustic cooking in Italy, where it is eaten on its own and also used to stuff pasta and make savory tarts, gnocchi, soup, and risotto. Winter squash can even be sliced into thin julienne and eaten raw. It comes in a wide range of varieties with different shapes, colors, and sizes.
CUTTING, CLEANING, and PEELING SQUASH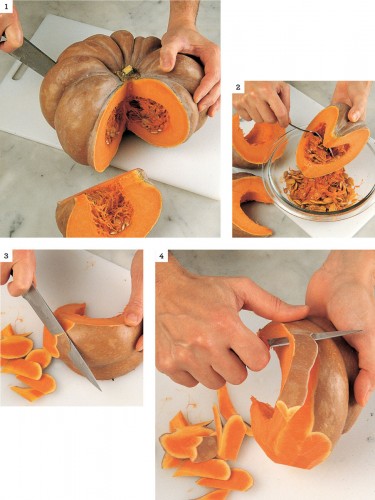 An unpeeled, uncut winter squash will keep for months in a cool, dry place. However, once you cut it, you need to use it pretty quickly. Some large varieties are sold in halves and/or quarters. If you purchase those cut pieces, check to be sure that both the flesh and the peel are firm, with no soft spots, and use them the day you buy them.
Cutting: Use a broad chef's knife to cut winter squash. Hold the squash firmly on the cutting board and cut off a wedge [1].
Cleaning: Use a spoon to remove the seeds and strings. Scrape with the side of the spoon to be sure you get them all [2].
Peeling: Place the wedge on its side and use the chef's knife to cut away the peel [3]. If the peel is thin, you can use a paring knife for better control [4].
STEAMING, SAUTÉING, and ROASTING WINTER SQUASH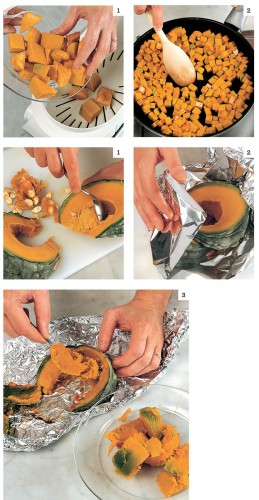 The many different varieties of winter squash are usually divided into two groups: those with compact, sweet, dry flesh and those with more fibrous moist flesh. The former are best for pureed squash and stuffing tortelli and other pastas, while the latter are best in soups and sauces.
Steaming: Steam squash in a steaming basket set over boiling water [Row 1, 1]. If you cut the squash into pieces, it will cook faster.
Sautéing: Diced squash can be sautéed in a pan with salt and pepper and served as a side dish [Row 1, 2].
Roasting: Many squash preparations call for cooked squash flesh. If you're cooking squash for this purpose, don't bother to peel it. Just use a spoon to remove the seeds and strings [Row 2, 1]. Wrap the squash wedges in aluminum foil [Row 2, 2] and roast them at 350 degrees F until soft, about 40 minutes. Then scoop out the flesh and discard the skin [3].
SQUASH PUREE, MOSTARDA, and ROASTED SQUASH SEEDS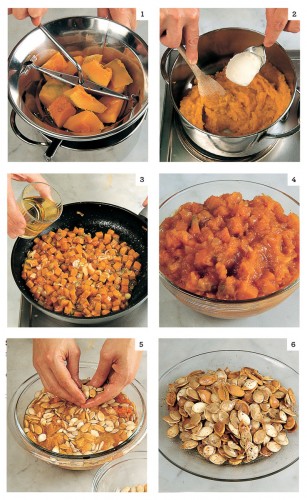 Puree: Puree pieces of steamed squash using a food mill [1]. Over low heat, combine the pureed squash with butter, salt, and some freshly grated nutmeg [2]. Include one or two boiled potatoes in the puree, if you like.
Mostarda: Sauté diced squash with 2 or 3 shallots until browned. Add sugar, water, vinegar, and white wine and cook over low heat until very soft and syrupy [3]. Add a little mustard powder and cook a little while longer to combine the flavors. This homemade mostarda (a sweet-and-sour condiment similar to a chutney) pairs well with boiled meats [4].
Roasted Squash Seeds: Squash seeds that have been cleaned of strings [5] can be spread in a Pyrex dish and baked until dry and crispy [6]. Shell and eat these roasted seeds—sprinkled with some salt, if you like—as a snack.