Holiday Recipes from Rizzoli: New Year's Eve Lobster Fest
October 28, 2014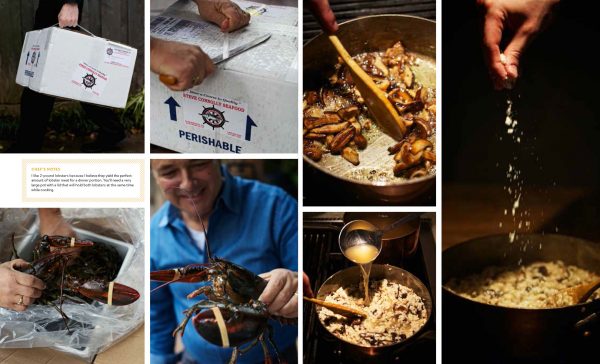 Whether staying home with your loved ones or throwing a party with friends, Neiman Marcus's New Year's Eve Lobster Fest—paired with any of the champagne options listed below—is sure to ring in your New Year with style.
Please visit our News & Publicity page for Holiday recipes for Appetizers, Main Course, Side Dishes, Vegetarian options, Desserts, and Wine & Cocktails. You can also visit the Food & Wine section of our website for plenty of inspiring cookbooks to spur your creativity.
---
New Year's Eve Lobster Fest
with Grilled Garlic Bread and Wild Mushroom Risotto
"Before coming to Neiman Marcus in my current position, I was a working chef for 16 years after graduating from the Culinary Institute of America in 1978. As a chef this meant that you worked every holiday, and one of the busiest holidays was always New Year's Eve. So when I took the job at Neiman's I found myself with time off on New Year's Eve for the first time in my culinary career. My wife, Jody (who also worked in restaurants for over 20 years before we were married), and I found ourselves sitting at home feeling excited that we both had this super-busy restaurant night off! So with a young baby at home we decided to create our own New Year's Eve tradition: The Lobster Fest was born!"
–From Neiman Marcus Cooks
Yields an intimate dinner for 2
For the Lobsters
2 lobsters, about 2 pounds each
1/2 cup unsalted butter, melted
For the Wild Mushroom Risotto
6 cups prepared chicken broth
3 tablespoons olive oil
2 cloves garlic, minced
3 cups mixed wild mushrooms, washed and finely sliced
1 cup Arborio rice
1 cup grated Parmesan cheese
2 tablespoons unsalted butter
1 cup heavy cream
1/8 teaspoon kosher salt
1/8 teaspoon freshly ground black pepper
For the Garlic Bread
1/2 cup unsalted butter, melted
4 cloves garlic, minced
1 large loaf French- or Italian-style bread, split in half lengthwise
To prepare the lobsters, bring a stockpot of water to a boil. Be sure to leave the rubber bands on the lobster claws unless you want to possibly lose a finger or two. Plunge the lobsters headfirst into the boiling water and close the lid. Set a timer for 10 minutes and then remove the lobsters with a sturdy set of tongs; they will be a bright red color. Transfer the lobsters to the sink and rinse under cold running water for 10 seconds; this will remove any white scum that may have appeared in the boiling liquid. (I usually have a kitchen towel in each hand while handling the lobsters since they are hot.) Keeping the lobsters in the sink, break away the tail from the upper body with a twisting motion and with a similar twisting motion, break away both claws. Have a cutting board handy next to the sink, and with your chef knife, split the lobster tail in half lengthwise. Place the lobster claws on the cutting board and with your chef knife make a few cracks on the shells with the back side of the knife. Serve each person one split tail and two claws. Be sure you have an extra bowl on the table for the empty shells. Serve with the melted butter alongside.
To prepare the wild mushroom risotto, pour the chicken broth into a saucepan and bring to a simmer. Heat the olive oil in a separate saucepan over medium-high heat. Add the garlic and sauté for 1 minute. Add the wild mushrooms and sauté for 5 minutes longer or until the mushrooms start to brown on the edges. Add the rice, stir well to mix with the mushrooms, and turn down the heat to low. Using a ladle, add 1 ladle of the simmering chicken broth to the rice while stirring with a wooden spoon, allowing the rice to absorb the liquid. When absorbed, add another ladle of broth and continue this process until all the chicken broth is absorbed or until the rice is al dente. Turn off the heat and add the Parmesan cheese, butter, and cream; stir well to incorporate and season with the salt and pepper.
To prepare the garlic bread, preheat the oven to 350 degrees F. Mix the butter and garlic and smear on the bread. Wrap the bread in foil, place on a cookie sheet in the oven, and bake for 10 minutes. Unwrap the bread and open it up to expose both halves. Set the oven to broil and brown the bread for 30 seconds. Serve immediately.
---
For your champagne celebration:
Agrapart & Fils 7 Crus Brut NV
A low-priced blend of equal parts of 2010 from young vines aged 20-40 years in lesser sites, and 2009 from good parcels; 25% of 2009 components matured in barrels; 90% chardonnay and an increasing percentage of pinot noir (now 10%) from Avize, Oger, Oiry, Cramant, Avenay Val d'Or, Bergèreslès-Vertus and Mardeuil; full malolactic fermentation; aged 3 years on lees; 7g/L dosage
Agrapart's precision and attention to detail is proclaimed from the very first cuvée, an accurate and incisive citrus charged style of textural presence and great persistence. Delightful grapefruit spice and lemon zest are accented with hints of clove, a soft, creamy bead, and excellent chalk mineral character. A very fresh disgorgement, just two weeks old when I tasted it, yet already beautifully integrated.