Holiday Recipes from Rizzoli: Wine & Cocktails
October 28, 2014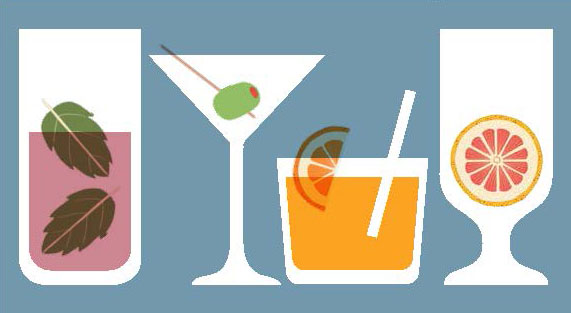 As we creep closer and closer to the holiday season, it's time to start thinking about what you'll serve your guests this Thanksgiving and beyond. Whether you'll make a traditional turkey or choose to break away from the holiday norm, Rizzoli has tons of great recipes and entertaining ideas for you to follow.
Enjoy these WINE & COCKTAIL recipes below, or visit News & Publicity page for recipes for Appetizers, the Main Course, Side Dishes, Vegetarian options, Desserts, and a New Year's Lobster Fest. You can also visit the Food & Wine section of our website for plenty of inspiring cookbooks to spur your creativity.
---
Mulled Pomegranate Wine
Switching out orange juice for pomegranate is a smart move–it's the perfect basis for this rich mulled wine and the spiced rum and dash of Cointreau add the smell of pure festiveness, minus the turkey burps.
–From The Mixers Manual
INGREDIENTS
100 ml (4 oz) spiced rum
25 ml (1 oz) Cointreau
1.14 litres (38 ½ oz) pomegranate juice
1 bottle (750ml/25 oz) of red wine
2–3 whole cloves
dash of Ginger Syrup (see SIMPLE SYRUP above)
3 cinnamon sticks
1 blood orange, sliced
fresh pomegranate seeds, to garnish
EQUIPMENT
Heatproof glass or cup
Wooden spoon
Large saucepan
METHOD
Add the ingredients (except the pomegranate seeds) to a large saucepan and heat gently for about 15 minutes, to allow the flavours to infuse. Stir occasionally with a wooden spoon. Serve in a heatproof glass or cup, adding the pomegranate seeds to garnish.
---
Eggnog with Cardamom and Ginger
"The holiday classic. Don't be scared of egg-based drinks, this one is ostensibly custard. With booze thrown in for good measure. And who doesn't want that? The cardamom pod (split open, but still whole) and ginger set it apart from the rest."
–From The Mixers Manual
INGREDIENTS
6 super-fresh organic eggs, beaten
1.14 litres (38 ½ oz) whole milk
50g (2 oz) unrefined sugar
3 cardamom pods, crushed
dash of Ginger Syrup (see SIMPLE SYRUP above)
1 teaspoon cinnamon
200 ml (7 oz) brandy
pinch of freshly grated nutmeg, to garnish
EQUIPMENT
Heatproof glass or cup
Wooden spoon
Large saucepan
Grater
METHOD
Pour the beaten eggs into a saucepan with the milk, sugar, crushed cardamom pods, ginger syrup and cinnamon and heat gently, stirring occasionally, until the mixture thickens. Remove the cardamom pods. Share the brandy between individual heatproof glasses or cups, then pour over the warm eggnog (or chill first, if you like).
Sprinkle with grated nutmeg and serve.
---
Ciderhouse Blues
"A spicy, clove-scented cider packed with bourbon. Use good-quality cloudy apple juice and your own home-made clove syrup and don't skimp on the lemon juice."
–From The Mixers Manual
INGREDIENTS
50 ml (2 oz) bourbon
25 ml (1 oz) Clove Syrup (see SIMPLE SYRUP below)
dash of lemon juice, freshly squeezed
cloudy apple juice, to top
cinnamon stick, to garnish
EQUIPMENT
Highball
Shaker
METHOD
Shake the bourbon, clove syrup and lemon juice over ice cubes, strain into a highball with 2–3 ice cubes, top with cloudy apple juice and garnish with a cinnamon stick.
Simple Syrup
Makes enough dashes for about 15 drinks
INGREDIENTS
200 ml (7 oz) water
100 g (3 ½ oz) demerara (turbinado), cane or granulated (raw) sugar
1 tablespoon corn syrup (optional)
EQUIPMENT
non-stick saucepan
wooden spoon
funnel
GLASS
200 ml (7 oz) kilner jar, sterlised
glass bottle with stopper, sterlised
METHOD
Boil the water and gently add the sugar. reduce the heat and stir constantly for
3–5 minutes, until all the sugar is dissolved and the syrup is clear. Turn off the heat and leave to cool. adding a spoonful of corn syrup to the cooled mixture will help keep the syrup smooth. when still runny, funnel into a kilner jar or a glass bottle with stopper. store in the fridge for up to six weeks.
Using this simple syrup as your base, add your own infusions, tweaking amounts to taste, according to how potent your flavourings are. a sprig or two for rosemary syrup should do it, whereas mint or basil syrups – because the leaves are more fragile – require a good handful. It's not an exact science.