Tips for Spring & Summer: Entertaining
May 13, 2015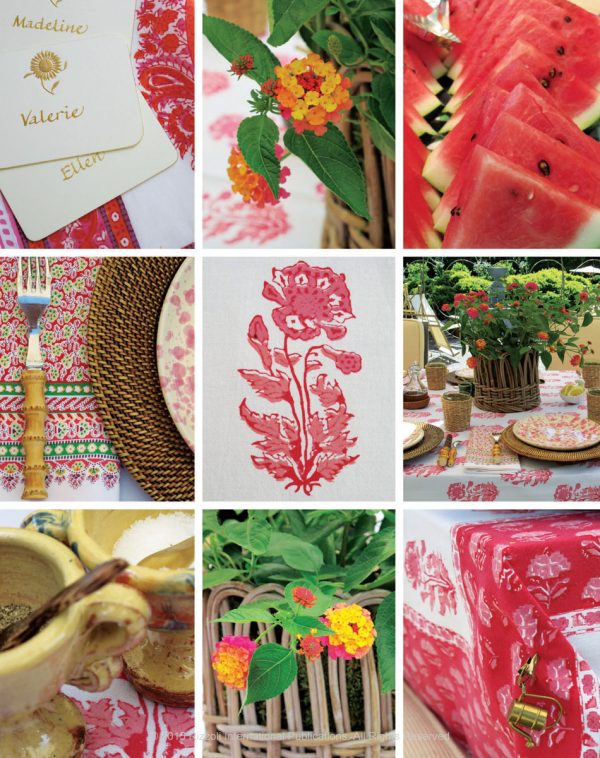 "Summertime is picnic time, and the table on my terrace in the country has replaced the picnic tables of my childhood but not the memories. Eating outdoors has always felt festive because of those childhood memories of cooking on the grill, having large family gatherings outdoors, or enjoying a simple backyard meal. A small lunch with a few girls, our annual family weeklong reunion, a celebration for a friend, or simply our weekend meals—we dine outside every chance, weather permitting. Some will swear that the food tastes better. I enjoy being amidst the trees, shaded by an umbrella, hearing the ocean and the birds and my dogs snoozing nearby. Setting the table each meal with a tablecloth, flowers from the garden, and a mix of china makes every meal beautiful and enjoyable."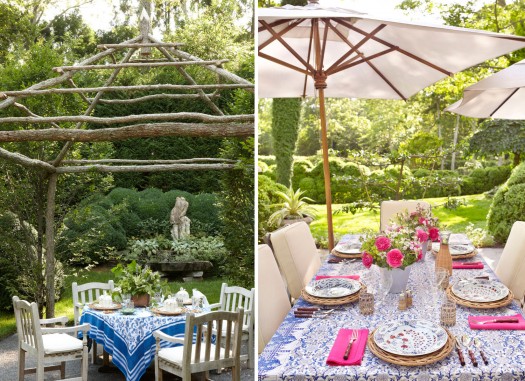 Experiment. Try something new as a centerpiece . Follow the golden rules on height (all guests should be able to see each other) and no fragrance at the table. But after that, the table is yours to design.
Place cards make it easy for everyone—no decisions to be made. Your guests should not have to work or agonize about where to sit.
Give placement a lot of thought. Mix people up; don't put two people together who know each other really well, unless that is the case all around. Give your guests a chance to get to know someone better. It shows that you thought about them.
Make a toast to welcome your guests. Plan it in advance and add humor—and brevity is always appreciated.
If it is a special occasion, make a commemorative photo book to send to guests afterward. It is so easy to do today with apps and websites like iBooks Author, blurb.com, and artifactuprising.com.
Use what you have in new and interesting ways. What do I mean? Look around at what you own—how can you use objects and accessories on the table? Be creative . . . but be beautiful.
Linens: beautiful, of course, and crisp, clean, and neatly ironed. Good housekeeping is the foundation to everything. Everyone should have a set of large white linen napkins. They go with everything and are perfect for buffet dinners.
When it comes to food, don't use your guests as guinea pigs. Try every recipe before you serve it to others. Who needs that anxiety?
Take all the time you need to get ready for your own party; you will feel better and be more relaxed.
And, lastly, PRACTICE. Here we go again, you might say, but yes, practice works. Setting the table is everyday decorating, I have said it before and will continue the refrain. How do you expect to have successful dinner parties, luncheons, or tailgate picnics if you are not doing it every day for yourself and your family? You must first be hospitable to yourself.
—Charlotte Moss, from Charlotte Moss: Garden Inspirations