Holiday Entertaining: Main Course Recipes
December 2, 2015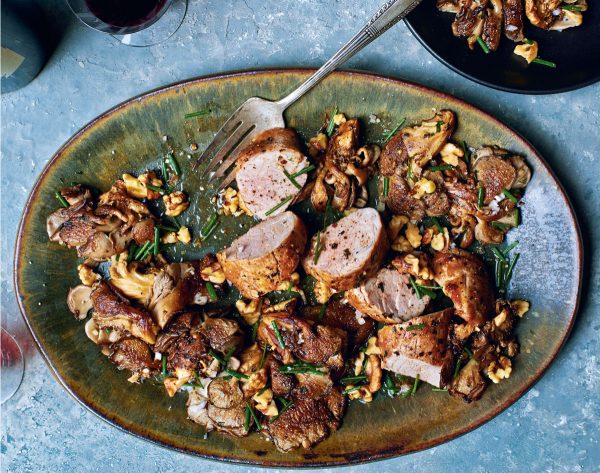 With the holiday season in full swing, it's time to start thinking about what you'll serve your guests at your Christmas, Hanukkah, and New Year's Eve gatherings. Enjoy the recipes below or click on the News tab for recipes and tips for your entire holiday meal.
Thyme-Basted Pork Tenderloin with Oyster Mushrooms
Four Servings
1 tablespoon grapeseed oil
One 1-1/4 pound (625-g) pork tenderloin
Sea salt and freshly ground pepper
4 tablespoons (60 g) unsalted butter
2 tablespoons extra-virgin olive oil
1-1/2 pounds (750 g) oyster mushrooms, torn
4 garlic cloves: 2 finely chopped, 2 crushed with skin
2 tablespoons chopped parsley
2 large thyme sprigs
Fleur de sel
Chopped toasted walnuts, for serving
Finely chopped shallots, for serving
Snipped chives, for serving
Heat the oven to 350F (175C). In a medium ovenproof skillet, heat the grapeseed oil until shimmering. Season the pork with salt and pepper. Add the pork to the skillet and cook over medium-high heat until browned all over, about 5 minutes. Transfer the skillet to the oven and roast the pork, turning twice, until an instant-read thermometer inserted into the thickest part of the meat registers 135F (55C), 18 to 20 minutes.
Meanwhile, in a large skillet, melt 1 tablespoon (15 g) of the butter in the olive oil. Add the mushrooms, season with salt and pepper, and cook over medium-high heat, stirring occasionally, until golden, 10 to 12 minutes. Add the chopped garlic and parsley and cook, stirring, until the garlic is fragrant, about 30 seconds. Remove the skillet from the heat.
Set the skillet with the pork over medium heat. Add the remaining 3 tablespoons (45 g) of butter, the crushed garlic cloves, and the thyme and cook until the butter is foamy. Carefully tip the skillet and, using a large spoon, baste the meat repeatedly until the butter is browned and smells nutty, 2 to 3 minutes.
Transfer the pork to a cutting board and cut into 8 equal wedges, slicing on the diagonal. Spoon the mushrooms onto plates, top with the pork, and drizzle with the brown butter in the skillet. Sprinkle with fleur de sel, walnuts, shallots, and chives and serve.
—From Bistronomy: Recipes from the Best New Paris Bistros
---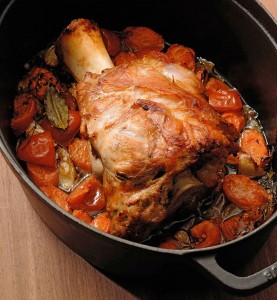 Braised Veal Shank
Jarret de veau à la ménagère
Serves 4
Preparation time: 20 minutes
Cooking time: 1 hour 30 minutes
1 milk-fed veal shank, about 3 1/2 lb. (1.5 kg)
5 1/2 tablespoons (80 g) butter
1 large onion
9 oz. (250 g) new carrots
2 ripe tomatoes
Scant 1/2 cup (100 ml) dry white wine
3/4 cup (200 ml) veal stock
1 small bouquet garnish
Salt and pepper
Season the veal shank with salt and pepper. Preferably using an oval ovenproof pot, color the veal on all sides in butter. While it is browning, cut the onion into large dice, the carrots into slices, and peel and chop the tomatoes. Add the diced onion and carrot slices and let them sauté a little. Then soften the chopped tomatoes.
Pour in the dry white wine and veal stock. Add the bouquet garni and cover with the lid. Either cook in a 350°F (180°C) oven, or over low heat for about 2 hours. Remove the bouquet garnish just before serving.
Serve the veal shank in a deep dish surrounded by the vegetables and drizzled with the pan juices.
—From Paul Bocuse: Simply Delicious
---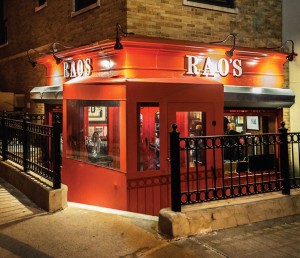 Frankie's Meatballs
1 pound lean ground beef
1 pound ground pork
1 pound ground veal
2 large eggs, beaten
1 cup freshly grated pecorino
Romano cheese
1-1/2 tablespoons finely chopped flat-leaf parsley
1 clove garlic, minced
2 cups plain bread crumbs
Salt and freshly ground black pepper
Extra virgin olive oil for frying
Place the beef, pork, and veal in a large bowl. Add the eggs, cheese, parsley, and garlic. Mix well—the best way is with your hands. Add the bread crumbs, salt, and pepper, and mix again. Add up to 1 cup cold water, gradually working it in, to make the mixture moist and easy to shape.
Shape the mixture into balls 2 to 3 inches in diameter, as desired.
Heat 1/2 cup oil over medium in a large skillet. Fry the meatballs in batches without crowding, turning them to cook all sides. Add more oil to the skillet if needed. Drain the meatballs on paper towels as they are done.
Cook's Notes: If it's more convenient, you can shape the meatballs and refrigerate them for several hours before frying them.
—From City Harvest: 100 Recipes from Great New York Restaurants
---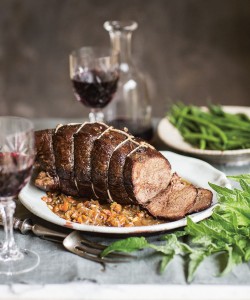 Beef Casserole with Red Wine and Cloves
Garofolato di Manzo
Serves 6-8

1.5 kg (3 lb 5 oz) beef (thick flank, topside or leg of mutton cut)
salt and freshly ground black pepper
50 g (2 oz) pork fat or fatty streaky unsmoked bacon, cut into 1 cm (1/2 in) strips
50 g (2 oz) salted butter
2 garlic cloves, peeled and lightly crushed
300 ml (10 fl oz) red wine
5 cloves
1 onion, finely chopped
2 medium carrots, finely chopped
2 celery sticks, finely chopped
4 tablespoons olive oil
2 tablespoons tomato purée (paste)
200 ml (7 fl oz) hot water
For the herb paste:
50 g (2 oz) pork fat or unsmoked fatty streaky bacon
2 cloves, crushed in a pestle and mortar
1 fat garlic clove, peeled
1 teaspoon salt
1/2 teaspoon freshly ground black pepper
2 teaspoons dried marjoram or oregano
2 teaspoons thyme leaves
Preheat the oven to 170°C (340°F/Gas 5). First make the herb paste: put the pork fat on to a chopping board with the rest of the herb paste ingredients and chop together until you have formed a thick herby paste. Make around 15 small incisions in the meat, around 3 cm (1 in) deep, with a sharp knife and use your finger to push in about 1 teaspoon of the paste into each hole until it is all used up. Roll the meat into a neat shape and tie securely with string. Season with salt and pepper.
Heat the pork fat or bacon with the butter in a large high-sided lidded frying pan or a casserole dish over a medium heat. Add the garlic and sauté for 2 minutes, then remove before it burns and set aside. Add the meat to the pan and brown all over, then add the wine and cloves and cook for 5–10 minutes.
In a separate frying pan, fry the chopped vegetables in the oil over a medium heat for about 7 minutes until softened. Mix the tomato purée with the hot water in a jug and add this to the beef along with the softened vegetables and reserved garlic. Cover the pan and simmer gently for 21/2 hours until the meat is tender. Remove from the heat and allow to rest for 20 minutes before slicing and serving with the sauce.