Holiday Entertaining: Side Dish Recipes
December 2, 2015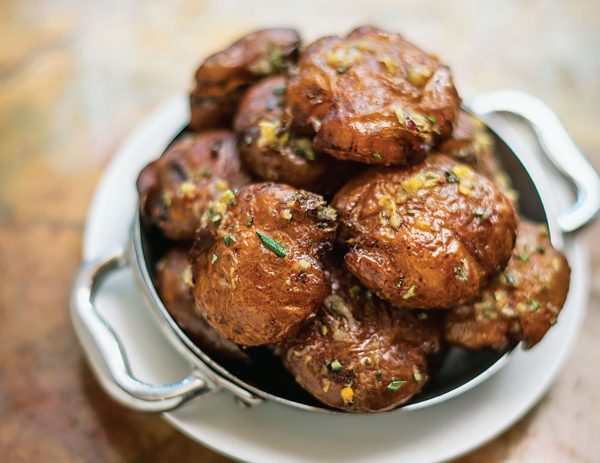 With the holiday season in full swing, it's time to start thinking about what you'll serve your guests at your Christmas, Hanukkah, and New Year's Eve gatherings. Enjoy the recipes below or click on the News tab for recipes and tips for your entire holiday meal.
Smashed Potatoes with Rosemary Vinaigrette
1 pound small red bliss potatoes, peeled
Salt
2 sprigs fresh rosemary
3 cloves garlic
Grated zest of 1⁄2 lemon
1-1/2 teaspoons lemon juice
1-1/2 tablespoons extra virgin olive oil
Pinch of crushed red chili flakes
Grapeseed or canola oil for frying
Place the potatoes in a pot of salted water with one sprig of the rosemary and two cloves of garlic and boil until they are tender, about 20 minutes. Drain the potatoes and discard the rosemary and garlic. Place the potatoes on a cutting board and use the side of a cleaver or the bottom of a pot to crush them lightly, keeping them as intact as possible.
Strip the leaves from the remaining rosemary sprig and chop them. Mince the remaining garlic clove. Place the rosemary and garlic in a dish with the lemon zest and juice and whisk in the oil and chili flakes. Season with salt. Set aside.
Preheat the oven to 200° F. Line a small baking sheet with a couple of layers of paper towel. Pour the grapeseed oil to a depth of 1⁄2 inch into a skillet large enough to hold the potatoes in a single layer (a 10-inch pan should do the trick); heat it to medium high. When the oil is hot, add the smashed potatoes and fry them, turning them once, until they are golden brown and crusty. Season them with salt, transfer them to the baking sheet, and keep them warm in the oven until you are ready to serve.
Transfer the potatoes to a serving dish. Give the vinaigrette another whisking and drizzle it over the potatoes. Serve.
Cook's Notes: It's very important to select potatoes of uniform size for this recipe—not the tiniest, but about 1-1/2 inches in diameter.
—From City Harvest: 100 Recipes from Great New York Restaurants
---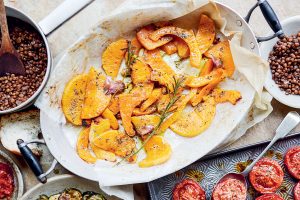 Pumpkin with Rosemary and Cumin
Zucca con Rosmarino e Cumino
Serves 4 (as a side)
1 pumpkin or butternut squash (approx. 700 g–1 kg/ 1 lb 81/2 oz–2 lb 3 oz)
3 tablespoons extra-virgin olive oil
salt and freshly ground black pepper
25 g (1 oz) salted butter
1 teaspoon rosemary leaves, finely chopped
1/2 teaspoon ground cumin
Heat the oven to 200°C (400°F/Gas 7) and line a baking tray with baking parchment. Peel the pumpkin or squash and cut into wedges no thicker than 1 cm (1/2 in). Discard the seeds. Toss the pumpkin in a large bowl with the oil and salt and pepper until it is well coated. Pour the pumpkin on to the baking tray and roast in the oven for around 25–30 minutes until soft and lightly browned.
Meanwhile, melt the butter in a small saucepan over a medium heat and stir in the rosemary and cumin. Remove from the heat and set aside. Just before the pumpkin is ready, put a serving dish into the oven to warm – be careful it doesn't get too hot. Tip the roasted pumpkin into the warm serving dish, pour over the spiced butter and serve warm.
Variation: Cut the pumpkin into approx. 3 cm (1 in) cubes and steam or boil for 10–15 minutes until soft. Drain, if necessary, and transfer to a large bowl or the bowl of a food processor. Mash by hand or using your food processor with a dash of milk and a knob of butter to achieve a purée, then season to taste. Serve spooned on to a plate and topped with cooked white fish or steak, and drizzle over the warm rosemary and cumin butter.
—From Rome: Centuries in an Italian Kitchen
---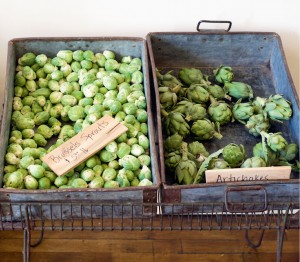 Roasted Maple Brussels Sprouts with Toasted Pecans
Serves 2
1 pound Brussels sprouts
1 1/2 tablespoons olive oil
2 teaspoons balsamic vinegar
1 teaspoon pure maple syrup
2 teaspoons whole-grain Dijon mustard
1 teaspoon fine sea salt
2 tablespoons chopped pecans
Preheat the oven to 400.F.
Slice off the bottoms of the Brussels sprouts, then slice each in half lengthwise, quartering any sprouts that are larger than the rest. Place them in a large bowl.
In a small bowl or jar, whisk together the olive oil, vinegar, maple syrup, and mustard. Pour the oil mixture over the sprouts, add the salt, and toss until the sprouts are evenly coated. Transfer to a 13 x 9-inch glass baking pan.
Bake for about 30 minutes, until the sprouts are bright green and just beginning to wilt and brown on the exterior, but still firm when poked with a fork. If you like more tender sprouts, bake for 5 to 10 minutes more, until the sprouts are soft when poked.
While the sprouts are in the oven, toast the pecans in a toaster oven, in a skillet over low heat, or on a baking sheet in the oven for 2 to 3 minutes, until golden brown, watching carefully to prevent burning. When the sprouts are done, mix in the toasted nuts and serve.
—From Real Maine Food:
100 Plates from Fishermen, Farmers, Pie Champs, and Clam Shacks
---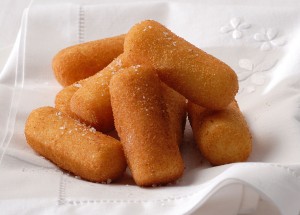 Potato Croquettes
Croquettes de pommes de terre
Serves 4
Preparation time: 20 minutes
Cooking time: 35 minutes
1 lb. (500 g) potatoes
7 tablespoons (100 g) butter
4 egg yolks
1 pinch freshly grated nutmeg
2 tablespoons flour
1 egg
1 tablespoon olive oil
2 tablespoons bread crumbs
Oil for frying
Salt and pepper
Peel the potatoes and cook them in gently simmering salted water until their flesh gives way to pressure. Do not wait until they are so well cooked that they burst or fall apart.
Drain them well and return them to the cooking pot; leave it on the corner of the burner or over minimal heat so that their water evaporates.
Turn them into a sieve and press them through using a potato ricer. Be careful to use pressure on the ricer and not rotate it, as this would cause the mashed potato to become elastic.
Put the hot mashed potato in a pot and, with a spatula or wooden spoon, work in the butter energetically. The potatoes will become white; now incorporate the egg yolks and nutmeg. Check to see if the mixture is sufficiently salted and leave to cool.
Prepare a working surface very lightly dusted with flour. Divide the mashed potato into several parts and roll each one out into a log shape. Cut the logs into shapes the size of a slightly elongated cork.
Beat the whole egg with a small pinch of salt and olive oil. Dip the potato "corks" into this mixture and then into the bread crumbs.
Heat an oil bath until it just begins to smoke. Drop the potato croquettes into the oil and fry until they are golden and crisp. Drain them on paper towel and sprinkle with just a little fine salt.
Fold a napkin on a plate and arrange a mound of croquettes on top.