Rizzoli Interior Design & High Point Market
October 11, 2012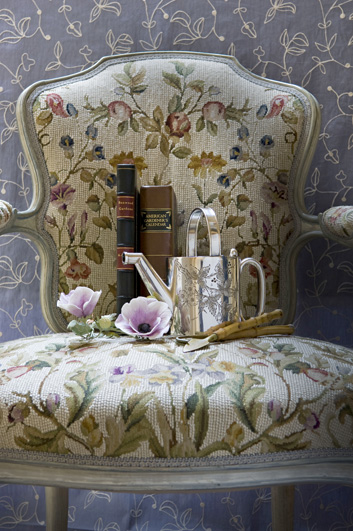 From Charlotte Moss Decorates. Photograph by Edward Addeo.
High Point Market: The World's Home for Home Furnishings in western North Carolina is the largest furnishings industry trade show in the world, bringing more than 80,000 people to High Point every six months. Over the years, since many of the major furniture manufacturers were located in High Point, it became a central and convenient place for the manufacturers to bring their product to market. Now, retailers come from around the world to visit 2,000 exhibitors showcasing new product in 180 buildings covering about 10 million square feet of space.
Rizzoli will be on hand on Monday, Oct. 15, at 4pm in the Market Square Courtyard for our 2nd annual superstar book signing, featuring some of the biggest names in the interiors business, including Charlotte Moss, Henrietta Spencer-Churchill, Susanna Salk, Florence de Dampierre, Ronda Carman, and James Lowell Strickland.
In advance of this Fall's High Point Market gathering, we asked a few of the designers who are attending—as well as our own design expert, Rizzoli editor Sandy Gilbert Freidus—about some of the design trends that inspire them.
Barbara Barry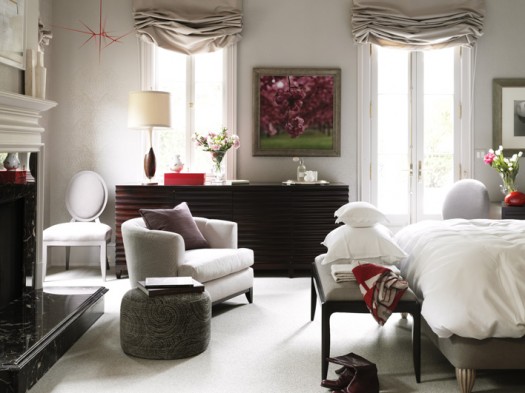 From Rizzoli's Barbara Barry: Around Beauty book. Photographed by David Meredith.
"There is so much beauty in the world from which to draw inspiration. One of my current trends or inspired thoughts is to capture a bright, saturated color and juxtapose it against a backdrop of neutrals. This allows you to have a timeless canvas on which you can pulse or change the feeling of the room by using small gestures such as artwork, pillows or accessories. In this photo the whole of the room is a dusty, lavender-tinted taupe punctuated by Chinese red accessories and a deep cherry pink in the artwork." —Barbara Barry, author of Barbara Barry: Around Beauty
Charlotte Moss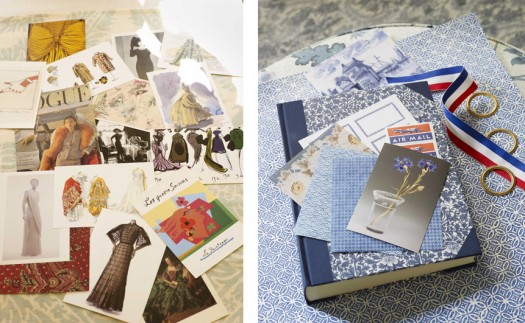 From Rizzoli's Charlotte Moss: A Visual Life book.
"I do not look for trends. They inform me, but don't affect my process. I believe we all extract bits and pieces that work for us, but following trends is just that–following. A Visual Life is smack in the middle of the zeitgeist, a movement where people desire to create things by hand, things that are personal, that we can savor for the future. Crafts are on the rise. Whether it's scrapbook for travel, or a family picnic, a collage created for a gift, or a needlepoint pillow." —Charlotte Moss, author of Charlotte Moss: A Visual Life
Florence de Dampierre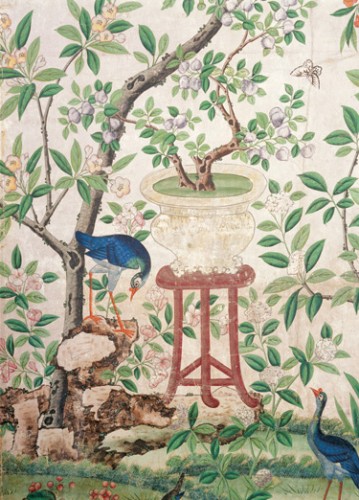 From Rizzoli's Walls book.
"I have always been drawn to chinoiserie. Recently there has been a noticeable increase in the marketplace of designs incorporating such Asian motifs in imaginative ways. In Walls, I discuss this alluring trend, which started at Versailles in 1682 when ambassadors from Siam visited Europe. As an ode to this decorative tradition, for my pool house living room, I chose an antique pagoda light fixture and charming wire pagoda tea candle holders to provide a sense of fantasy." —Florence de Dampierre, author of Walls
Susanna Salk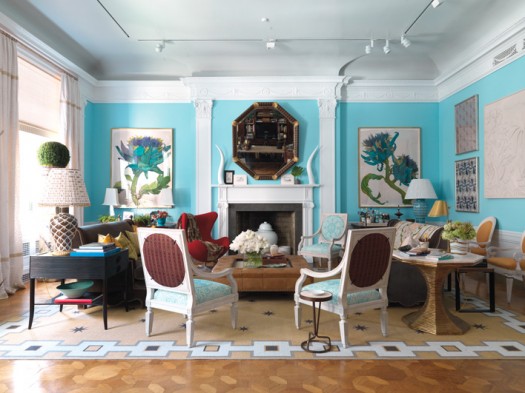 From Rizzoli's Be Your Own Decorator book.
"Bunny William's Kips Bay Show house room effortlessly embodies not only the whimsical spirit of my book Be Your Own Decorator but also the fearless vibe I am seeing in interiors around the world now. Not just in modern rooms by the renegade style makers who have the confidence and the eye to pull it off, but via new homeowners, in traditional showrooms at markets around the country: all who perhaps once played it safe, now understand that rooms that have personality, that make you want to linger, are those that are not too perfect, are those that stray a little outside the bounds once deemed "correct." Unexpected punctuations of surprise without being too showy. It makes design exciting again." —Susanna Salk, author of Be Your Own Decorator
Kit Kemp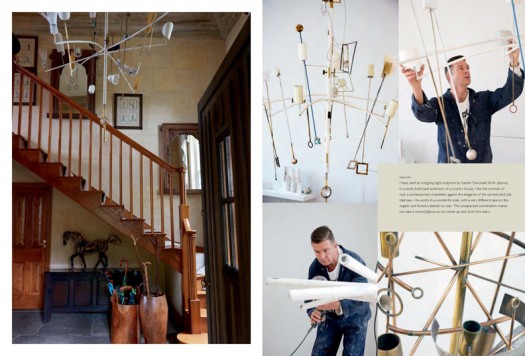 From Hardie Grant's A Living Space book.
"At the moment I am really interested in the current trend in using craft in the home and by that I mean patchwork, applique and embroidered pieces. These don't have to look as though they have been made by your granny. They can be given a contemporary edge. I am particularly interested in making a lit mobile and lamp from crafted materials. For this to really work you need the highest level of finish to a room so that a hand crafted piece becomes an art form." —Kit Kemp, author of A Living Space
Jim Strickland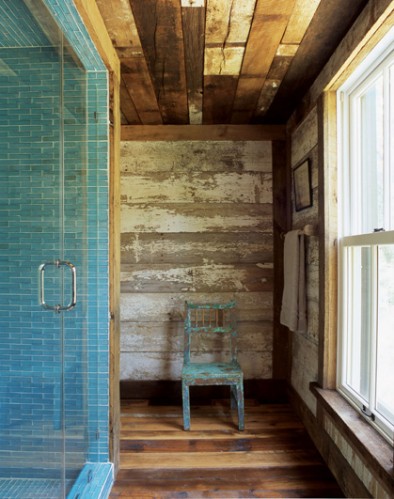 From Rizzoli's Coming Home book.
"I've been designing traditional homes for more than 30 years and have seen trends come and go, but in our vernacular work we've long been interested in using salvaged materials to create an instant sense of age and history. Once only used in projects with rustic or rural elements, reclaimed wood is finding its way into more urban and sophisticated dwellings. The natural textures of old, weathered wood create an interesting visual backdrop for sleek, modern finishes and vibrant pops of color." —Jim Strickland, author of Coming Home
Rizzoli Editor Sandy Gilbert Freidus
A look back at High Point Market Spring 2012
and hopes for the Fall 2012 Event
As a Rizzoli editor who specializes in publications featuring the work of style setting interior designers with international reputations, it was stimulating to attend last Spring's Market Week at High Point, North Carolina. Rizzoli author Susan Sully, an authority on Southern architecture and decor, and I shared the quest to discover current trends in design. During two days, in spite of near hurricane conditions, we were determined to tour many showrooms, attend shelter magazine parties, and wine and dine with industry friends.
The first showroom visited was John-Richard, where furniture historian and Rizzoli author Florence de Dampierre launched her new line of furniture and home accessories, which she describes as "Fresh, French, and Chic." What caught our attention were her playful Tuileries-style topiaries and the standout Angeline bed that was inspired by the carving of an antique eighteenth-century mirror that graces the cover of her book French Chic.
The next stop was Hickory Chair–where another Rizzoli author, Suzanne Kasler, is represented. Known for her classically inspired rooms and exquisite haute couture details, Suzanne's versatile accent pieces, including mirrored cabinets, added a romantic glow to the space. But the showstopper was a room decorated in pink and white with striking rams-head shields hung above French-style beds crowned by hangings of bold rose-color leaf patterned fabric designed by Kasler for Lee Jofa.
The luminous Currey & Company showroom, a manufacturer of distinctive home furnishings, in particular lighting fixtures, was a treat for the eye. In the exotic setting of pendant lights strung with Indian sari-pink beads and blue-bauble chandeliers, we discovered two chic mirrored table lamps named after All the Best blogger and forthcoming Rizzoli author Ronda Rice Carman and her son Mason.
I look forward to the Fall Market; especially Monday, October 15th when at Market Square there will be a Rizzoli group book signing from 4 to 6 p.m. In preparation for my visit, I have been reading shelter magazines and blogs and discussing upcoming trends with designer colleagues. I understand that despite the economic climate, a lot of designers will be emphasizing glamour by their use of rich materials such as metallic leathers, sensuous colors, and couture accents. On the opposite end of the spectrum, showcased will be clever pieces for tight living quarters and an abundance of eco-friendly choices. A predominant theme will be how fashionable runway looks translate into fabulous furnishings.