Win a Limited-Edition Screen Print from Artist Rob Ryan
September 14, 2012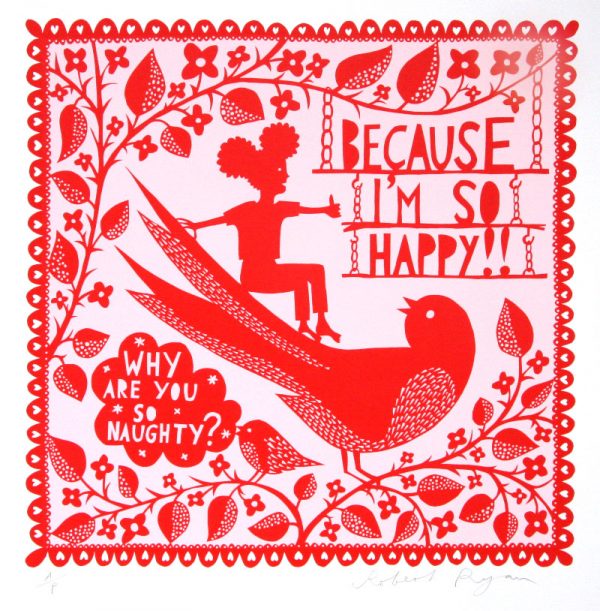 PRIZE: Rob Ryan, Because I'm so Happy… Limited edition screenprint, 2012, 20 × 20″ unframed, $400
TAG Fine Arts is kindly giving one lucky winner this limited edition screen print by Rob Ryan, the artist behind Universe Publishing's 2013 calendar Rob Ryan.
You can enter on the Rizzoli Facebook page here or via your Twitter account here.
One of Britain's best-loved artists, Rob Ryan is a master of the paper cut, transforming people, plants, animals and cityscapes into evocative illustrative silhouettes. Into these scenes he weaves messages; some amusing, some poignant, and some laced with melancholy. From love letters emerging from romantic silhouettes to touching vignettes that capture profound feelings with a single paper cut, Ryan's art is a uniquely charming take on the ups and downs of love and life. Drawing inspiration from everything from nature to fairy tales, Rob Ryan's intricate and delicate papercuts strike the perfect balance between humor and vulnerability, wit and wisdom.
Rob Ryan's first exhibition in New York City presented by TAG Fine Arts will take place September 18–30, 2012 at SOHOTEL Artspace Gallery. The exhibition will feature a selection of original paper cuts including 12 detailed original paper cuts that form the basis for Rob Ryan's calendar, and a series of 12 related limited edition prints.
Rob Ryan – Our Adventure Is About To Begin
SOHOTEL Artspace Gallery runs September 18–30, 2012
345 Broome Street | New York | NY 10013
Open Monday – Sunday 11am – 6pm
Opening Reception Tuesday September 18, 6–9pm
For more information about the exhibition, visit: http://www.tagfinearts.com/media/Rob_Ryan_Solo_Exhibition_NYC.pdf
The Rob Ryan calendar is available everywhere that calendars are sold.
To learn more about the Universe calendar program, visit: https://www.rizzoliusa.com/calendars/