Win Rizzoli's Mother's Day Prize Pack
April 18, 2013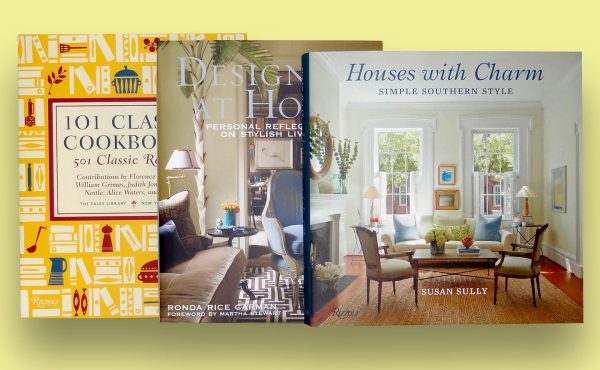 Enter to win our Mother's Day Prize Pack featuring Designers at Home, Houses with Charm: Simple Southern Style, and 101 Classic Cookbooks: 501 Classic Recipes.
We are giving away 2 sets of all 3 books, just in time for Mother's Day. This includes:
Designers at Home from Ronda Carman, founder of the popular lifestyle blog All the Best. This book takes readers on a guided tour through the personal living spaces of today's design leaders, including Ashley Hicks, Martyn Lawrence Bullard, Jan Showers, Rose Tarlow, and Bunny Williams, who share their thoughts on gracious living and how they bring their professional philosophies home.
Houses with Charm: Simple Southern Style celebrates the warmth and easy elegance of traditional Southern architecture and interior design, featuring houses of unpretentious and old-fashioned grace that showcase the talents of the South's finest design professionals. This book shows how comfort and hospitality are words that express the spirit of simple Southern style.
Like a hall of fame for cookbooks, 101 Classic Cookbooks: 501 Classic Recipes is a food lover's dream collection. Any cook will tell you that in every cookbook there are a handful of recipes that rise to the top—the earmarked and most-stained pages. In this marvelous collection, 501 of these signature recipes have been carefully selected from 101 great cookbooks of the twentieth century—beloved tomes passed down through generations.
You can enter in any of the following ways:
On Facebook: http://apps.facebook.com/sweepstakeshq/contests/322353
On Twitter: http://promoshq.wildfireapp.com/twitter/233/contests/322353
Or if you follow @Rizzoli_Books on Twitter, you can retweet our tweet about this contest and you're automatically entered to win!
Winners will be announced on Friday, April 26th, and the prize will ship just in time to celebrate Mother's Day!