Rizzoli and High Point Market: Fall 2013
September 24, 2013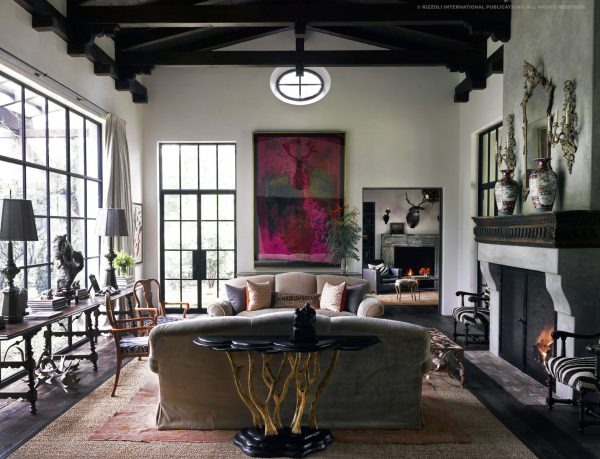 Rizzoli New York is thrilled to be hosting our 3rd annual Trendsetters Book Signing at this year's High Point Fall Market, the largest furnishings industry trade show in the world held in western North Carolina. Our Trendsetters Book Event has become one of the most anticipated events on the fall market calendar, and this year it will feature Million Dollar Decorator Jeffrey Alan Marks, AD 100 designers Suzanne Kasler, Timothy Corrigan, and Thomas Pheasant, Hammertown's Joan Osofsky, and stylist extraordinaire, Annette Joseph.
In advance of this Fall's High Point Market gathering, we asked a few of the designers who are attending to share some of the design trends that have influenced them. Enjoy reading about what inspires them–in their own words below–followed by a note from our very own Jessica Napp, Associate Director of Publicity and the organizer of the annual event, to tell us how this event got started and why it is such a big draw year in and year out.
---
Timothy Corrigan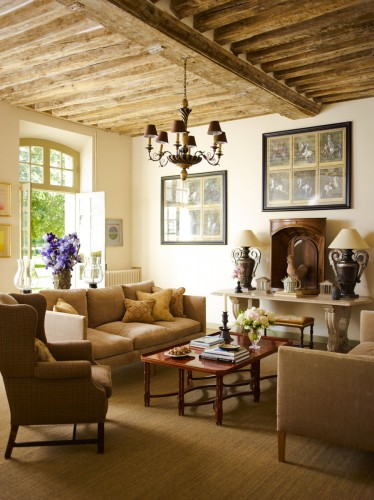 "The biggest trend in home design is toward a no-compromise style: people are not willing to make a trade-off between comfort and practicality for a beautiful home. This is having an impact on choices of materials, finishes, and furniture styles, as people demand an easy, comfortable home while not giving up a bit of elegance or beauty. I don't believe in sacrificing livability to achieve a specific look. If a room isn't comfortable, no matter how beautifully it might be decorated, to me, it's not really successful."
-Timothy Corrigan, author of An Invitation to Chateau du Grand-Lucé: Decorating a Great French Country House
---
Jeffrey Alan Marks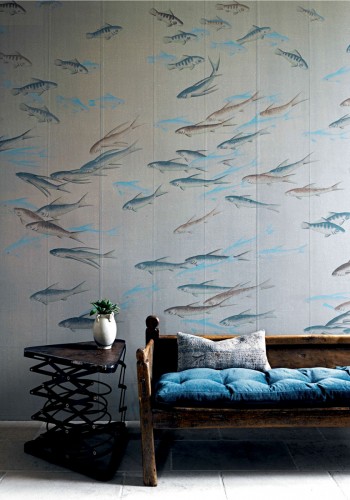 "My objective is always to create timeless spaces because great design never goes out of style. Still, no matter how hard I try to avoid falling into the trap of following trends it is almost impossible not to draw inspiration from the current zeitgeist. The ubiquitous muted grey and oatmeal palette that the Belgians do so well is the definitive style of the moment and even I have found myself using plenty of it grey on grey. My spin on the trend is to add a jolt of color to prevent the space from becoming too somber. In this room, I brought the monotone scheme back to life by adding splashes of ocean blue in the fish I had hand painted onto the paper. A saturated blue mohair seat cushion completes the look.
It's so important to make a trend your own. As I say in the opening credits of my TV show Million Dollar Decorators on Bravo, " I don't follow trends, I set them."."
-Jeffrey Alan Marks, author of Jeffrey Alan Marks: The Meaning of Home
---
Annette Joseph
"Since I spend loads of time at our home on the Italian Riviera, I have the opportunity to see upcoming trends (as you may know, the European markets are a little ahead of the curve). Right now I am loving ethnic style, since I am a true bohemian at heart. I love all the color and texture and the international mix makes me smile. Since I started my career in interior styling for magazines and television, my entertaining style is always based on great interior design. Every table and every party should be visually pleasing. It's my golden rule as a prop stylist. I've chosen this Cinco di Mayo party as my style inspiration 2013. Nothing like an ethnic mix to make a party festive."
-Annette Joseph, author of Picture Perfect Parties
---
Thomas Pheasant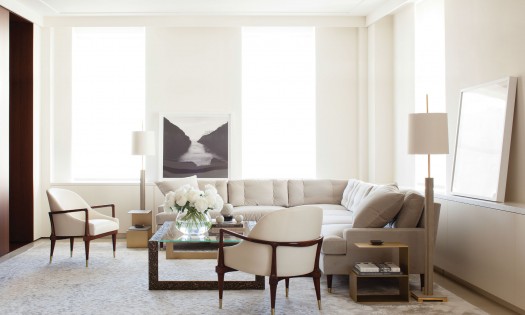 "My focus has always been on developing interiors that allow my clients to evolve. Just as I am always seeking out new ways to develop my vocabulary, I want to give my clients the power to move their interiors forward. Through the creation of rooms that are thoughtfully detailed yet not bound by hyper decoration, I work to produce rooms that are visually fulfilling and emotionally comforting. I believe that there is nothing more luxurious than an interior that allows us space to breathe and reflect."
-Thomas Pheasant, author of Thomas Pheasant: Simply Serene
---
Suzanne Kasler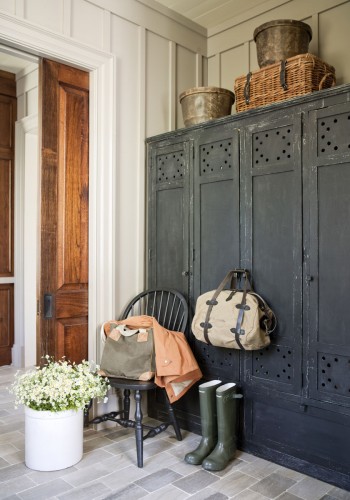 "Design today is all about editing. An edited space not only creates a cleaner, fresher look but it also goes back to the time old principal of less is more. I'll often subtract rather than add. Also there is a new focus on designing the often overlooked rooms… mudrooms, master bedroom closets and pantries. Our clients are looking for those areas to be as well-designed and detailed as the rest of the house. In the end, design is all about creating a lifestyle."
-Suzanne Kasler, author of Suzanne Kasler: Timeless Style
---
Joan Osofsky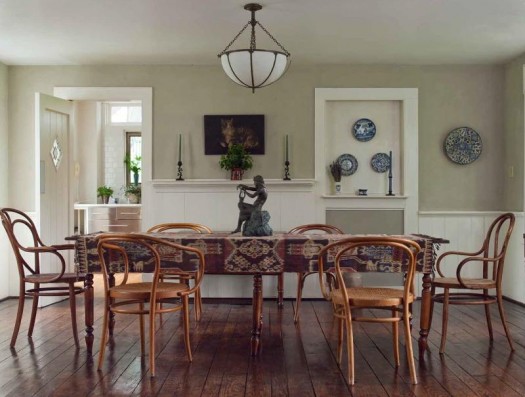 "I see a strong trend in homeowners who are gaining the confidence to express their tastes and passions in their own homes. As a retailer, I've seen how my customers, and their homes, have changed to reflect a more relaxed and individualistic life style. They want their homes to have personality as well as comfort and beauty. They are more sophisticated and knowledgeable about design, and it shows in the choices they make. In our new book, Love Where You Live, we profile eighteen beautiful country houses. Some, like the simple but elegant dining room in the picture above, are older homes that mix antiques, found objects, and modern pieces. Each house is a true reflection of the spirit and soul of the people who live in it."
-Joan Osofsky, co-author of Love Where You Live: At Home in the Country
Top image from Jeffrey Alan Marks: The Meaning of Home