Enter to win Rizzoli's Father's Day Prize Pack
May 28, 2013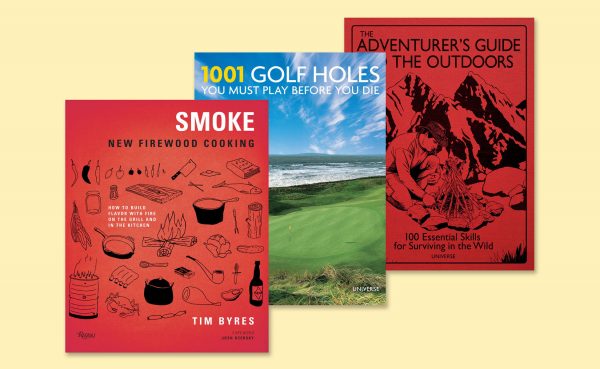 Enter to win our Father's Day Prize Pack featuring Smoke: New Firewood Cooking, 1001 Golf Holes You Must Play Before You Die, and The Adventurer's Guide to the Outdoors.
We are giving away 2 sets of all 3 books, just in time for Father's Day.
This includes:
Smoke is a primer on the most time-tested culinary technique of all—but one that we have lost touch with. Chef Tim Byres shows how to imbue all kinds of foods—not just meat—with the irresistible flavor of smoke. Here he gives innovative ideas for easy ways to use smoke in your everyday kitchen arsenal of flavors—such as smoking safely on the stovetop with woodchips, putting together relishes and salsas made with smoked peppers and other vegetables, grilling with wood planks, and using smoke-cured meats to add layers of flavor to a dish.
1001 Golf Holes You Must Play Before You Die is a lavishly illustrated collection of the 1001 best golf holes from around the world, organized by challenge level, for golfers of every level. Every golfer dreams of the chance to play a great hole, and this book takes you to the world's best. Covering 3-par, 4-par, and 5-par, the challenging, the scenic, the celebrity-designed, and the most demanding, this magnificent guide lets you discover the 1001 holes you simply must play. Each entry includes concise fact boxes that provide the official course name, location, hole number, length, par, designer, and critical course comments.
Both a fun read and a true resource of more than one hundred essential wilderness skills, The Adventurer's Guide to the Outdoors is for readers of any age who love adventure, even from the comfort of an armchair. This book features more than 100 practical skills, including how to: tell time by the sun; build a raft; catch and cook a rabbit; navigate by the stars; build a shelter; cook on an open fire; purify water; and survive on a mountain. The entries are written by a panel of international writers who are authorities in the fields of general outdoors living and survival.
You can enter in any of the following ways:
On Facebook: http://www.facebook.com/RizzoliNewYork/app_28134323652
On Twitter: http://promoshq.wildfireapp.com/twitter/233/contests/325047
Or if you follow @Rizzoli_Books on Twitter, you can retweet our tweet about this contest and you're automatically entered to win!
Winners will be announced on Tuesday, June 4th, and the prize will ship just in time to celebrate Father's Day!