Holiday Dishes from Rizzoli: Vegetarian Options
October 28, 2014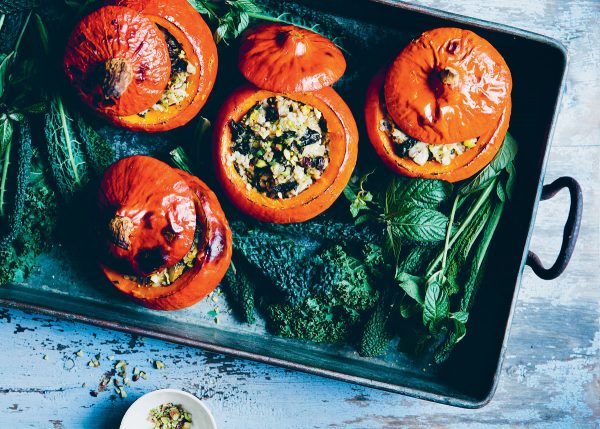 As we creep closer and closer to the holiday season, it's time to start thinking about what you'll serve your guests this Thanksgiving and beyond. Whether you'll make a traditional turkey or choose to break away from the holiday norm, Rizzoli has tons of great recipes and entertaining ideas for you to follow.
Enjoy these VEGETARIAN recipes below, or visit News & Publicity page for recipes for Appetizers, the Main Course, Side Dishes, Desserts, Wine & Cocktails, and a New Year's Lobster Fest. You can also visit the Food & Wine section of our website for plenty of inspiring cookbooks to spur your creativity.
---
Holiday Stuffed Pumpkins
(picture at top)
"A couple of years ago, we were in the USA during Thanksgiving. It is not something we celebrate in Scandinavia, so we weren't prepared for the hype that surrounds this American holiday. We were invited to the home of a distant relative of David. They wanted to give us a proper celebration and had prepared an impressive table of sweet pies, Brussels sprout salad, potatoes, condiments and… the largest turkey we had ever seen. Unfortunately, David had forgotten to tell them the small detail that he was a vegetarian. After that experience, we started to think that vegetarians need their own Thanksgiving dish, instead of always being left with the sides."
–From Green Kitchen Travels
Serves 4
2 cups wholegrain rice (any color will work)
5 cups water
2 Hokkaido pumpkins
2 tbsp cold-pressed coconut or olive oil (reserve 1 tbsp for rubbing the pumpkins)
2 large onions, finely chopped
2 handful mushrooms of choice, coarsely chopped
6 kale leaves (any type will work), thick stalks removed, coarsely chopped
2/3 cup shelled pistachio nuts, coarsely chopped
5 sprigs of mint, leaves picked and chopped
3 tbsp raisins
1/2 tsp ground cinnamon
5 oz feta cheese, crumbled
Rinse and drain the rice. Place in a saucepan together with the water and bring to the boil. Reduce the heat and cover with a lid. Simmer gently for about 40 minutes until tender.
Meanwhile, prepare the pumpkins. Cut a lid out of the top of each one, then scoop out the seeds and discard. Rub the insides with oil and set aside.
Preheat the oven to 200°C (400°F/Gas 6). Heat 1 tablespoon oil in a large frying pan and fry the onions, mushrooms and kale over a medium-low heat until soft and cooked, but not brown.
Remove from the heat, add the pistachios, mint, raisins and cinnamon and stir well. Add the cooked rice and crumbled feta cheese and toss to combine. Spoon the stuffing into the greased pumpkins, put the 'lids' back on and bake in the oven for 20–30 minutes or until the skin is browned and bubbly. Check with a knife to see if the pumpkin flesh is soft. Serve hot. Leftovers can be stored in the fridge for 3–5 days.
---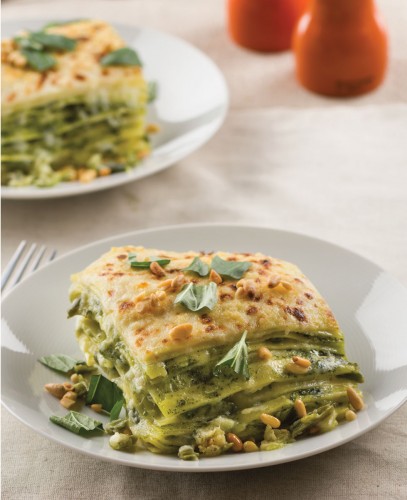 Lasagne Primavera (Lasagne with Spring Vegetables)
"Traditional Bolognese lasagne is made with béchamel and Bolognese ragù, but there are lots of interesting variations on baked pasta that you can make with fresh egg noodles once you've got the hang of them. This dish is popular in spring, but you can swap different seasonal vegetables for the asparagus and peas."
–From How To Eataly
Serves 6 (as a first course)
2 cups whole milk
1 bay leaf
4 to 5 whole black peppercorns
4 tablespoons (½ stick) unsalted butter
3 tablespoons unbleached all-purpose flour
Fine sea salt to taste
Pinch grated nutmeg
1 clove garlic
Leaves of 1 bunch fresh basil (about 2 loosely packed cups)
2 tablespoons pine nuts, plus more for garnish
1/2 cup extra-virgin olive oil, plus more for oiling pan
3/4 cup grated pecorino Romano
About 24 fresh 4-by-10-inch egg pasta noodles
Coarse sea salt for pasta cooking water
1 pound asparagus, cut in half lengthwise if thick
1 cup fresh shelled or frozen peas
Place the milk in a small saucepan with the bay leaf and the peppercorns and warm over low heat. Strain out and discard the bay leaf and peppercorns. In another small saucepan, melt the butter. Whisk in the flour and cook, whisking constantly, over low heat for 2 minutes. Add the warm milk 2 tablespoons at a time, stirring to combine between additions. Add fine sea salt to taste and cook, stirring, until the mixture has the consistency of sour cream and has no hint of raw-flour flavor, about 15 minutes. Stir in the nutmeg and set aside.
Place the garlic and a generous pinch of fine sea salt in a large mortar and grind against the sides until crushed into a paste. Reserve a few basil leaves for garnish, and add about a quarter of the remaining basil leaves to the mortar and grind until broken down. Continue to add the basil a little at a time, breaking down all the leaves before adding more. Add the 2 tablespoons pine nuts and grind until crushed. Add the oil and grind until the pesto is creamy. Finally, add ½ cup pecorino Romano cheese and grind until creamy and thoroughly combined.
Bring a large pot of water to a boil for cooking the pasta. Spread a clean flat-weave dishtowel on a work surface and set a bowl of ice water nearby. When the water is boiling, salt it with the coarse salt and add 4 of the noodles. FOR FRESH NOODLES: Cook until the noodles rise to the surface, about 30 seconds, then remove with a skimmer, dip briefly in the cold water, and spread them on the dishtowel in a single layer. Repeat with the remaining noodles. Gently blot the noodles dry.
Place the asparagus in a skillet in one layer. Add water just to cover, salt, and simmer over medium heat until just tender, 3 to 5 minutes. Remove with a slotted spoon, shock in ice water, drain, and chop into ½-inch lengths. Meanwhile, add the peas to the same skillet. Add a little more water to cover if necessary and simmer over medium heat until just tender, 5 minutes for fresh peas, less for frozen peas. Drain and set aside.
Preheat the oven to 450°F. Lightly oil a 13-by-9-inch baking pan. Divide the béchamel loosely into fifths and the pesto loosely into quarters (no need to be exact). Cover the bottom of the pan with a layer of noodles, cutting them to fit if necessary. (You will make 9 layers of noodles in all, but this is the only layer that should fit tightly in the pan. With the rest, you have more leeway.) Spread about one-fifth of the béchamel on top of the noodles. Top with another layer of noodles. Spread about one-quarter of the pesto on top of the noodles, then one fifth of the béchamel. Sprinkle on 2 tablespoons of grated pecorino Romano. Sprinkle about one-third of the chopped asparagus and peas in an even layer. Top the vegetables with one-fifth of the béchamel, then another layer of noodles.
Continue assembling by topping the layer of noodles with one quarter of the pesto, another layer of noodles, and another one-third of the vegetables. Add another layer of noodles, another one-quarter of the pesto, another layer of noodles, and the remaining vegetables. Top these with another layer of noodles, the remaining pesto, another layer of noodles, one-fifth of the béchamel, and the remaining noodles. Spread the remaining béchamel on top, sprinkle on the remaining 2 tablespoons of pecorino Romano, and bake until a crust forms and the top is browned, about 10 minutes. If the top has not browned after 10 minutes, place under the broiler until it does, about 4 minutes.