HOLIDAY RECIPES courtesy of Rizzoli
November 1, 2017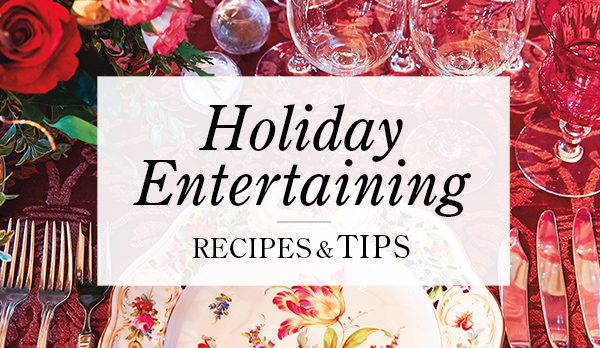 As Thanksgiving nears, it is the perfect time to start planning your holiday festivities. Whether coordinating a Thanksgiving dinner, hosting a Christmas celebration, or lighting the Hanukkah menorah, Rizzoli can help with recipes and entertaining tips that will delight friends and family with the perfect mix of food, drinks, and holiday cheer.
FIND RECIPES BELOW FOR:
MAIN COURSES / SIDES / DESSERTS / COCKTAILS / BREAKFAST & BRUNCH
Or download the full menu HERE
---
ENTERTAINING
---
Whether serving ten guests or forty, modeling your holiday meal after a potluck is a great way to create the feeling of family that goes hand-in-hand with the holiday season. Joan Osofsky, author of Entertaining in the Country, offers her tips for a successful gathering:
"In the invitation we encouraged our friends to let us know if they would like to bring something. (It would be terribly rude to demand that they do so.) For the next few weeks e-mails and phone calls flew back and forth as the menu evolved. We wanted to avoid duplicates—and to make sure that all the bases (starters, mains, desserts) were covered. [We] made up cards for each dish with the name of the cook and the recipe title, and set them on place card holders. The cards made it easy to organize the party offerings. We put the starters near the bar, encouraging guests to mingle while we arranged the main-course platters on the long table in the kitchen. Desserts were set on a round table in the corner. The guests served themselves. Seating consisted of chairs around tables in three rooms, in addition to sofas. The party was a huge success."
---
MAIN COURSE
---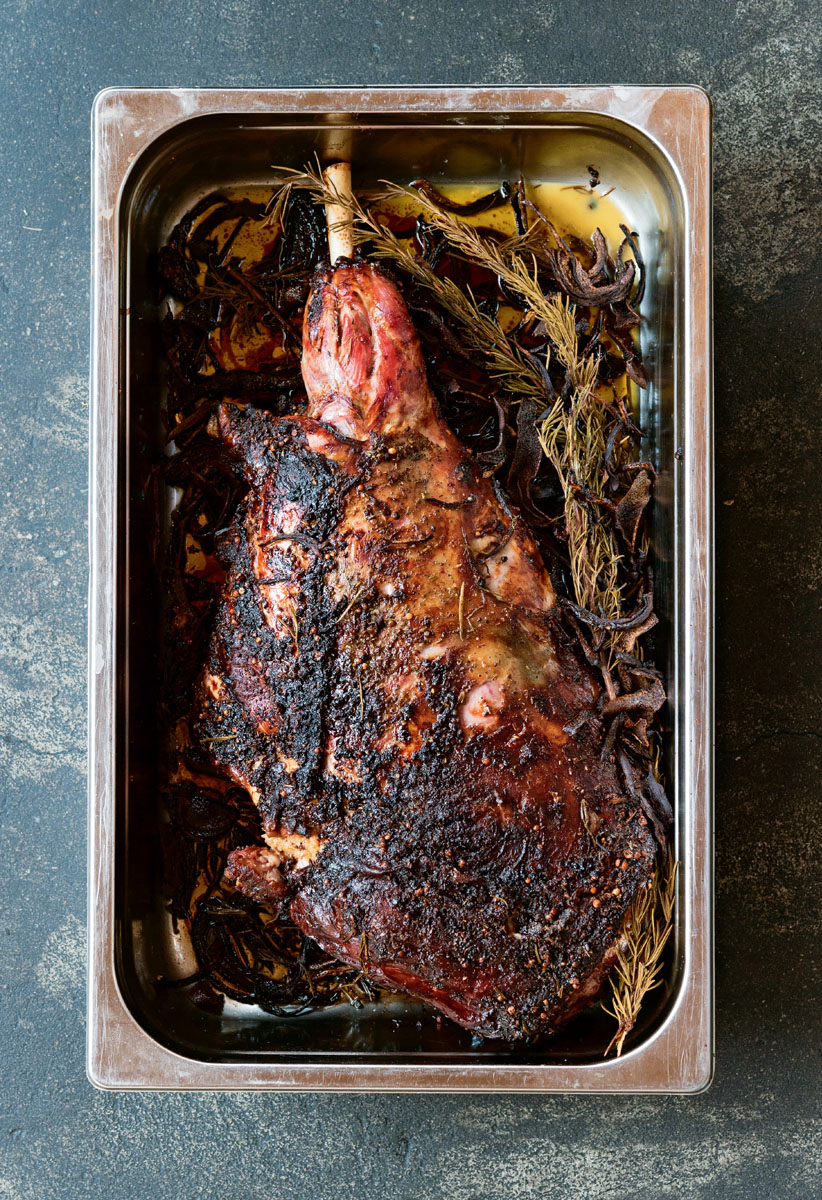 "Spit Roasted" Leg of Lamb, Orange, Coriander, Honey
from BREAKFAST, LUNCH, DINNER… LIFE!
"The first time I made this dish it was indeed on a spit and it was wonderful to watch the lamb slowly cook until it was deeply charred and caramelized on the outside, yet still pink on the inside. The reality is that most of us don't have spits at our disposal but it sounds like a romantic way to cook a whole leg of lamb and, luckily, it is easy to replicate the same effects in an oven with results that are just as satisfying. Lamb is by far my favorite meat and it always has been ever since the childhood days when I insisted on ordering whole racks well done. This is a nice dish to think of when you need to serve a crowd, not just because a leg of lamb is a lot of meat, but also because it's pretty impressive when you present it to your guests." —Author and chef, Missy Robbins
---
Roasted Veal Shank for the Holidays
from OSTERIA
Slow Food, the international defender of local food traditions, scoured the countryside of every region of Italy to collect and share the best traditional recipes from osterie, the humble local taverns that preserve the heritage of true Italian cooking. This recipe is a result of that research—just one of a 1,000 compelling recipes in Osteria that highlight ingenuity with rustic ingredients and the generous hospitality of these off-the-beaten-track gems—and is a dish fit for a family celebration.
---
Milk-Baked Ham
from PRINCESS PAMELA'S SOUL FOOD COOKBOOK
"Soul food, black folk cooking, is compassion food. Greens from the root, and meat near the vitals and the marrow. Culinary genius applied to overlooked odds and ends and to leftovers. Eating, still close enough to honest-to-God hunger, to impart to food a savor deep enough for joy and solace." Princess Pamela ruled a small realm, but her powers ranged far and wide. Her speakeasy-style restaurant in Manhattan was for three decades a hip salon, with regulars from Andy Warhol to Diana Ross. Her iconic Southern dishes influenced chefs nationwide, and her cookbook became a bible for a generation who yearned for the home cooking left behind in the Great Migration.
---
VEGETARIAN
---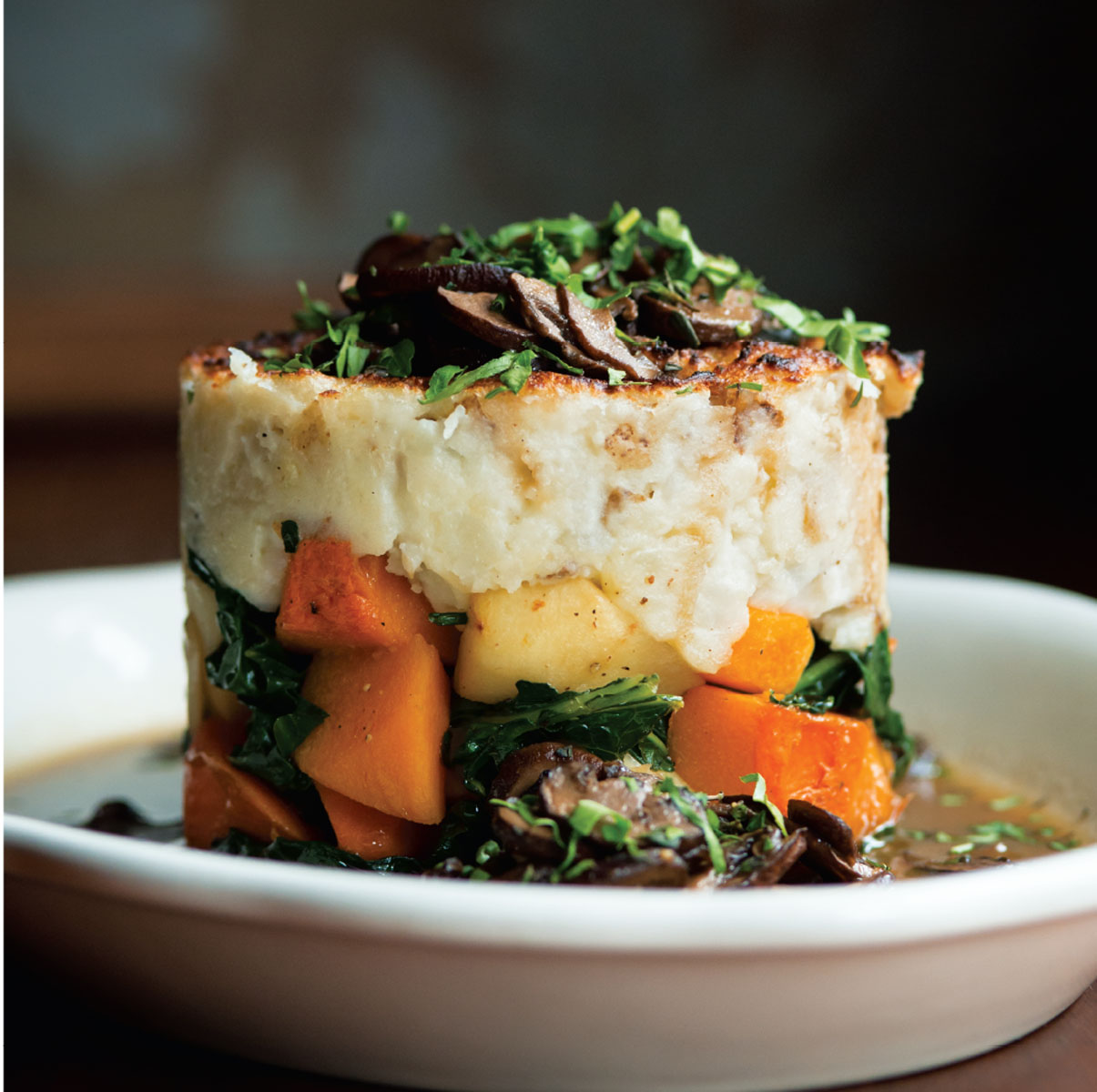 Vegetable Shepherd's Pie with Mushroom Sauce
from BROOKLYN BAR BITES
"Made with layered sautéed vegetables, greens, mushrooms, and mashed potatoes and served with a mushroom sauce, this is a heavenly version of shepherd's pie. It can be prepared as a vegan dish by mashing the potatoes with olive oil, or you can go the traditional route by adding butter and cream." —Grand Ferry Tavern, Brooklyn
---
SIDE DISHES
---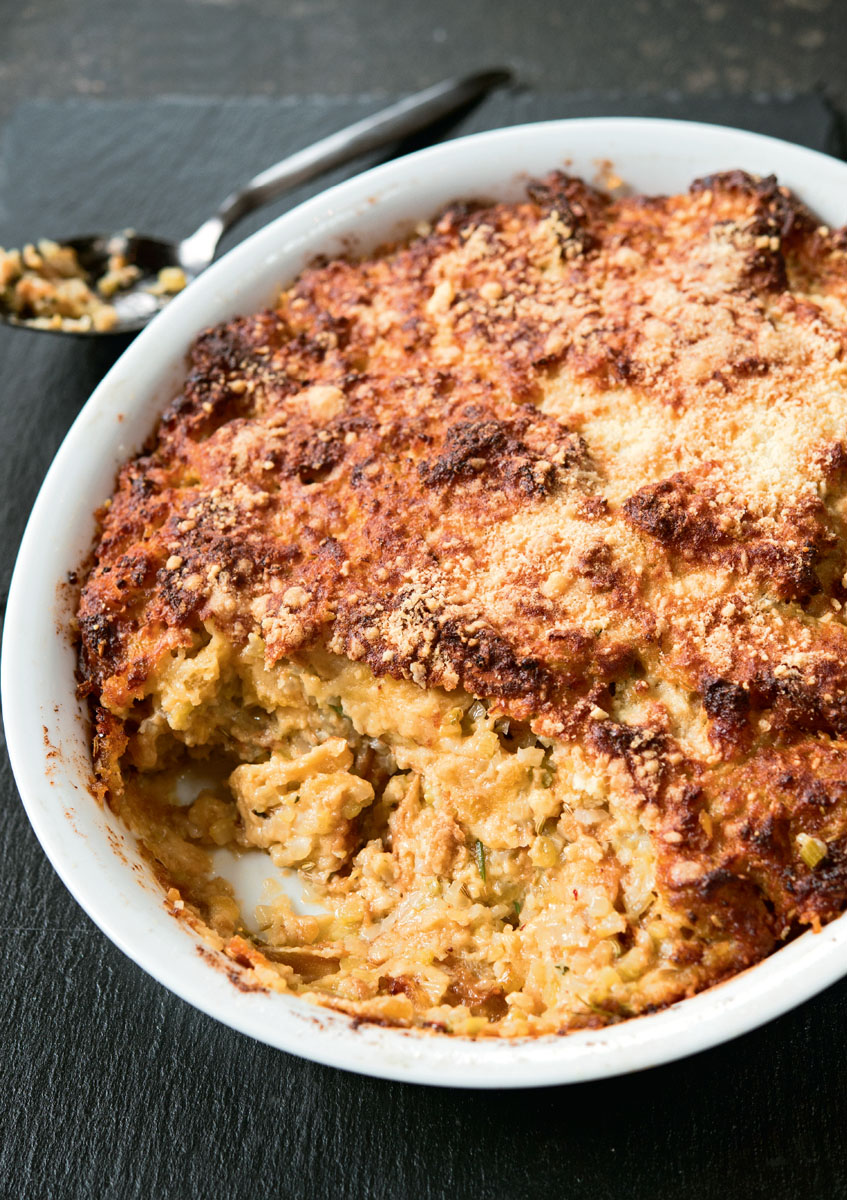 Schmaltzy Stuffing
from BREAKFAST, LUNCH, DINNER… LIFE!
"Stuffing is another one of the classics in my mom's small but finely honed and perfected repertoire. Many people put sausage or oysters in their stuffing, but in my house it was schmaltz, or rendered chicken fat. I'd always wanted to master my mom's stuffing and I finally got the opportunity to recreate it for friends and family at Thanksgiving during my year off. But I managed to put my own stamp on it while sticking to her schmaltz secret when I discovered that Martin's Potato bread makes pre-made croutons for Thanksgiving." —Author and chef, Missy Robbins
---
Stuffed Artichokes
from OSTERIA
This recipe offers just one of many variations of this traditional Italian dish. At the Osteria dell'Acquasanta in Mele (province of Genova), they make a stuffing out of the artichoke hearts and stems, garlic, parsley, marjoram, a drop of extra-virgin olive oil, salt, and pepper. In Catania, Alfonso La Rosa makes a stuffing of grated aged sheep's cheese, bread-crumbs, anchovies, garlic, and parsley and a drizzle of extra-virgin olive oil. Another Sicilian version replaces the anchovy with crumbled pork sausage.
---
DESSERT
---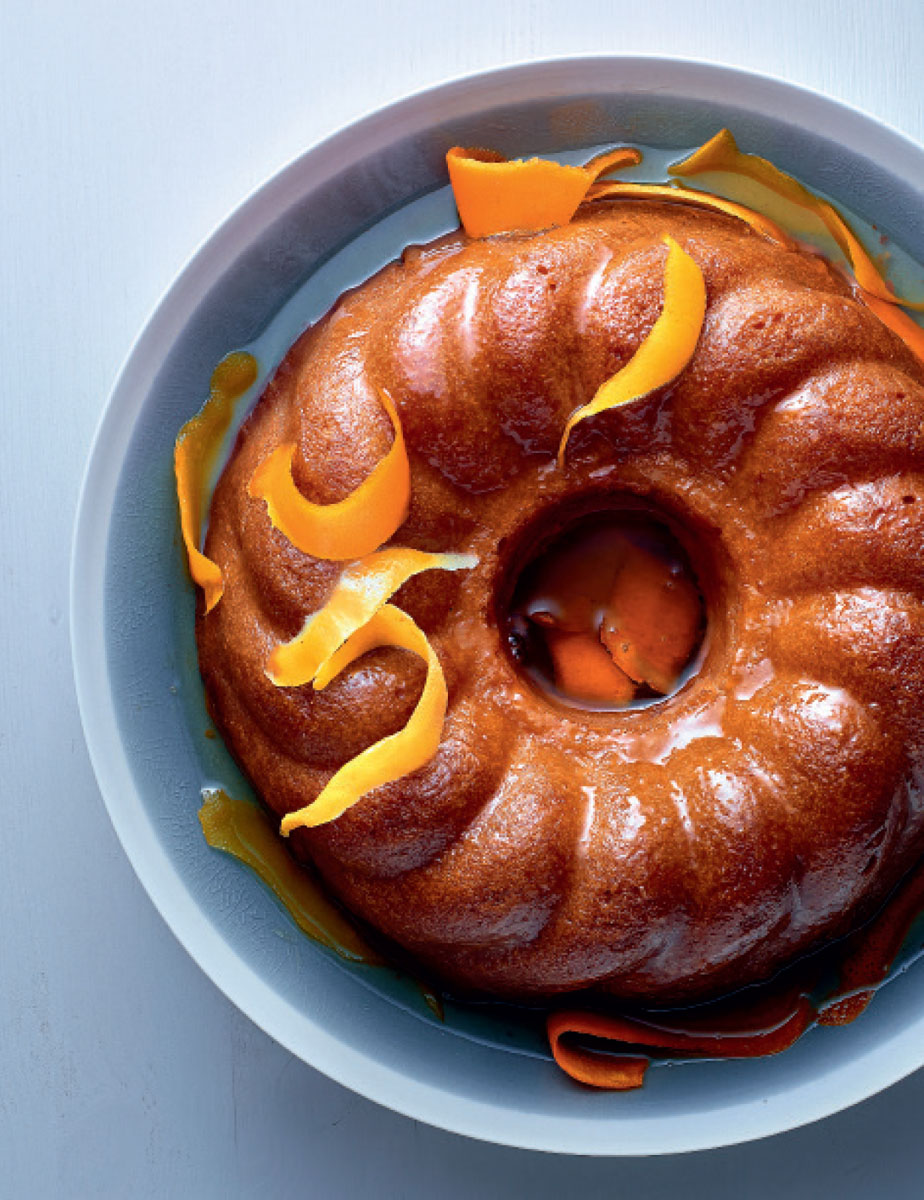 Rum-Citrus Baba
from GATEAUX
"This baba recipe (or perhaps it's a savarin, I'm never quite sure) came to us from Poland and has now been adopted as a specialty of the Lorraine. Its originality lies in the fact that it contains beurre noisette, browned butter, which brings it an incomparable taste. To brighten it up and add a tangy note, we have enhanced it with a little citrus." —Christophe Felder and Camille Lesecq, pâtissiers
---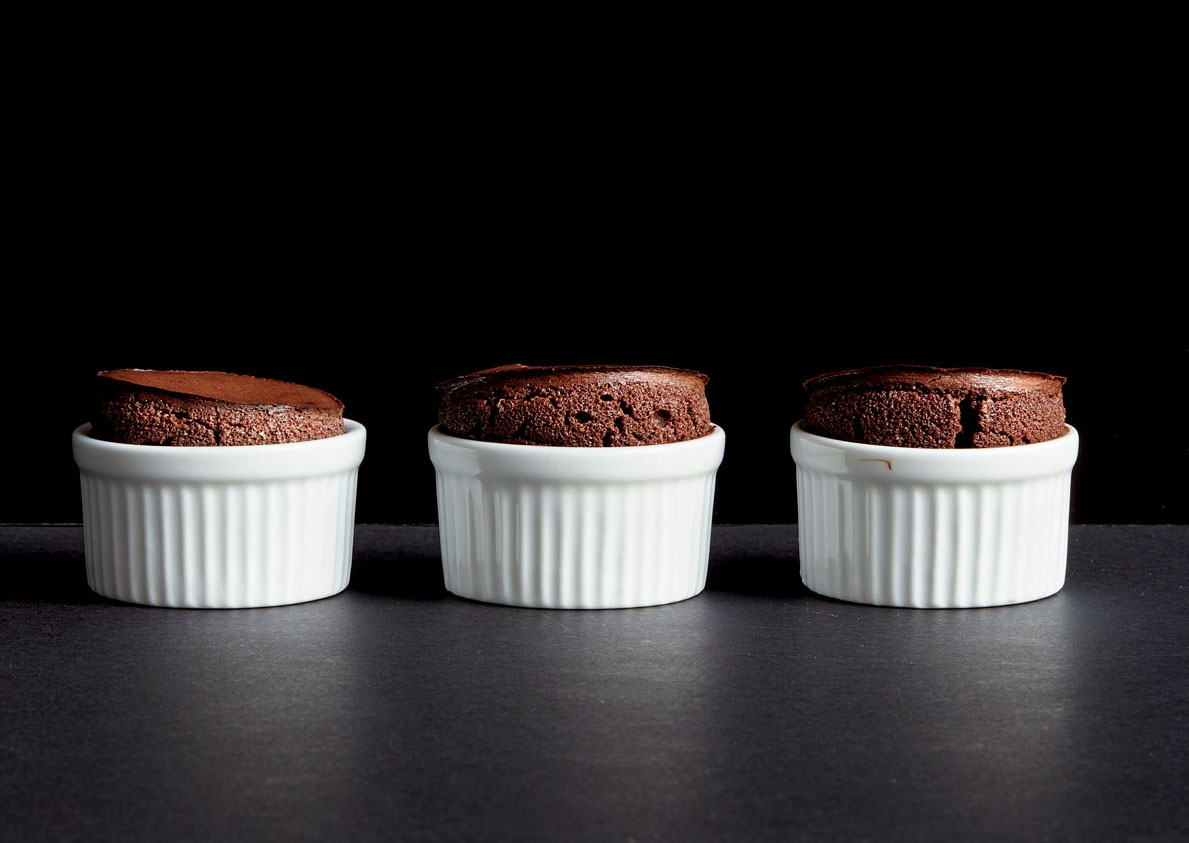 Chocolate Soufflés
from CHOCOLAT
Belgium's foremost practitioner of the art of fine chocolate making, Pierre Marcolini shares his passion for confections that have been acclaimed as the world's most delectable chocolate creations. This recipe is a fitting tribute to the first chocolatier to create his chocolates according to a bean-to-bar philosophy–an idea born from the realization that just as the finest wines reflect the "terroir" in which the grapes are grown, so too would chocolate benefit from careful selection from specific estates.
---
COCKTAILS
---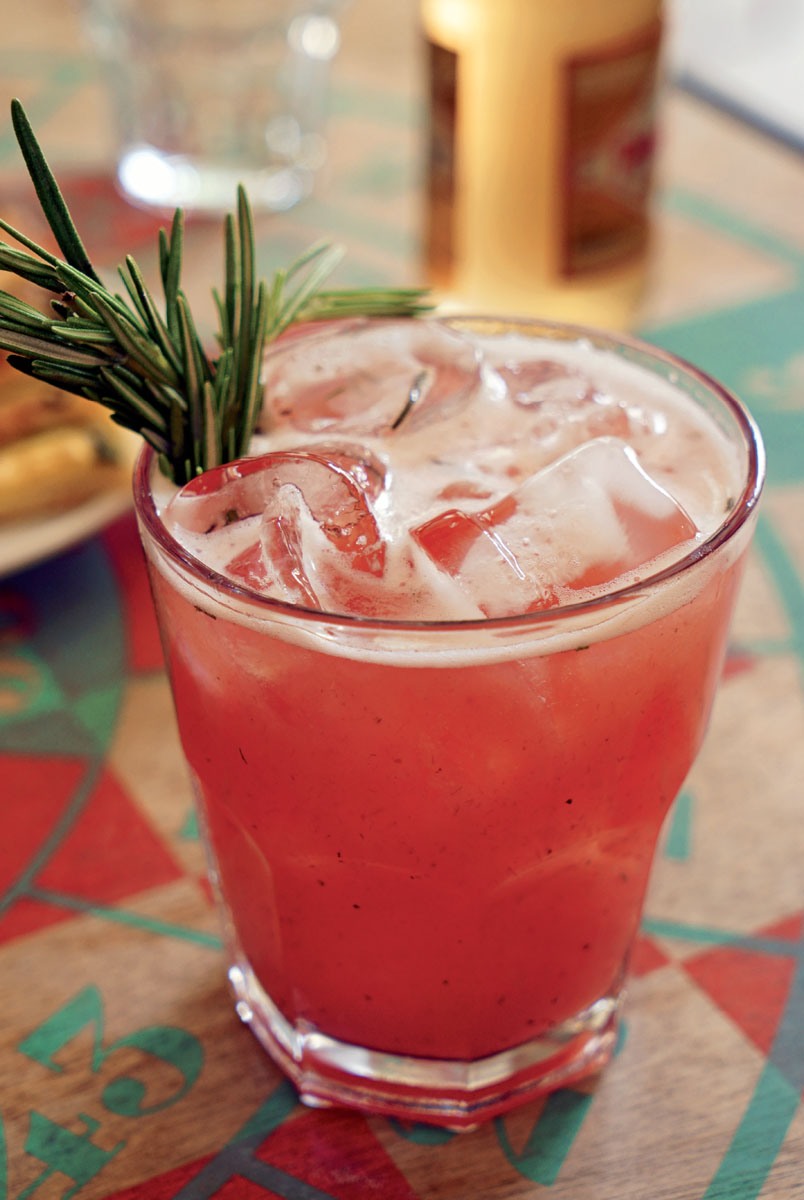 Holiday Cocktails
from APERITIVO and ENTERTAINING IN THE COUNTRY
Whether you prefer a Bellini with brunch, a cocktail during cocktail hour, or a non-alcoholic punch, holidays just aren't holidays without a little something to drink. From Aperitivo, we present a recipe for a Bellini straight from Venice, as well as a recipe for Posto Punch (seen here), a non-alcoholic beverage from Un Posto a Milano, a restaurant tucked away inside the courtyard of an eighteenth-century urban farmhouse in Milan. From Entertaining in the Country, the Thanxmas cocktail is a home-made creation for author Abby Adams's original "Thanxmas" holiday, which takes place on a Saturday afternoon midway between Thanksgiving and Christmas.
---
BREAKFAST AND BRUNCH
---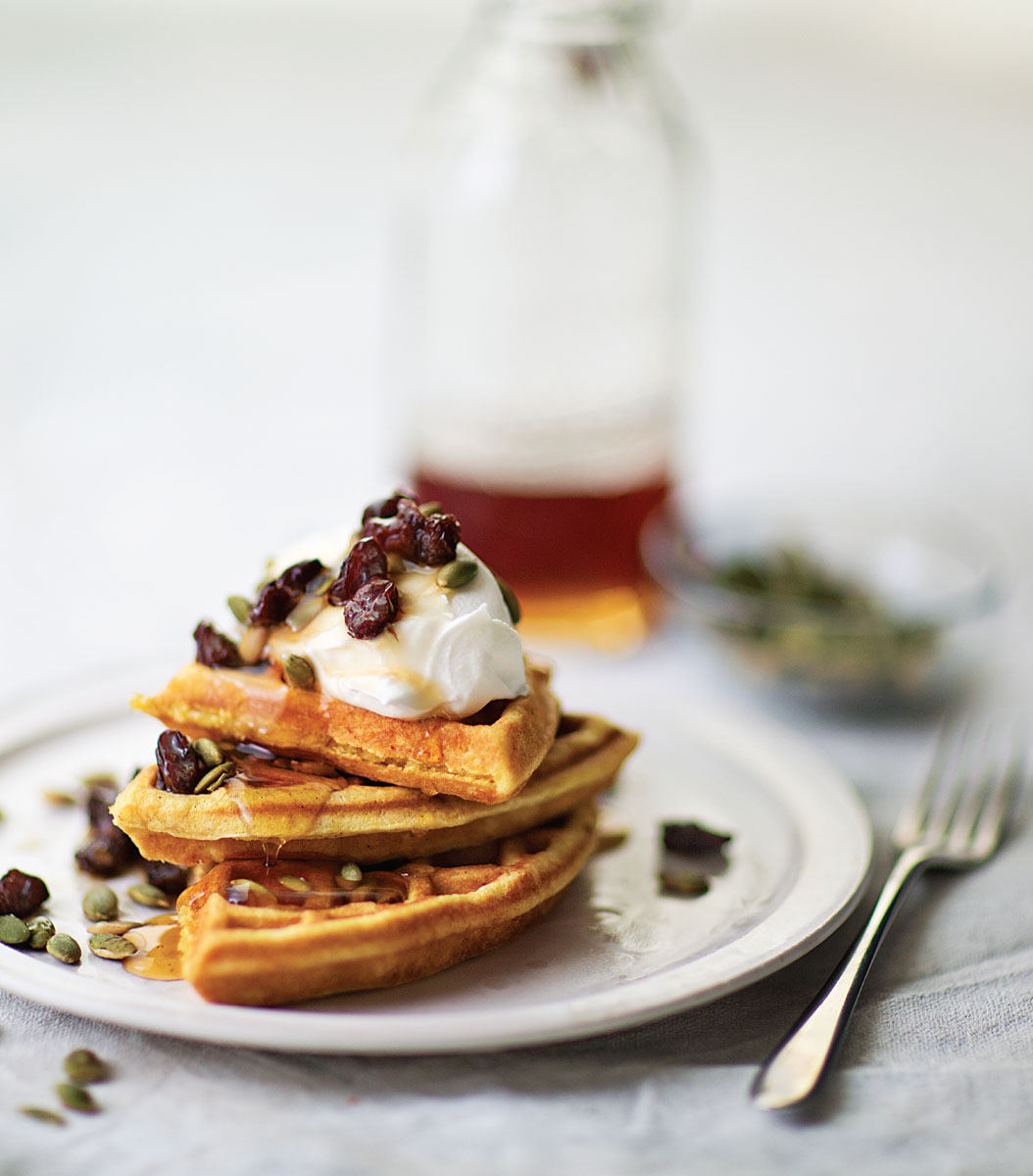 Pumpkin Waffles with Sour Cream and Toasted Pumpkin Seeds
from SARABETH'S GOOD MORNING COOKBOOK
"One morning at my original restaurant, I was feeling adventurous during breakfast service. While we were scooping the pumpkin muffin batter into the tins, I also baked off a scoop in the waffle iron. I took a bite and thought, "This is really good." I wasn't the only one who thought so. Once I perfected my pumpkin waffles and started serving them, they immediately became one of our signature waffles. Customers have patiently waited in long lines just to eat them. Slightly sweet and accented with warm spices, this waffle is fantastic with a dollop of sour cream and a sprinkle of crunchy toasted pumpkin seeds. Raisins add a little extra sweetness, but some people prefer these with a bit of honey instead." —Sarabeth Levine
---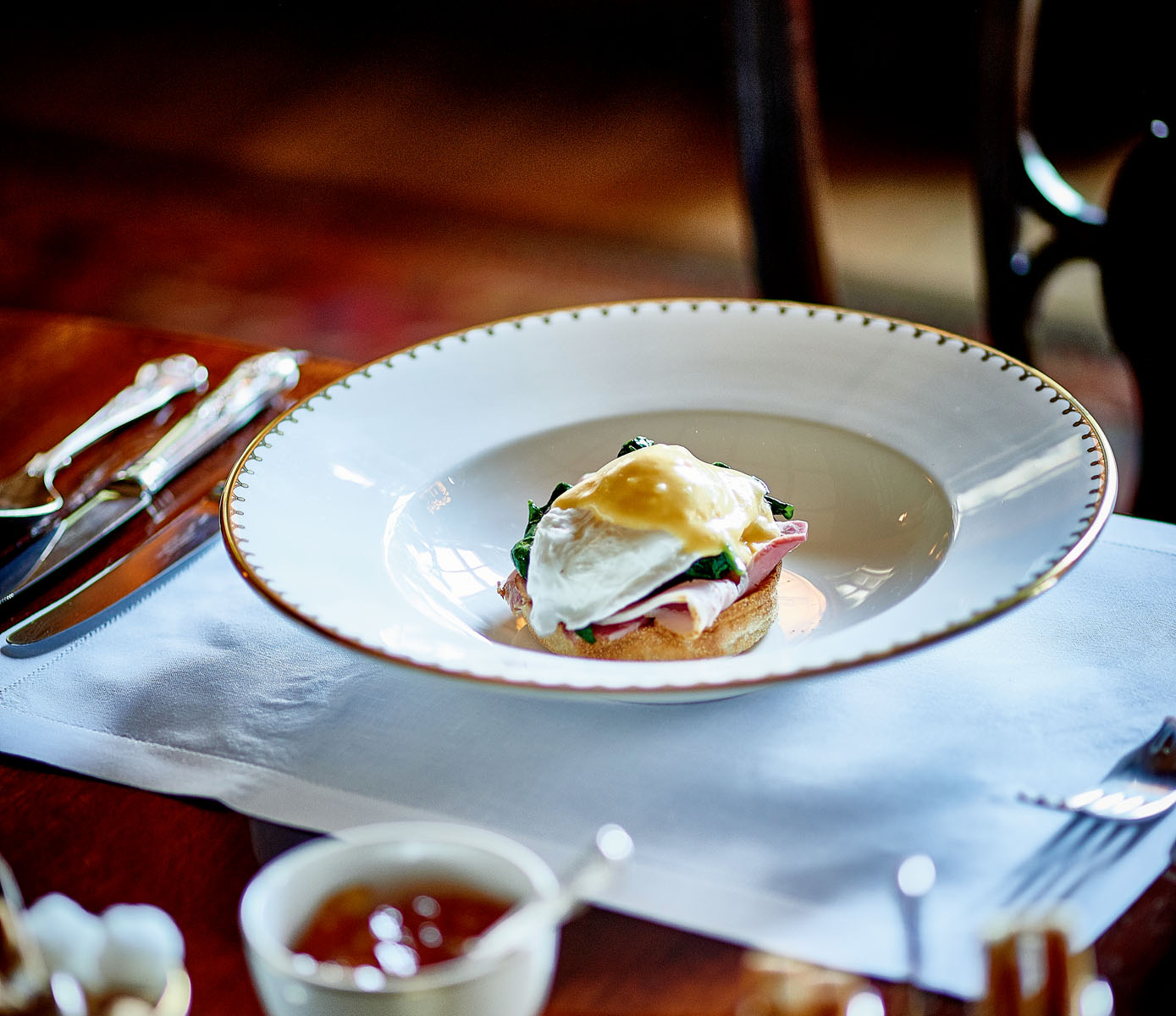 Eggs Hollandaise Highclere Castle
from AT HOME AT HIGHCLERE
"Whereas Eggs Benedict was created in New York and includes ham, the origin of Eggs Florentine-which includes spinach-is obscure. Nevertheless, both dishes are wonderfully indulgent and therefore my husband disapproves of either for breakfast. One morning, however, when he had left quite early, probably to go shooting, I was left alone, quite content, at the end of the table in the Dining Room, slowly devouring the Eggs Hollandaise Highclere Castle that Paul, our chef, had thought would be a lovely treat for me. They were-Paul's variant features the spinach from Florentine and the ham from Benedict." —Lady Carnarvon of Highclere Castle