Holiday Entertaining Recipes & Tips from Rizzoli
November 15, 2013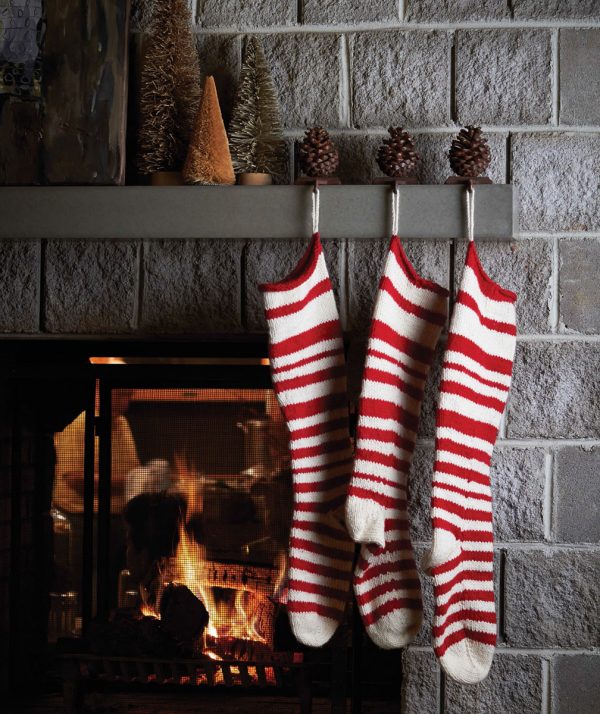 From Christopher Steighner, cookbook editor at Rizzoli New York:
Food and drink take center stage during the holidays, beckoning us to gather around the table and reconnect with friends and family. It's a time to pull out the heirloom china—and the heirloom recipes—when even the least culinary-inclined among us are lured into the kitchen. Here are some of our authors' favorite recipes to inspire your celebrations.
---
ANNETTE JOSEPH
Author of Picture Perfect Parties
---
Turkey with Pear Walnut Crispy Bacon Stuffing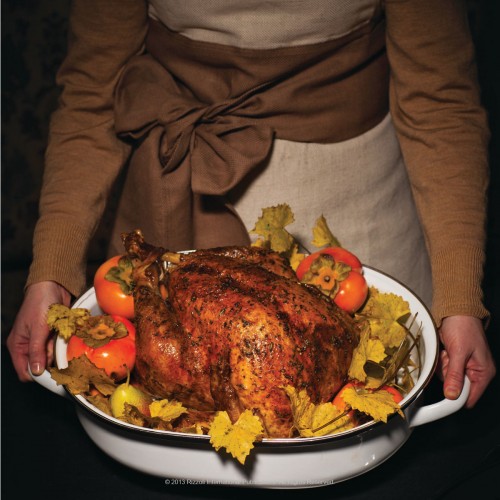 Serves 8
Turkey
Preheat the oven to 350 degrees F.
Ingredients:
20 lb. Organic Turkey
*I like using an organic turkey. Not only is it healthier for you, it tastes better and is prepared the same way as a conventional turkey.
2 teaspoons flake salt
¼ cup olive oil
¼ cup chopped fresh rosemary
4 cloves garlic minced
1 lemon
Ingredients for the mirepoux mixture for the bottom of the roaster:
1 carrot diced
2 celery stalks dices
1 yellow onion diced
2 cups turkey stock (I use store bought)
Preparation:
In the bottom of a roasting pan place carrots, celery, onion and stock.
Put a rack into the roasting pan.
Place turkey on the rack
Combine salt, oil, rosemary, and garlic, rub the entire turkey with the mixture, place whole lemon into the cavity of the turkey.
Place in the oven with an aluminum foil tent on the top of the turkey for 4 hours, baste every half hour, remove the tent for the last hour of baking, and bake until meat thermometer reads 150 degrees F.
Pull from the oven and let rest.
*Reserve the mirepoix for the gravy.
Stuffing
Preheat oven to 350 degrees F.
Ingredients:
3 links of Italian sausage, out of the casing and crumbled
5 slices of bacon
1 yellow onion chopped
3 cloves of garlic minced
2 stalks of celery chopped
4 tablespoons chopped fresh sage leaves
4 tablespoons chopped rosemary
1 cup toasted walnut halves * toast at 350 for 3- 5 minutes until golden brown
3 pears cored and cubed
1 loaf of country bread cubed
3 cups of turkey stock
Preparation:
Sauté sausage in a pan drain and set aside.
In a large sauté pan, cook bacon until crispy, drain and set aside. Reserving about a 1/4 cup of the bacon drippings in the pan (discard the rest) sauté the onion, garlic and celery in the bacon drippings, when translucent, add the cooked and crumbled sausage and sage and rosemary toasted walnuts, pears remove from heat.
In a large bowl place the bread cubes and the turkey stock, add the mixture from the sauté pan, and crumble the bacon into the bread bowl combine thoroughly.
Pour the stuffing into a casserole dish. Set aside until ready to bake.
Bake for 30 minutes in a 350 degree oven, serve warm.
Gravy
Ingredients:
Mirepoix defatted
2 cups turkey stock
2 tablespoons corn starch
Place the mirepoix into a saucepan remove any fat from the top layer of the mirepoix, heat, and add turkey stock, and warm.
In a small bowl place cornstarch, add 3 tablespoons of the warm mixture to the cornstarch, mix with a small spoon until a past forms.
Add the paste to the gravy mixture to thicken. Stir until reduced.
Remove from heat and strain into a bowl.
Serve on the side with Turkey and stuffing.
---
Green Beans with Crispy Shallots and Mushrooms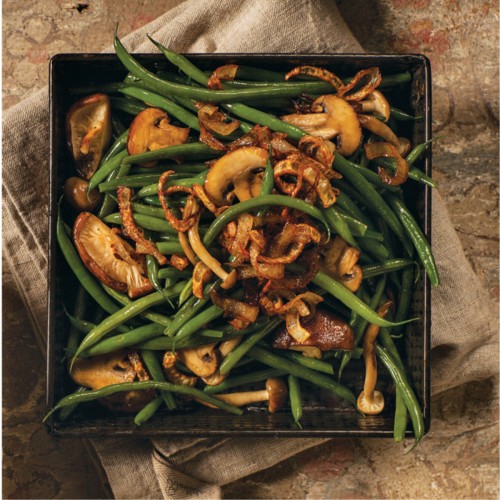 Serves 8
Ingredients:
1/4 cup plus 3 tablespoons olive oil, divided
3 shallots, thinly sliced
1 1/2 pounds haricot vert (green) beans, washed
and trimmed
8 ounces brown mushrooms, sliced
1 teaspoon salt
Heat 1/4 cup of the olive oil in a large sauté pan over medium-high heat. Add the shallots and fry for 5 to 7 minutes, until crispy, then drain on paper towels.
Fill a large stockpot halfway with water and salt the water generously. Bring to a boil over high heat.
Fill a large bowl with ice water.
Add the green beans to the boiling water and cook for 2 minutes, or until the beans turn bright green and are tender but crisp. Drain the beans and transfer immediately to the bowl of ice water to stop the cooking. Drain and set aside.
Heat the remaining 3 tablespoons olive oil in a large sauté pan over medium heat. Add the mushrooms and salt and sauté for 4 minutes, or until browned. Add the blanched beans to the mushrooms and continue to sauté for 3 to 5 minutes, stirring, until the beans are softened.
Transfer the beans and mushrooms to a platter, sprinkle with the crispy shallots, and serve immediately.
---
"I love Thanksgiving, it is my favorite holiday of all. So naturally, after lingering throughout the evening with family and friends I love the idea of sending everyone off with some delicious leftovers, in my opinion they always taste so amazing the next day. Because everything I do has to have the right visual impact. I came up with this pretty little way to pack up the leftovers. Here's how it's done…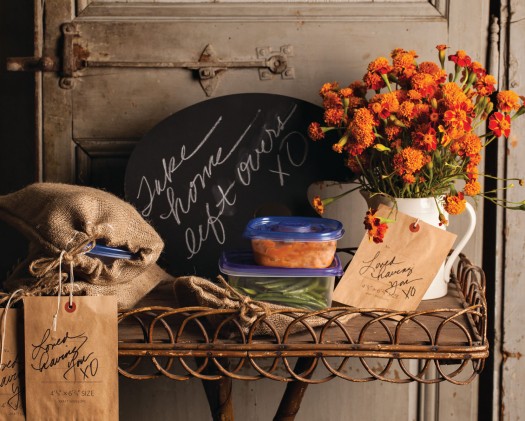 When dinner is finished, pack disposable containers with individual portions of your leftovers. Tuck the containers into a fabric bag-I like to use burlap bags-and attach a gift tag that says, "Loved having you." I always stack these takeaway gifts where guests can grab them on the way out the door. For a lovely presentation, put a simple handwritten sign near them that says, "Please Take Home Leftovers"."
---
ANNE QUATRANO
Author of Summerland: Recipes for Celebrating with Southern Hospitality
---
"My paternal grandmother always served a rib roast for Christmas. Even now, I serve standing rib roast as a special, Christmas-only dish. We source delicious beef and dry-age it for 28 days in our cold storage at Star Provisions. The result is a full-flavored, firm-textured roast. Find one that weighs at least 12 pounds, which will make for an impressive presence at the holiday table. (You and your family will be happy to have plenty of leftovers!) Ask your butcher to french the bones-he or she will cut the meat away from the end of each rib for an attractive, festive presentation."
Standing Rib Roast of Beef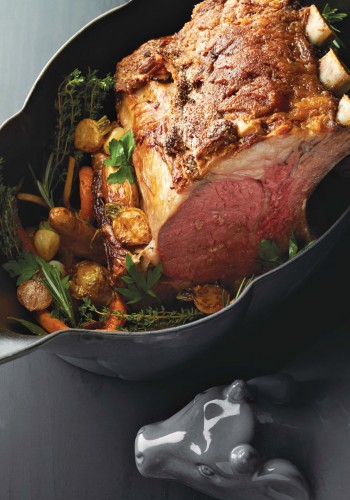 Serves 4, with leftovers
Preheat the oven to 450° F.
Ingredients:
1 pound baby carrots, peeled
1 pound fingerling potatoes, scrubbed
1 large onion, peeled and cut into 8 wedges
1 pound baby turnips
4 sprigs fresh flat-leaf parsley, plus more for garnish
4 sprigs fresh thyme, plus more for garnish
4 sprigs fresh rosemary, plus more for garnish
1 bay leaf
2 tablespoons olive oil
Kosher salt
Freshly ground pepper
1 (12-pound) rib roast of beef (7 bones), frenched
Toss all the root vegetables with the herbs, oil, and salt and pepper to taste. Spread the vegetables out in an even layer in the bottom of a roasting pan.
Pat the rib roast dry and liberally season with 1 tablespoon of salt and 1 tablespoon pepper. Place the roast fat side up on top of the bed of vegetables in the roasting pan. Roast for 30 minutes.
Reduce the oven temperature to 350° F and continue roasting for approximately 2 hours. Insert an instantread thermometer into the thickest part of the roast; the thermometer should register 120° F for rare. (The internal temperature will continue to rise 10° F after removing the roast from the oven, resulting in a final temperature of 130° F.) For medium rare, continue cooking until the thermometer registers 130° F (yielding a temperature after resting of 140° F). For medium, continue cooking until the thermometer registers 140° F (yielding a temperature after resting of 150° F).
Remove the roast to a platter and loosely cover with aluminum foil; let rest for at least 30 minutes before carving. Reserve the pan drippings and increase the oven temperature to 450° F to cook the Yorkshire Pudding (page 82).
To carve, I like to run the knife between the bone and the meat to separate the ribs from the roast for serving. Then you can serve a rib and a slice or two of the roast on each plate. Serve with the roasted vegetables and garnish with more of the herbs.
---
Dessert Eggnog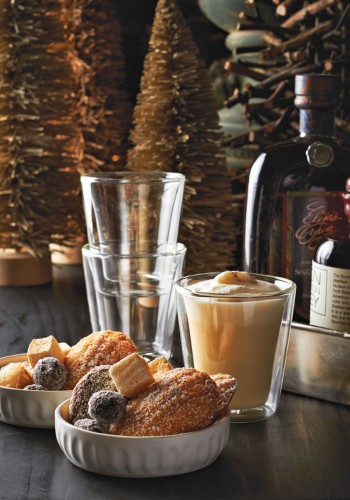 Serves 12
"I like to offer the bourbon-laced drink at the end of the meal so that guests can sip it by the fire. In fact, it could be served in lieu of dessert with just a few holiday cookies. This recipe is intended to serve 12 people, creating a nice opportunity for you to invite some additional guests to stop by after dinner. If you are entertaining a smaller crowd, you can scale down the recipe accordingly. You can add the alcohol prior to serving, or let guests pour their own, according to their tastes. I prefer incorporating into the base three different liquors-bourbon, rum, and cognac-as this mix is most pleasing on the palate."
Ingredients:
6 large eggs, separated
3⁄4 cup superfine sugar, or 1 cup confectioners' sugar
1⁄4 cup cognac (optional)
1⁄4 cup rum (optional)
1⁄2 cup bourbon (optional)
2 cups whole milk
3 cups heavy cream
Freshly grated nutmeg
In the bowl of a stand mixer fitted with the whisk attachment, whisk the egg yolks while gradually adding the sugar until the mixture is thick and glossy; this should take 10 minutes. If using alcohol, add it now, then add the milk and 2 cups of the cream, while mixing constantly on low speed. (This mixture can be refrigerated for up to 4 days. A covered glass container is best for storage. Refrigerate the egg whites, covered, separately.)
Just before serving, transfer the yolk mixture to a large bowl. Whisk the egg whites on high speed in the bowl of a stand mixer fitted with a whisk attachment until they form soft peaks. Gently fold the whipped whites into the yolk mixture. In the bowl of the stand mixer (you do not need to clean it), whisk the remaining 1 cup heavy cream on high speed until it forms soft peaks. Gently fold the whipped cream into the egg base mixture.
To serve, pour the eggnog into 6-ounce glasses and grate a bit of nutmeg on top of each.
---
NATHALIE BENEZET
Author of Le Petit Paris
---
"A quiche is one of the simplest things to bake. And how much easier is it to make when it's crustless? I actually started to bake quiches when I was 14 years old for my first surprise party. Everyone loves quiche and you don't need to be especially talented to make a good one – the only thing you really need is a batch of high quality eggs, and half of the work is done. It's also a good recipe when you have some last-minute guests – you can just make it with what you have in your fridge.
Once you've got the hang of making a basic quiche you can interpret the recipe in many ways. You can try ingredients like asparagus, bresaola and porcini mushrooms, with different types of cheese such as Gruyère, Comté or feta; you can add fresh herbs and plenty of vegetables; you can even add a festive twist with flavor combinations like Brie and cranberry or turkey and Dijon mustard!"
Crustless Quichettes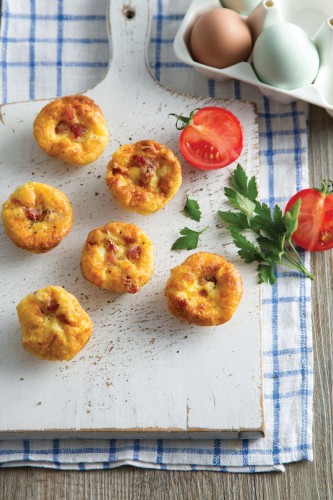 Makes 18
Ingredients:
butter, for greasing
300 g (10 ½ oz) streaky bacon or smoked ham, diced
3 eggs
3 egg yolks
250 ml (8 ½ fl oz/1 cup) double (thick) cream
sea salt and freshly ground black pepper
150 g (5 oz/1 ¼ cups) Gruyère, grated
Preheat the oven to 180°C (350°F/gas mark 4). Butter an 18-hole mini muffin or tartlet tin.
Fry the bacon or smoked ham in a heavy-based frying pan for 3–4 minutes over a medium heat until crispy and golden. Drain on paper towels and leave to cool.
Beat the eggs and egg yolks in a bowl. Add the cream and mix together, then season with salt and pepper. Scatter the bacon in the greased tart tin and pour over the egg mixture. Sprinkle some grated Gruyère on top of each quiche and bake for 10–12 minutes until golden.
---
JENNY McCOY
Author of Jenny McCoy's Desserts for Every Season
---
"So very delicious when made with ripe pears and a sprinkle of cinnamon sugar, strudel is often reserved for an afternoon snack in Austria. But this year, my Thanksgiving table will be adorned with a plate of these delicate and flaky treats, served alongside a bowl of freshly whipped cream. (Should I dare admit that I fear my pumpkin pie will be shoved right off the table?) Using phyllo dough, a pastry chef's "faux" version of the tissue thin dough, you ought to try your hand at making hand rolled strudel, too. My recipe calls for fresh cranberries, which lends a lovely tart flavor that complements the rich, buttery pear filling nicely. Leftovers (if there are any) make for an indulgent day-after-turkey breakfast."
Pear-Cranberry Strudel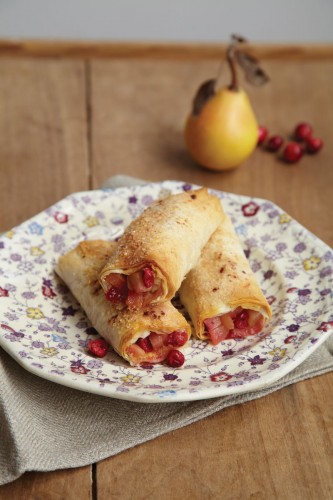 Makes 12 servings
Position a rack in the center of the oven and preheat to 350°F.
Ingredients:
6 ripe Bartlett Pears
Finely grated zest of 1/2 lemon
1/2 teaspoon fine sea salt
3/4 cup packed light
Brown sugar
3/4 teaspoon ground cinnamon, plus more for topping
4 1/2 ounces (9 tablespoons) unsalted butter, divided
3/4 cup cranberries, sliced in half
12 sheets (about 6 ounces) fresh or frozen phyllo dough, thawed
Granulated sugar
1 tablespoon turbinado sugar
Cover a large, flat work surface with 2 sheets of parchment paper. Line a baking sheet with parchment paper.
Peel, core, and dice the pears into 1/4-inch cubes. Gently toss the pears, lemon zest, salt, brown sugar, and cinnamon in a large bowl until evenly combined.
In a large sauté pan, melt 1 tablespoon of the butter. Add the pear mixture and cook over high heat until just softened. Using a slotted spoon, transfer the pears to a shallow dish and discard the excess liquid. Let cool to room temperature. Transfer the mixture to a bowl, add the cranberries, gently stir to combine, and set aside.
Place the stack of phyllo sheets on one of the sheets of parchment that is on your work surface and cover with plastic wrap to prevent the phyllo dough from drying out. In a small saucepan, melt the remaining 8 tablespoons butter over low heat.
Arrange 1 sheet of phyllo on the second sheet of parchment, with the long side of the sheet parallel to the edge of the work surface. Lightly brush the entire surface area of the phyllo with melted butter, starting from the center of the sheet and working outward to prevent tears. Lightly sprinkle the entire sheet of phyllo evenly with a few pinches of granulated sugar and top with another sheet of phyllo, taking care to line up the corners of each layer. Brush with melted butter, sprinkle with granulated sugar, and repeat with 2 more sheets of phyllo to create a four-layer stack.
Using a pizza wheel, and the straight edge of a ruler as a guide, cut the buttered and sugared phyllo stack in half widthwise. Then cut the 2 pieces in half again, creating 4 strips. About 2 inches from the bottom edges of the 4 strips, evenly divide one-third of the pear-cranberry filling , fold the edge over the filling, and tightly roll up. Lightly brush the entire exterior surface of the rolled strudel with melted butter and sprinkle the tops of the assembled strudel generously with turbinado sugar and ground cinnamon. Repeat two more times with the remaining 8 sheets of phyllo and the remaining two-thirds of the pear-cranberry filling to make 8 more strudels.
Sprinkle the tops of the assembled strudels generously with turbinado sugar and cinnamon and bake until golden brown, 35 to 40 minutes. Serve warm.
---
TRISH DESEINE
Author of The Paris Gourmet
---
"If it's Christmas, it has to be chocolate and chestnuts. There is something about the pastiness of the chestnuts married with the smooth bitterness of the chocolate that impose them as a holiday ritual. The happy news for cooks is that the quality of sweet chestnut puree and the simplicity of its use have not waned over the years. Mix sweet chestnut puree with whipped cream to make an easy mousse (lace it with more chocolate and/or coffee if you like). Sandwich the mousse between slivers of light pastry biscuit or melted chocolate fashioned into discs and hardened. You can also serve it with either crumbled sugared chestnuts or a melted chocolate stripe "painted" on the plate, this is my go-to holiday dessert. And everyone seems to love it."
Chocolate, Coffee and Sweet Chestnut Millefeuille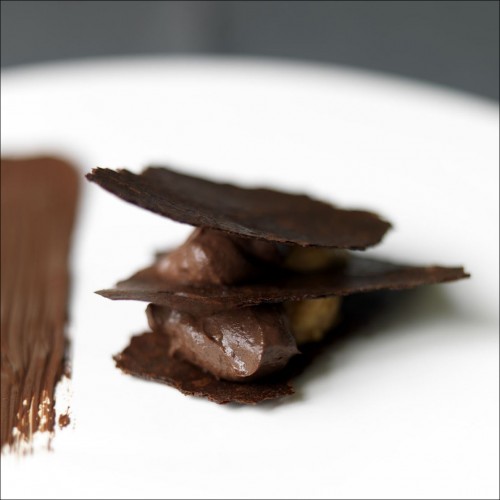 Serves 6
A little bit fiddly, and you'll need some space to construct the millefeuilles, but it makes for an impressive finale to a meal and can be prepared well in advance.
Ingredients:
8 oz. (250 g) very good dark chocolate
3/4 cup (200 ml) whipping cream
1 tablespoon (15 g) mascarpone
3 tablespoons (20 g) sweet chestnut purée
1 teaspoon coffee essence or 1 teaspoon instant coffee dissolved in 1 tablespoon hot water
Cocoa powder and icing (confectioners') sugar or grated chocolate to serve
Melt the chocolate carefully and on a sheet of greaseproof (waxed) paper shape into 18 thin discs, about 3 in. (8 cm) diameter, either freestyle with the back of a spoon or using a round pastry cutter.
Put them on a tray or other flat surface and leave them in the fridge to cool and harden.
Whisk the cream and mascarpone together, then spoon in the chestnut purée and the coffee. Mix well.
Build each millefeuille by spooning some coffee chestnut cream on a chocolate disc and setting a second disc on top. Add another blob of chestnut cream and finally a third disc. Repeat with the remaining chocolate circles to make six millefeuilles.
Sprinkle with cocoa powder and icing (confectioners') sugar, or grated chocolate.