Go Beyond Resolutions: A Year of Self-Discovery
January 2, 2017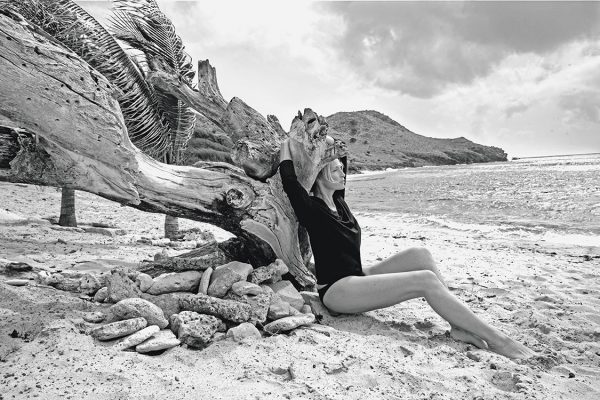 Who needs resolutions? All you need for a fresh start is an open mind and a willingness to explore. Why not take the time to learn something new, try out that hobby you've been thinking about, or take a trip to a new locale? Below are just a few tips for taking the first steps towards a happier you.
Top image © Sylvie Lancrenon
---
Take an Inner Journey:
"Everything in your entire life reflects the choices you have made. If you wish for a different result, make a different choice."
French women reportedly have great genes, but former supermodel and French wellness sensation Estelle Lefébure (author of Flammarion's Mindful Beauty, seen at top) divulges how they really maintain their fantastic natural looks. Her positive outlook inspires, and she offers a simple, enjoyable path to well-being and looking fabulous forever.
Estelle Lefébure's Creative Vision of a Better Life:
Suppose we took advantage of long winter evenings to visualize our most deeply desired goals, dreams, and longings. It's a simple idea; all you do is identify these wishes as clearly as you can and embrace the belief that we have power over our own lives. The subconscious will direct you toward the actions that will transform your aspirations into reality.
And here's some good news—this exercise in creative visualization costs no more than the price of paper, scissors, and glue. Envisioning success requires no investment whatsoever, except some time and reflection. It's best to do this on your own, or with close friends, having first collected together old newspapers and magazines.
To begin, decide how you will undertake the project:
Use an entire wall in your home?
A large white or colored piece of cardboard?
A compartmented file that you can easily carry with you?
All you have to do is post drawings, photos, and quotations that inspire you. What makes you dream? Write down words that motivate you. Try to always formulate your thoughts positively, picturing yourself surrounded by abundance rather than deprivation.
The objective is to reflect sincerely and profoundly on your deepest longings, whether in private or professional spheres, in family life, romance, or any other area of your life that is important to you."
---
Choose a Healthy Alternative: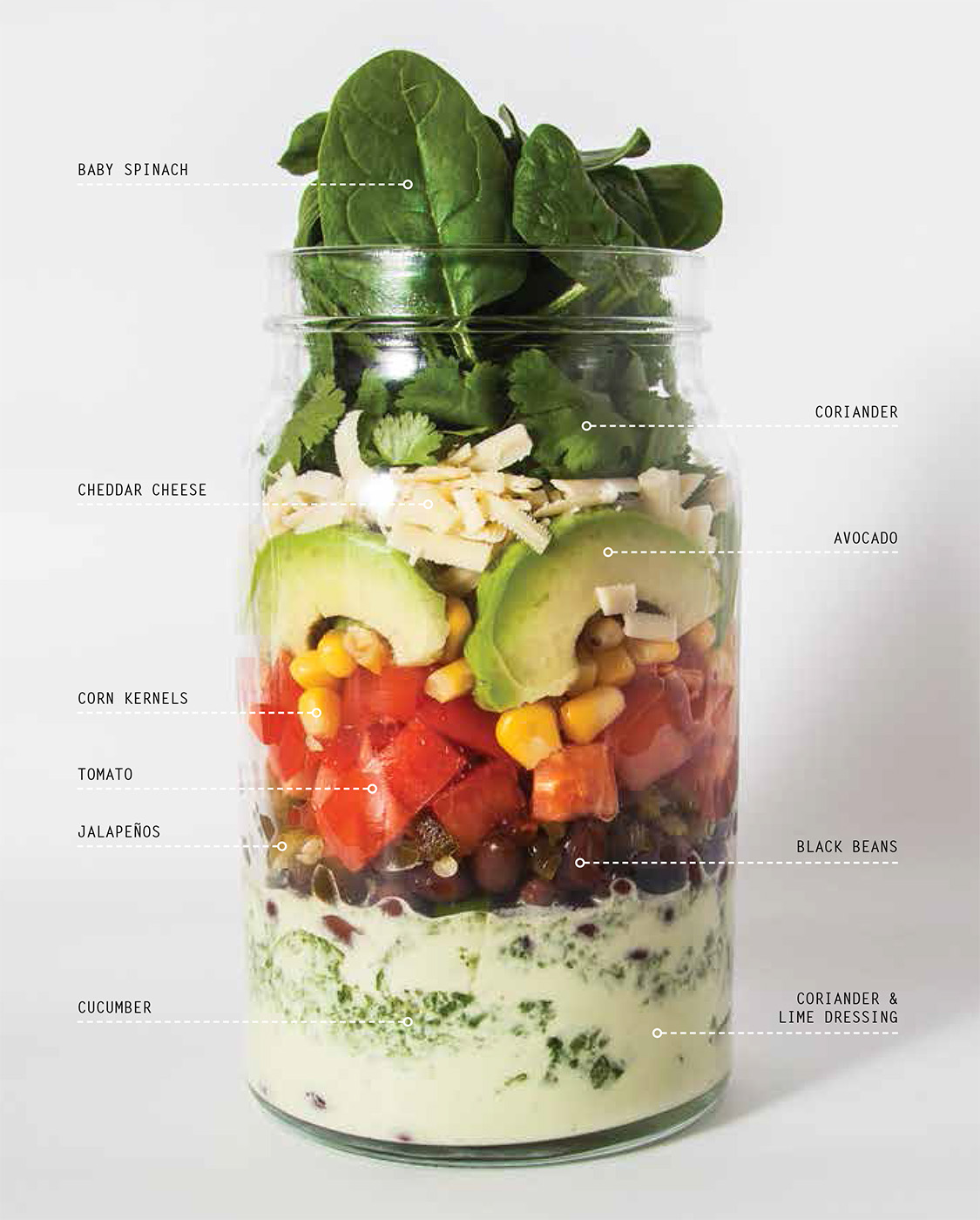 Put down that hamburger and try this healthy and delicious lunch idea from Smith Street's Jar Salads. Who wants a soggy salad? The trick to a perfectly fresh and crisp salad that can be kept in the refrigerator the night before is all about the layering: the dressing at the base, followed by protein or grains, then nuts or seeds, with the leafy greens and herbs on top.
Veggie Taco Salad
Makes 1
Ingredients:
1 Lebanese (short) cucumber, diced
90 g (3 oz / 1/2 cup) cooked black beans
2 tablespoons chopped jalapenos
1 tomato, diced
3 tablespoons corn kernels
1/2 avocado, sliced, with lemon juice squeezed over
2 tablespoons shredded cheddar cheese
A handful of chopped coriander (cilantro)
A handful of baby English spinach leaves, to fill
Coriander & Lime Dressing:
3 tablespoons Greek-style yogurt
1 tablespoon apple cider vinegar
Juice of 1 lime
Large handful of coriander (cilantro), finely chopped
Pinch of caster (superfine) sugar
Sea salt
Mix together.
MORE TIPS:
Explore
Renovate and Rejuvenate
Entertain your guests…and yourself
Pick Up That Hobby
Be Inspired
Learn Something New

Explore:
Traveling can be great for self-discovery and realizing your hidden potential. It exposes you to different perspectives, experiences, history, culture, religions and ultimately, a better self.
Commune with Nature: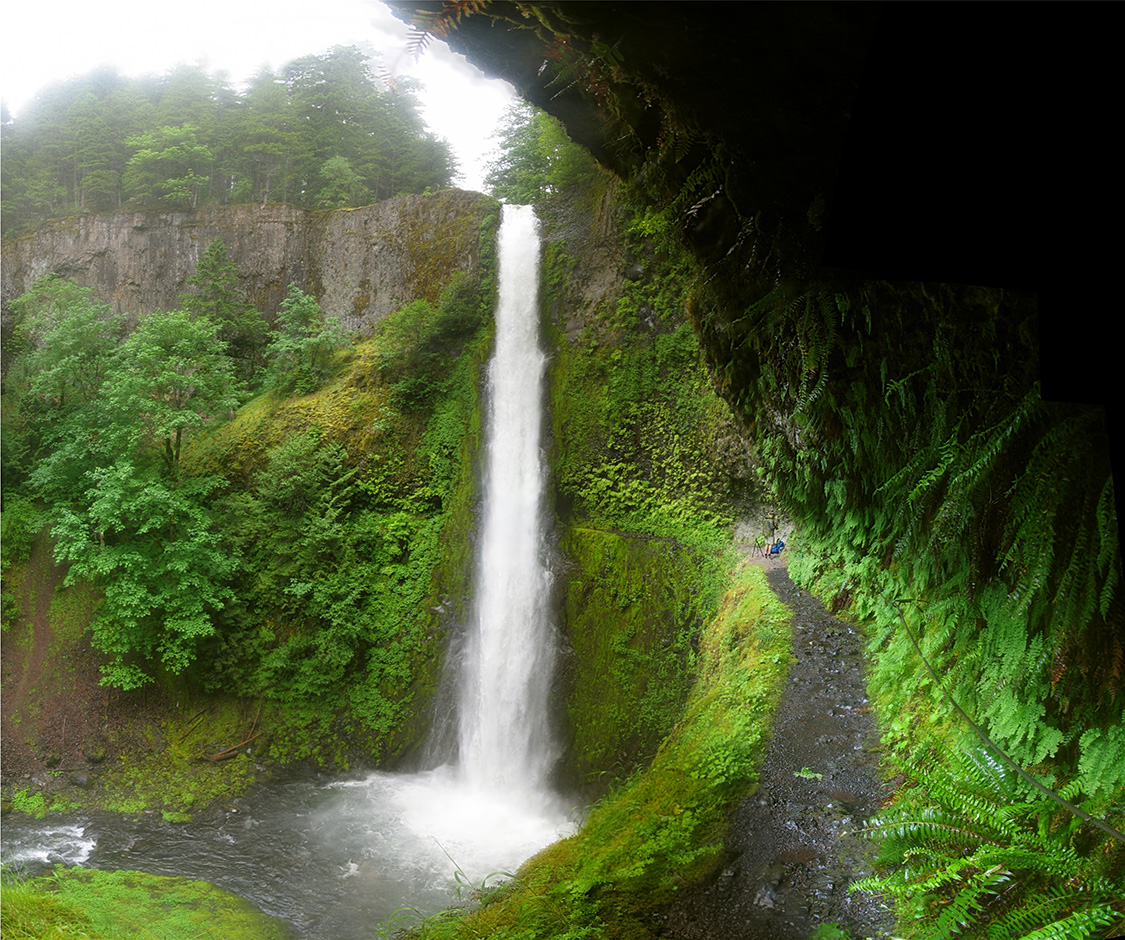 Designated as one of the first two national scenic trails in 1968, The Pacific Crest Trail is a continuous footpath of more than 2,650 miles—from the Mexican border to the Canadian border through California, Oregon, and Washington. Hikers from all over the world are drawn to this trail to experience true American wilderness and to challenge themselves—whether for two miles or two thousand.
Named for the venerable former Oregon senator, the Mark O. Hatfield Wilderness butts against the Columbia River Gorge, leading northbound PCT hikers and horseback riders to grand views of the surrounding Cascade volcanoes and the milestone of the mighty river. Cascading waterfalls prevail in the park's 65,537 acres, a special respite for Portland day hikers and weekend backpackers.
Walk through history: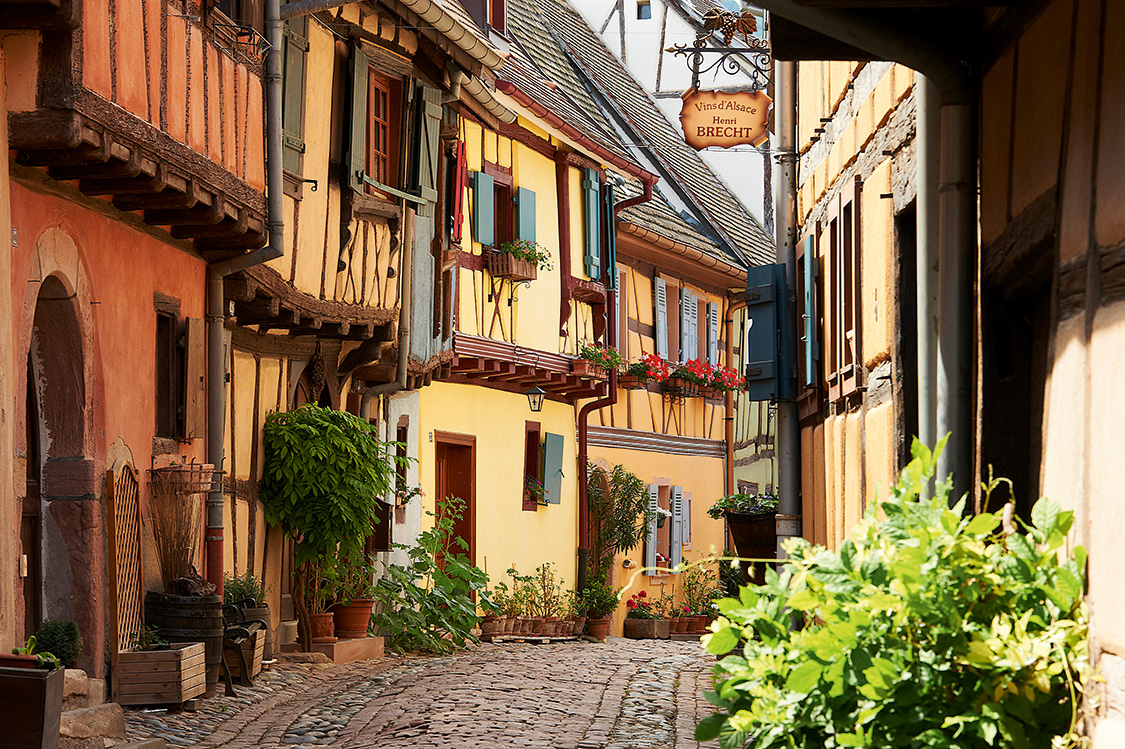 Eguisheim, France
Just a short distance from Colmar, Eguisheim winds in concentric circles around its castle. Whether around the castle at the center of the village, which witnessed the birth of the future Pope Leo IX (1002–1054), or along the ramparts that encircle it, Eguisheim encourages visitors to go round in circles. With every step, from a courtyard to a fountain, lane to square, the ever-present curve changes one's perspective of the colorful houses arrayed with flowers, half-timbering, and oriel windows. The winegrowers' and coopers' houses, with their large courtyards, are a reminder that—as well as being a feast for the eyes—Eguisheim also delights the palate with its grand cru wines, which are celebrated with festivals throughout the year. (The Official Guide to the Most Beautiful Villages of France)
---
Renovate and Rejuvenate: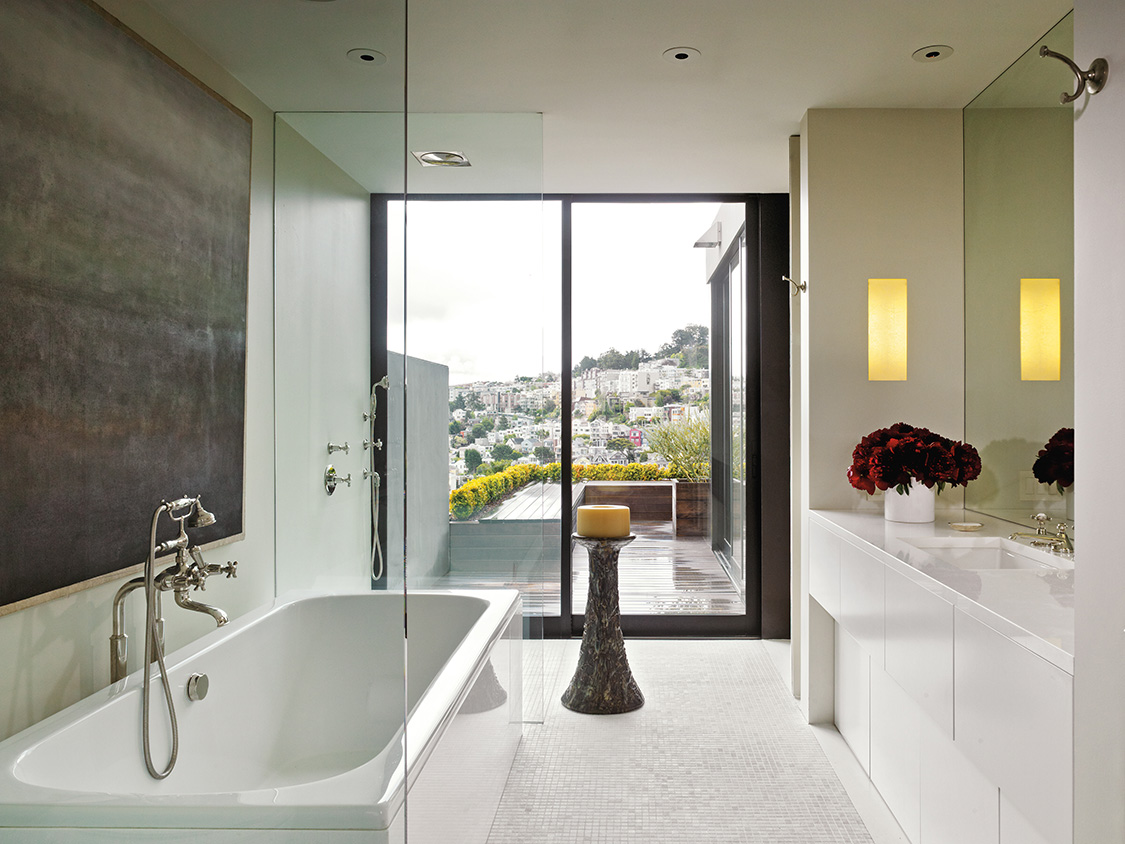 Planning is Everything: What Matters?
When I ask clients how they envision their own ideal baths, I am often met with blank stares, or else their minds drift off to swimming pool–sized tubs beneath gilded domes. As these extremes suggest, determining what kind of bath you would actually enjoy can be overwhelming. But the first step in going from unchecked fantasy to achievable reality is simply beginning a process of thoughtful choices—asking yourself key questions, and answering them straightforwardly.
Some things to consider:
Do you want a combination tub and shower or to separate the functions?
Will one or two people be showering at the same time and how big a space and how many showerheads and valves are needed?
Do you need a seat in the shower? (Highly recommended.) Are you planning to have a hand shower?
Where will you place your bath products? (Not on the floor.)
Is one sink sufficient for a couple?
Do you want medicine cabinets?
Are you planning for storage in the bath?
Do you want the WC in its own dedicated space?
Where will you place your hair dryer and electric toothbrush?
How about the laundry hamper—exposed or in a closet?
Once you have made these programmatic choices, weigh them against the square footage. The process will enable you to think in concrete terms about what you really want or need, to prioritize your preferences, and to make choices that allow your bath to take shape.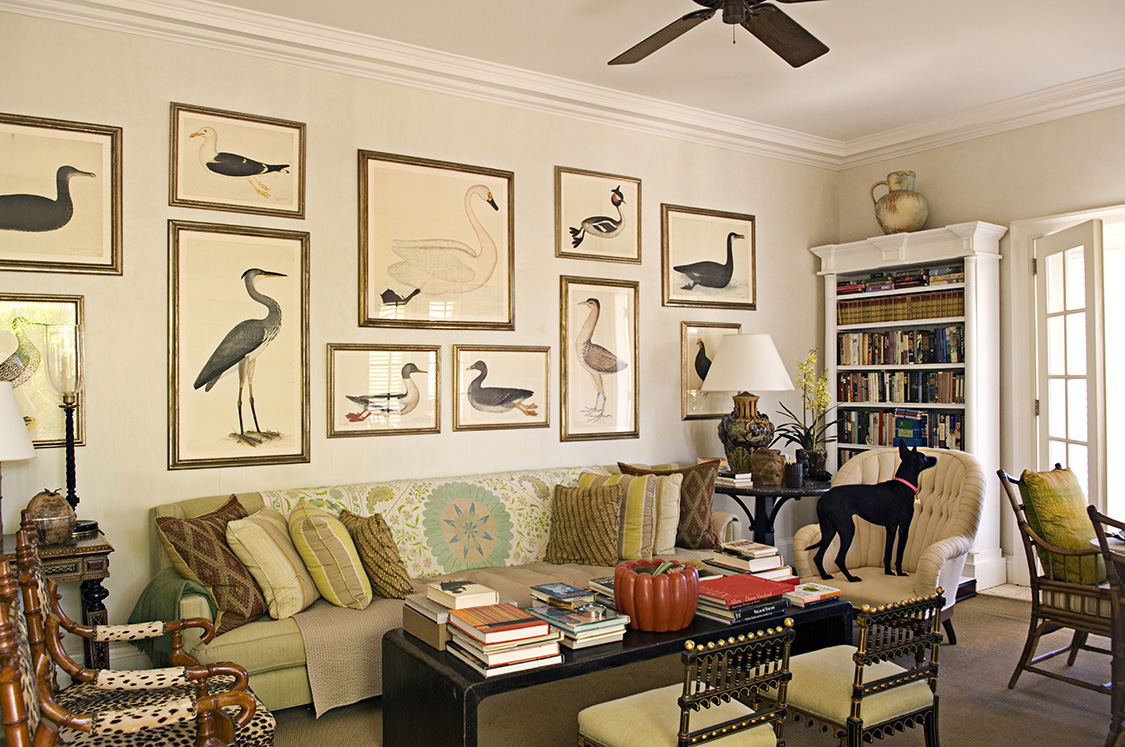 Comfort (an excerpt) by Bunny Williams
The comfort in a room comes from thinking about the occupants in the planning stage. The seating group should be intimate and the sofas and chairs not too big or too small—just right, as Goldilocks said. There should be small tables for drinks and soft lighting at eye level. Even in rooms that have a more modern, minimalist sensibility, it's the thoughtful details that indicate the room has been planned for people, not for a photo shoot.
Rooms need to be functional as well as beautiful. Thinking first how the room will be used is essential to creating a comfortable space. Is one's lifestyle formal or informal? Is there an art collection? Young children or grandchildren? Pets? All should be considered. Then the personality of the room can begin with the selection of colors, fabrics, furniture, and art. What is always important to remember is that rooms are for living, not just for show.
Everyone who decides to become an interior designer does so for his or her own reasons: it can be about the passion for space, or it can be about a house for great collections of furniture or art. For me, my first thoughts are about the people I imagine living in the rooms I create. I learned at an early age that a house is for enjoying life and sharing with others. A well-thought-out room will be inviting for a single person, a small family gathering, or a large party, and it will be a room you will never want to leave.
---
Entertain your guests…and yourself: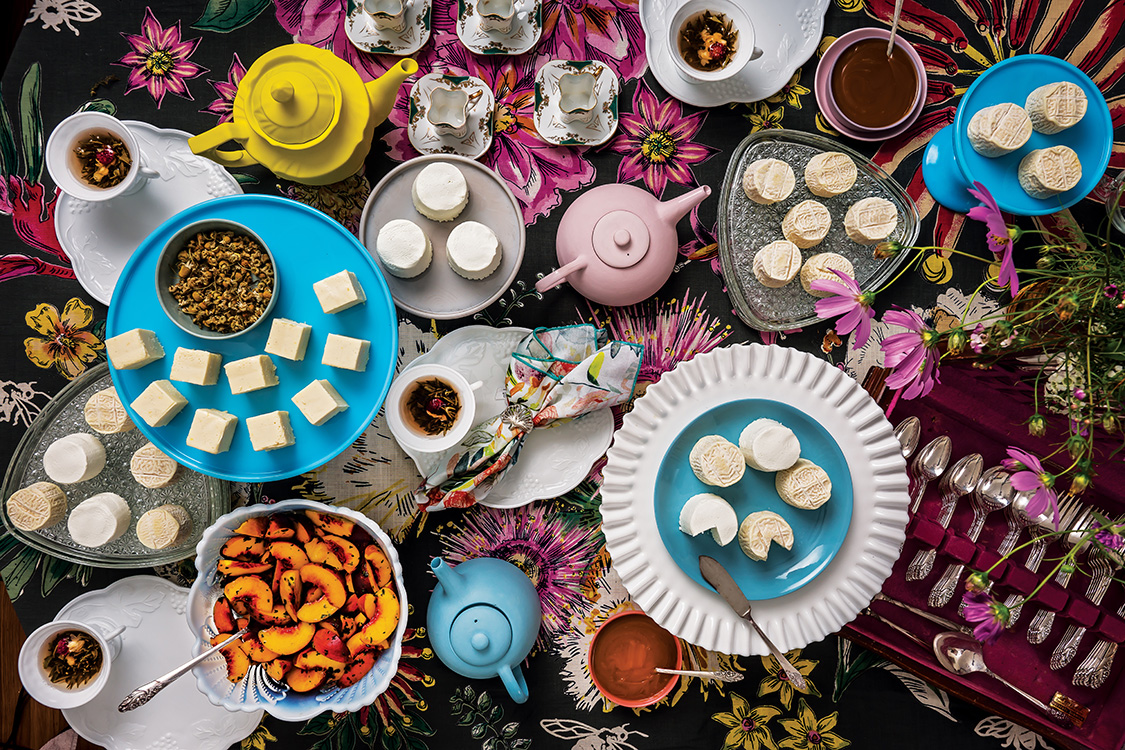 Plating & Serving
Though I'm sure you've heard this before, cheese is best eaten at room temperature; this rest allows the textures and flavors to bloom. If left wrapped and unrefrigerated, tempering a half-pound piece of cheese takes about half an hour. In most cases, the cheese should be cut into portions immediately before serving to ensure that it doesn't dry out, wilt, or sweat.
One of the most commonly asked questions about cheese is "Do I eat the rind? "Unless the rind is covered in wax, it's edible. In the case of surface-ripened cheeses, the rind is considered a vital part of the overall flavor of the cheese and thus should absolutely be eaten. For cheeses with natural rinds, the decision of whether or not to consume the rind is a matter of personal discretion. Don't be afraid: If you don't like it, don't eat it again.
When it comes to the actual plates used, bigger is definitely better. A crowded plate can feel chaotic and make it hard to enjoy the aesthetic beauty of the presentation. Consider the portion and scale of the cheese and accompaniment. A giant mound of an intensely flavored accompaniment next to a one-ounce piece of cheese won't do either component justice. Err on the side of caution. You can always serve additional accompaniments on the side if you think your guests might want more.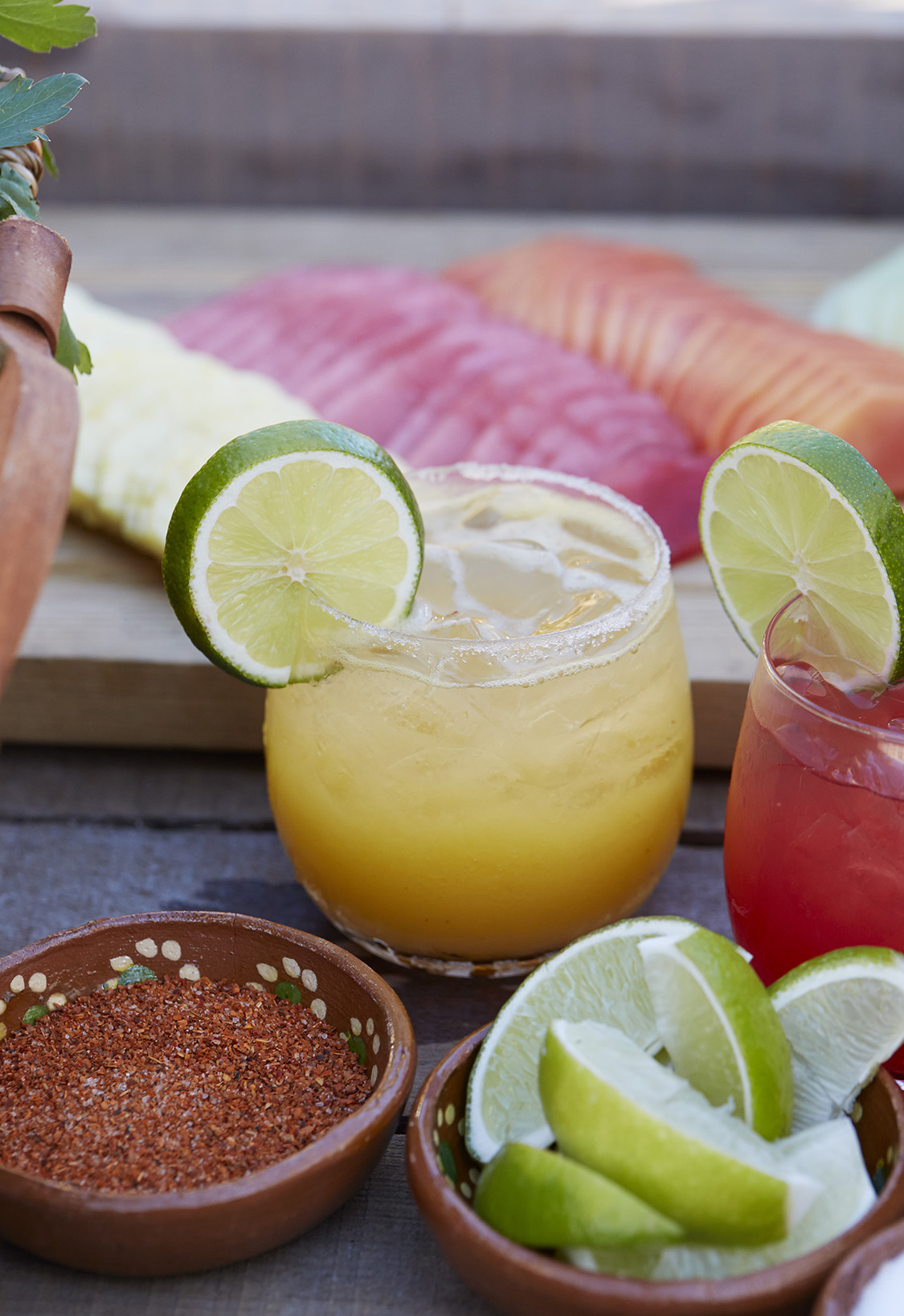 Try this Ginger Margarita in the summer when it's hot or in the winter as a reminder of those lazy days.
Ginger Margarita
Makes 1 cocktail
2 ounces silver tequila
1-ounce fresh lime juice
1-ounce agave nectar
3 fresh ginger slices
Lime wheel
Mix the tequila, lime juice, agave nectar, and ginger with ice in a cocktail shaker and shake for 20 seconds. Strain into a margarita glass, add ice and garnish with the lime wheel.
---
Pick Up That Hobby:
Gardeners have always had the urge to collect plants that are exotic for their region and have been prepared to build special structures to provide them with the conditions they need. Perhaps the most extravagant such edifices are the orangeries built at Versailles to house citrus plants. You don't need a palace, however: even an indoor windowsill could be home to any number of interesting little gems from afar.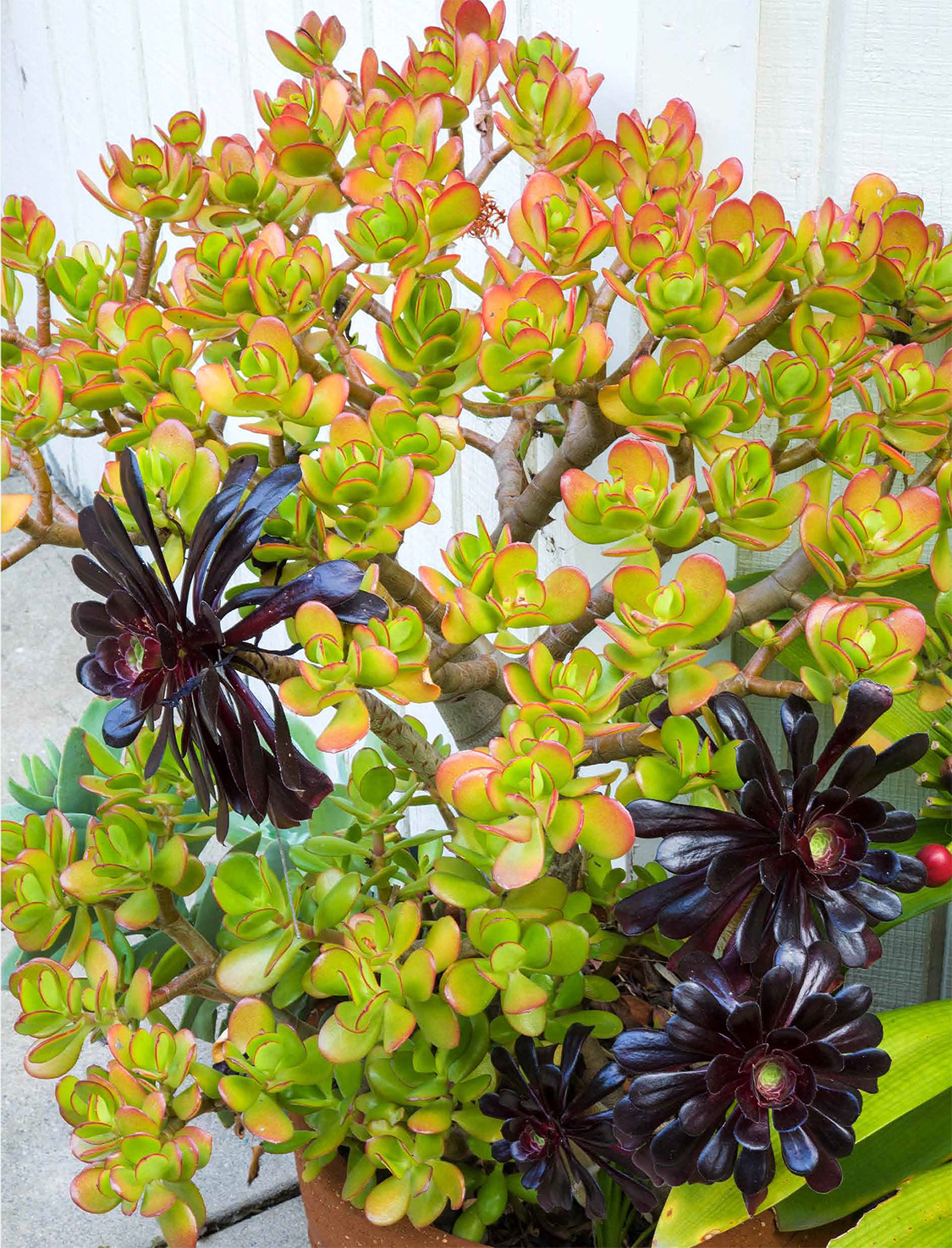 Try the Crassula (C. ovata), whose main features are fleshy leaves, architectural shape, and its hardiness.
Known as jade plants, these long-lived succulents have rounded, fleshy leaves with thick stems. The beauty is in the leaves and overall treelike structure, but occasionally white or pink flowers appear in fall. A native of South Africa, it needs a sunny place and free-draining compost. A potting mix for cacti and succulents is ideal, but sharp sand or fine grit can be added to other composts. Wait until the compost is dry between waterings; water weekly in spring and summer, reducing watering in winter. C. ovatais best grown as a houseplant in most regions, but it can be placed outside in a semi-shaded spot during summer provided temperatures do not fall below 50°F.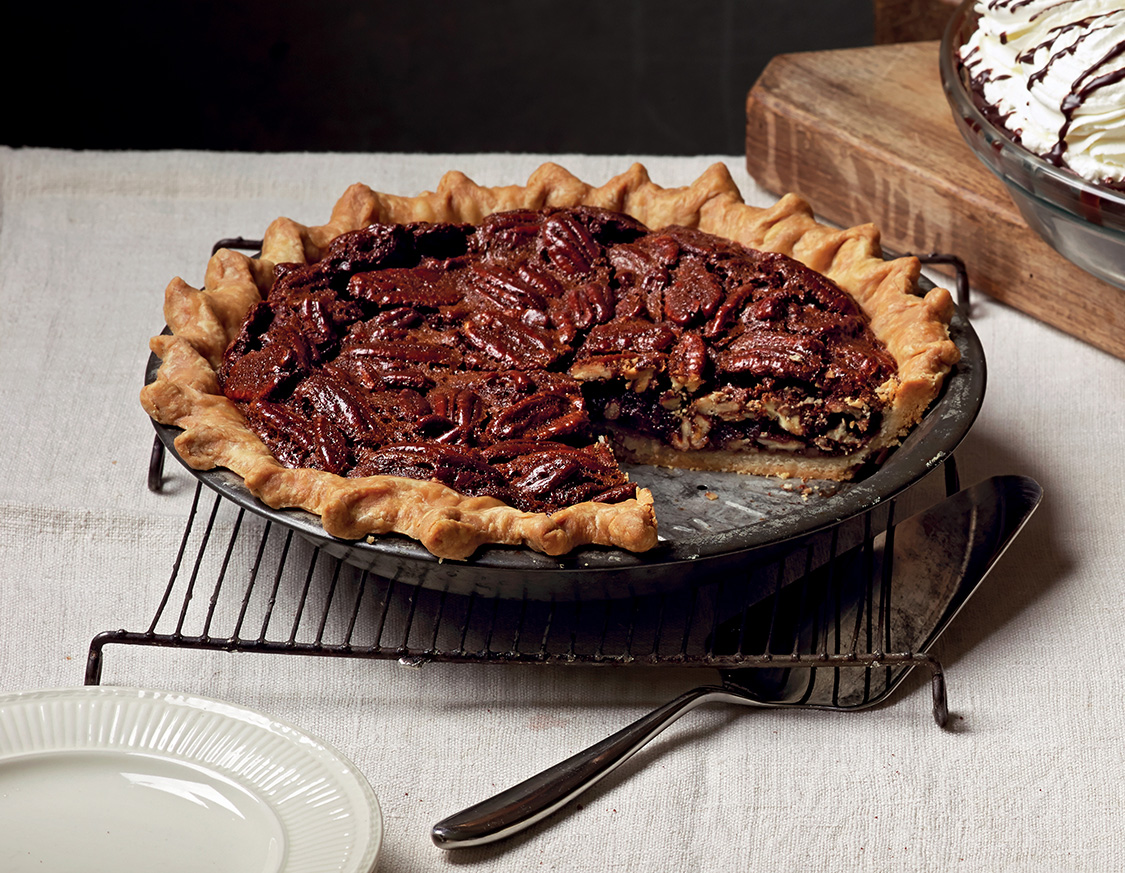 Chocolate Pecan Pie
Makes one 10-inch pie
There's something decadent about adding a little bit of chocolate to a classic like pecan pie. The long-loved flavors are still there, but they're amplified just a little bit by the richness of the chocolate.
Crust:
1 1/4 cups all-purpose flour, plus extra for dusting
1/2 teaspoon salt
1/2 teaspoon granulated sugar
1/2 cup (1 stick) unsalted butter, cold, cut into small pieces
1/4 cup ice water
Filling:
2 1/2 ounces dark chocolate (preferably 60% cacao), coarsely chopped
3 tablespoons unsalted butter
1/2 cup granulated sugar
3/4 cup light corn syrup
2 extra-large eggs
1 teaspoon pure vanilla extract
1/4 teaspoon salt
1 1/2 cups pecan halves
The key to flaky pie crust is to keep the butter very cold. After you've cut the butter into little pieces, it is best to leave it in the refrigerator until just before you use it.
Make the Crust:
1. In a food processor, combine the flour, salt, sugar, and butter and process for about 10 seconds, until the mixture resembles coarse meal. Drizzle in the ice water 1 tablespoon at a time, pulsing the processor a couple of times after each addition. Stop when most of the dough comes together into a single clump. Turn the dough out onto a clean work surface and knead it two or three times so that it all comes together. Shape it into a flat disk, wrap it in plastic wrap, and refrigerate for at least 1 hour.
2. On a lightly floured surface, roll out the dough into a 12-inch circle. Fit the circle of dough into a 10-inch pie pan and tuck the overhanging dough under to fit snugly along the top edge of the pie pan. Pinch the edge of the crust to create a wavy pattern. Cover the crust with plastic wrap and refrigerate for 20 minutes.
Make the Filling:
1. Melt the chocolate and butter together in the top of a double boiler, stirring to keep the chocolate from burning or microwave them together in 30-second intervals, stirring after each interval, until they become liquid. Whisk the butter and chocolate briskly until combined, then set aside to cool a little.
2. In a small saucepan, heat the sugar and corn syrup over medium heat, stirring to dissolve the sugar. Bring the syrup to a boil, then immediately remove from the heat to keep the mixture from bubbling over. Set the syrup aside to cool a little.
3. Put the eggs in a large bowl and beat with a whisk until smooth. Add the chocolate mixture and whisk to combine; while whisking, drizzle in the sugar syrup, then add the vanilla and salt. Fold in the pecan halves with a wooden spoon.
Assemble and Bake the Pie:
Preheat the oven to 350°F. Pour the filling into the chilled pie shell. (It will not fill the pie shell.) Place the pie plate on a sheet pan to catch any filling that bubbles over. Bake the pie for 1 hour, until the crust is golden, the filling doesn't wobble much when you shake the pan, and the edges of the filling have a bubbling, crisp texture. Allow the pie to cool thoroughly before serving.
Make Ahead:
The raw pie crust can be frozen for up to 1 month. The filling, without the nuts in it, will keep in the refrigerator for up to 1 week. The baked pie can be refrigerated for 3 to 4 days.
Serving Suggestion: Vanilla Ice Cream
---
Be Inspired:
Inspiration is truly powerful because it allows us to expand our perspective on what is possible. It can provide a sense of purpose, gratitude, transcendence, and even vitality.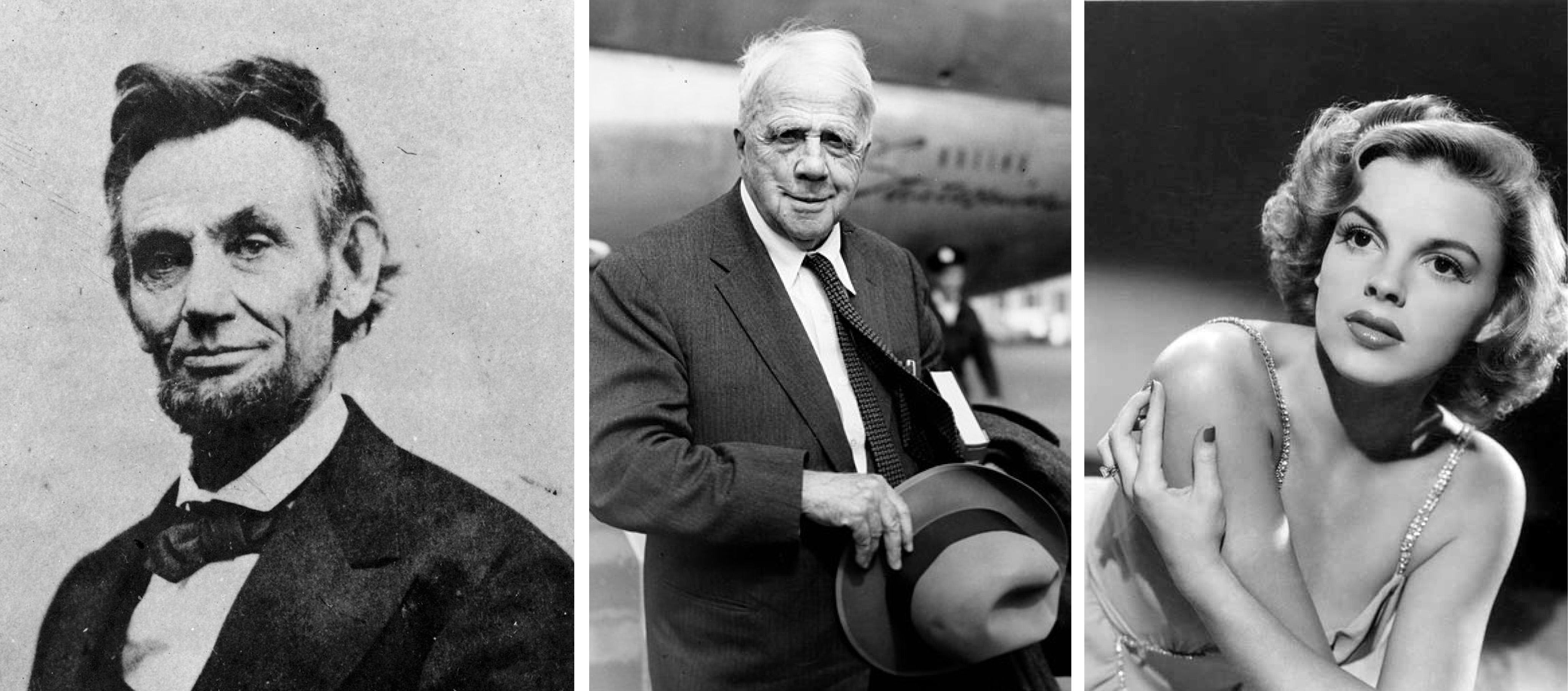 "Whatever you are, be a good one." —Abraham Lincoln
"Two roads diverged in a wood, and I, I took the one less traveled by, and that has made all the difference." —Robert Frost, "The Road Not Taken," 1916
"Always be a first-rate version of yourself, instead of a second-rate version of somebody else." —Judy Garland, 1961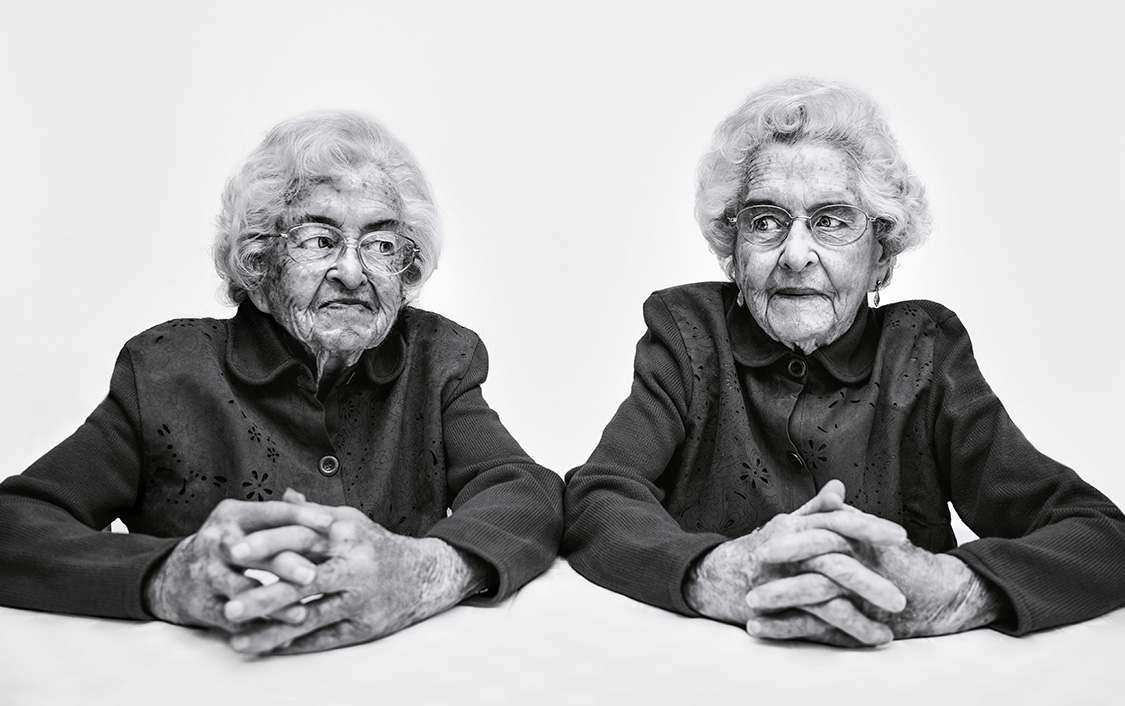 "Be honest, give lots of love, and keep a close family."
The Inez twins are among the extraordinary Americans—who have all celebrated their one-hundredth birthday—who show that wisdom is the reward for perseverance. (If I Live to Be 100: The Wisdom of Centenarians).
---
Learn Something New:
Learning something new each day is easy. Gaining knowledge is a proven way to keep the mind sharp, expose you to new things, combat boredom, and never run out of interesting small talk. One thing you'll learn is you can never know too many facts:
Important architectural touchstones of our time: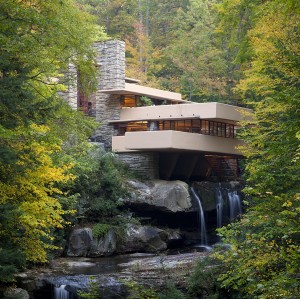 Fallingwater
Pennsylvania, USA 1939
Cantilevered on rocks over a 30-foot (9m) waterfall, Frank Lloyd Wright's organically designed house in southwestern Pennsylvania seems to defy gravity. Made of reinforced concrete and steel, it represents his belief in the harmony between humanity and nature.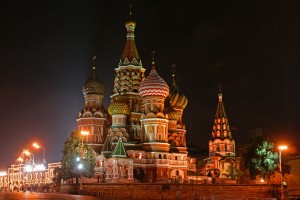 St. Basil's Cathedral
Moscow, Russia 1561
Commissioned By Ivan the terrible to celebrate victory over the Mongols in 1552, this cathedral has nine chapels of varying heights, eight with domes that create a star-like pattern, rising from a pedestal platform in Red Square. Each dome has a unique character; some feature zigzag patterns made from colored tiles; others have shaped brickwork. Its exterior is eccentric and impressive, but inside it is dark and labyrinthine.
(from 100 Buildings: Every Student Should Know 1900-2000)
Important moments in rock & pop:
"The Day The Music Died," 1959
On February 3, Buddy Holly, Ritchie Valens, and "the Big Bopper" hired a chartered plane. It crashed, killing all on board, an event immortalized in Don McLean's "American Pie".
"Rapper's Delight" is the first rap hit 1979
Underpinned by the bass line from Chic's "Good Times," The Sugarhill Gang's breezy boasts of lyrical prowess and lady appeal sound featherlight against Public Enemy, N.W.A., or Eminem. Indeed, the single was regarded as a novelty at the time. But it was a sizable hit (UK No. 3; US No. 36) and put rap on the map.
(from 10,000 Things You Need To Know)
Your place in this world:
What would the world's population look like if it was reduced to 100 people? The World as 100 People takes this premise and presents our human population as a small global village. Each person represents 70 million people, which is approximately the population of France.