HOLIDAY GIFTS FROM RIZZOLI
November 29, 2016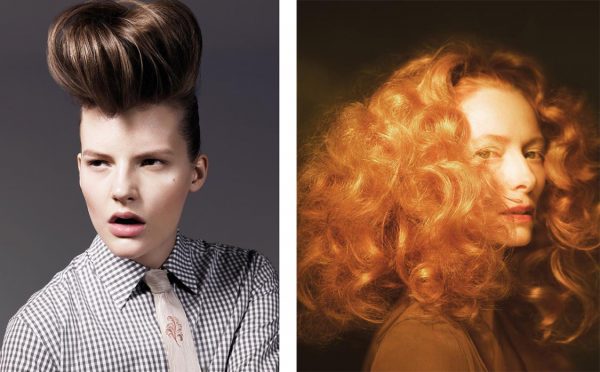 The holiday season is upon us once again—that time of year when family, food, and fun brings us together in celebration and gift giving. We all strive to find that perfect gift, and no matter who you have on your holiday gift list–be it a fashionista, a pet-lover, a chef, or a design aficionado—Rizzoli has a number of gift books that are sure to please every interest.
Rizzoli invites you to view our list of gift suggestions below, and if you don't find what you're looking for here, be sure to browse the categories at left for hundred's of additional ideas. Thank you and Happy Holidays from Rizzoli!
---
FOR THE FASHIONISTA
Hair by Sam McKnight (Image at top)
A bounty of hairstyles, from nostalgic to androgynous, that have transformed women throughout the past forty years, from the legendary Sam McKnight, one of fashion's leading hairstylists. With photographs spanning McKnight's entire career, this book is a dramatic anthology of looks–from retro to androgynous, romantic to sexy, red to platinum–all from the master hairstylist's deft hand.
Image from Hair by Sam McKnight Left: Jem Mitchell / Sara Blomqvist, Right: Glen Luchford / Tilda Swinton
---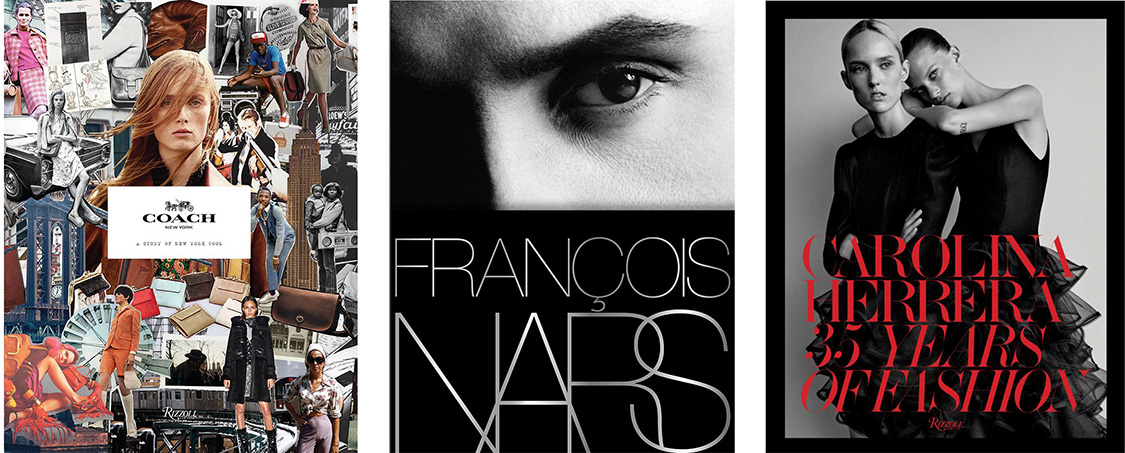 Coach
Celebrating the 75th anniversary of this iconic luxury brand, this book presents a vibrant visual survey of Coach's American style.
Francois Nars
An invitation into the beautiful and inspiring world of François Nars–makeup artist, photographer, and iconoclast.
Carolina Herrera: 35 Years of Fashion
The first book on the design career of Carolina Herrera, to be released on the occasion of the house's thirty-fifth anniversary.
---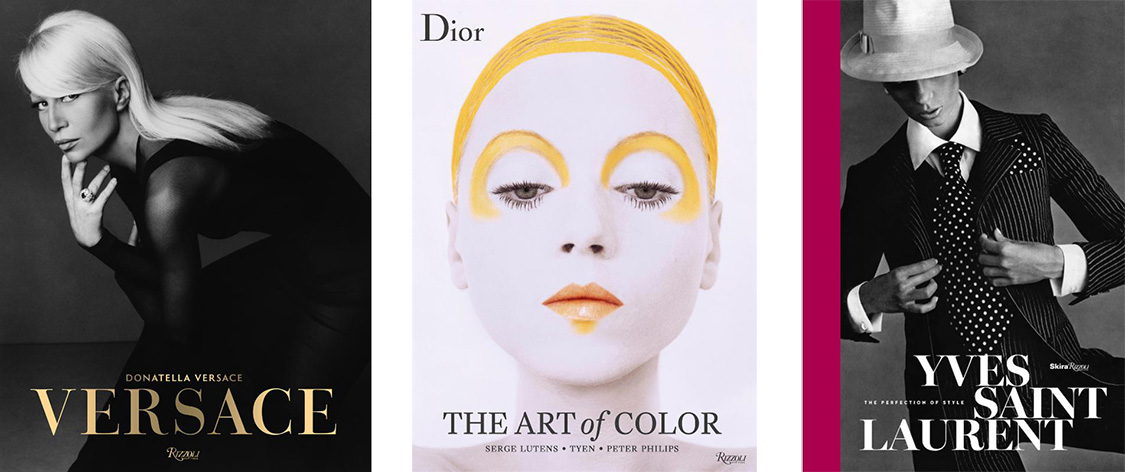 Versace
A long-awaited and highly intimate visual history of Versace, the glamorous and globally renowned Italian fashion house.
Dior: The Art of Color
This exquisite book takes the reader on a kaleidoscopic journey through the history of makeup, style, and color at the revered fashion house of Dior.
Yves Saint Laurent: The Perfection of Style
An intimate look at the famed designer and his work, revealing his artistic process and influence.
---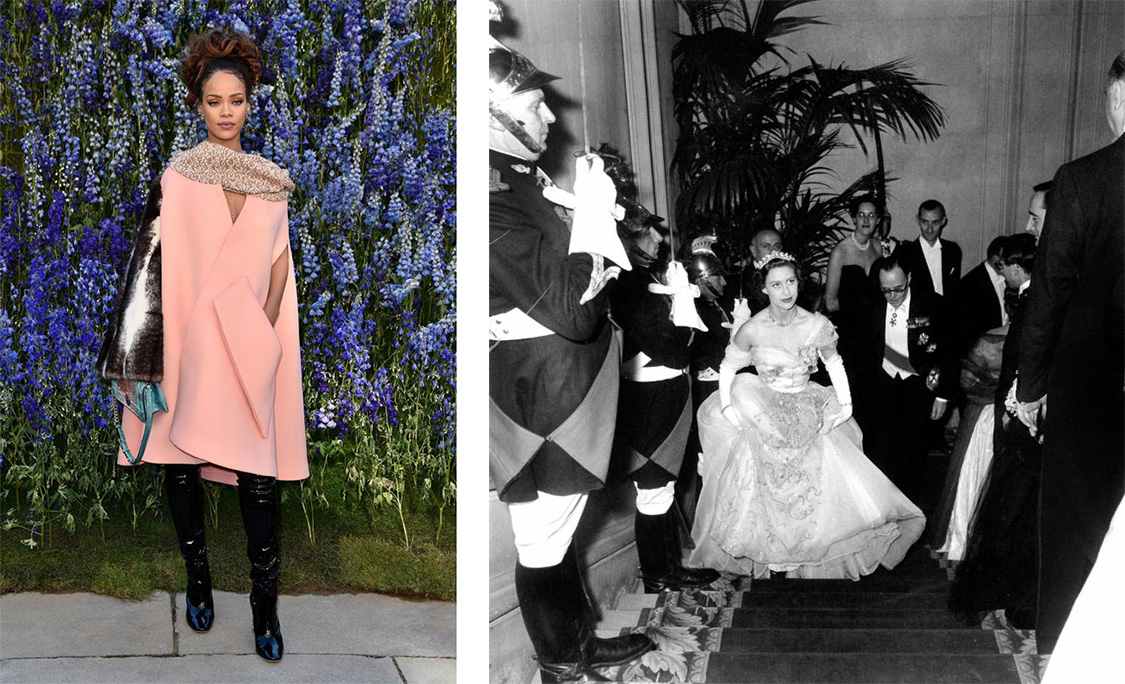 Women in Dior: Portraits of Elegance
Embraced worldwide from the very first collection, Dior's creations have dressed celebrities, debutantes, and other notable figures for generations. This new exquisite tome from the House of Dior focuses on the many extraordinary people who have brought the celebrated designs to life. Through fashion photography and rarely seen and never-before-published illustrations and letters from Dior's archive, readers will discover the relationships that inspired the couture and helped build the venerable fashion house.
Left: Princess Margaret, 1951 © Rue des Archives/AGIP, Right: Rihanna, 2015 © Getty Images for Dior
---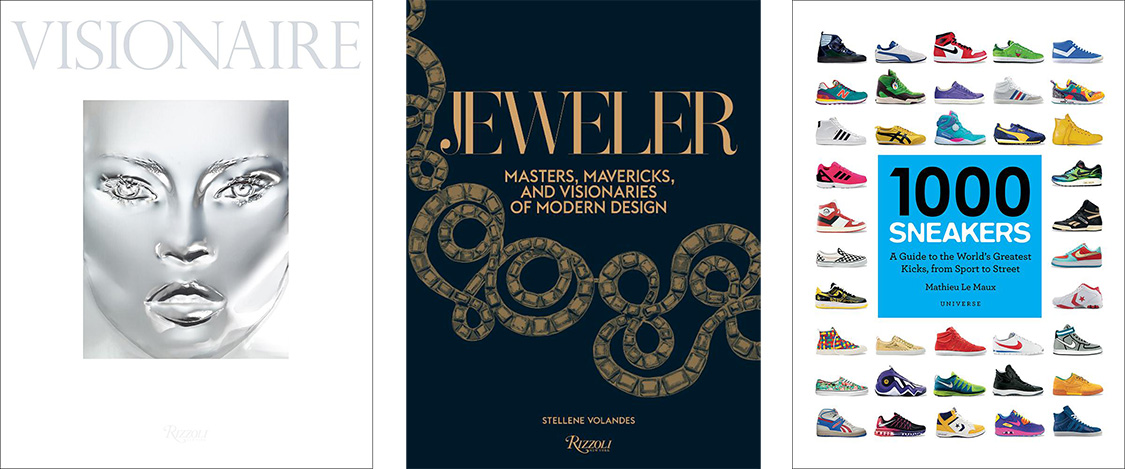 Visionaire: Experiences in Art and Fashion
Showcasing twenty-five years of iconic art, fashion, and design content from renowned New York-based publication Visionaire.
Jeweler: Masters, Mavericks, and Visionaries of Modern Design
This stunning, glamorously designed survey highlights the artistry, expertise, and inspiration behind the work of today's most fascinating and influential jewelry designers.
1000 Sneakers:
A Guide to the World's Greatest Kicks, from Sport to Street
A visual history of the world's most coveted and popular footwear, from early Keds and Converse All Stars to the latest fashion and design icons.
---
More Gifts Below:
For the Interior Decorator
For the Foodie
For the Host and Hostess
For the Art Aficionado
For the Coloring Addict
For the Pop Culture Junkie
For the LGBTQ Community
For the Adventurer
For the Animal Lover
For the Gardener
For the Historian
---
FOR THE INTERIOR DECORATOR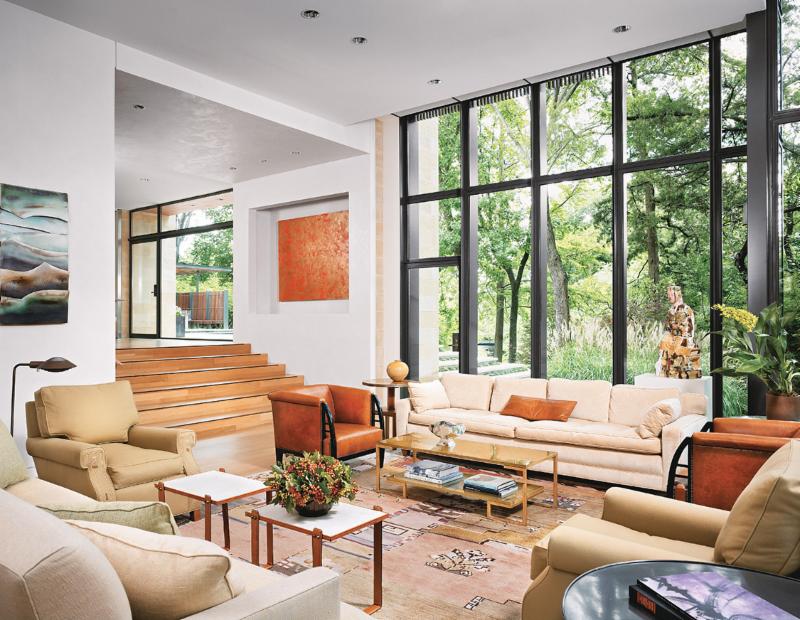 Interior Design Master Class:
100 Lessons from America's Finest Designers on the Art of Decoration
Poised to become the essential book on design, Interior Design Master Class collects the expertise and knowledge of the best interior designers working today. Opening Interior Design Master Class is like sitting down to the best dinner party you've ever attended. A classic in the making, the book features one hundred essays by America's top designers-from established design legends to members of the new guard-that explore in detail the process of designing a home, from the fundamentals to the finishing touches.
---

Beautiful: All-American Decorating and Timeless Style
This New York Times bestselling book from interior designer Mark D. Sikes is a celebration of American style today, showcasing chic and accessible ideas for every home.
Cecil Beaton at Home: An Interior Life
A private view of the genius of Cecil Beaton, reflected through his passion for interior design, gardening, and entertaining a circle of Bright Young Things.
Great Houses, Modern Aristocrats
Intriguing stories and celebrated histories of some of the leading families of Great Britain and Ireland and their opulent residences.
---

Left: Francios Catroux
This first volume on François Catroux is a comprehensive consideration of the work and life of an international master of interior design.
Right: Perfect Bath
A chic, polished guide to creating your dream bathroom, including engaging interviews with top designers and practical advice for homeowners.
---

Wanderlust: Interiors That Bring the World Home
Dramatically lush interiors that show readers how spaces can be inspired by travel and filled with treasures from around the world.
Kelly Hoppen: The Art of Interior Design
Kelly Hoppen offers a wealth of experience and advice on achieving your signature style, making this a definitive master class in home design.
Inson Dubois Wood: Interiors
The interior design work of the New York-based architect and an essential resource to creating luxurious modernist spaces.
---
FOR THE FOODIE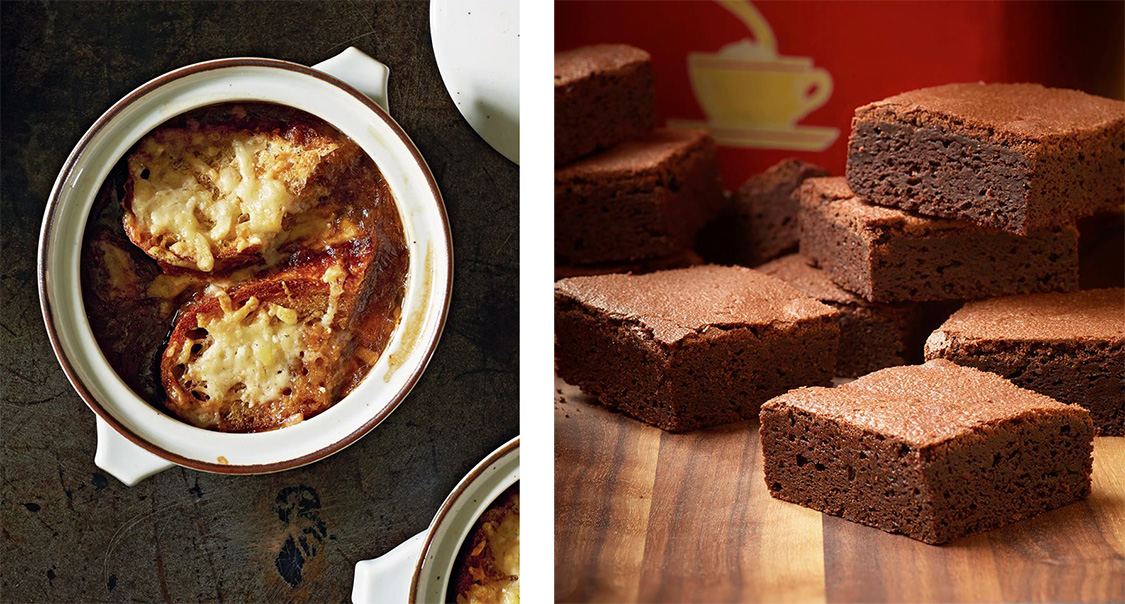 Soup Nights:
Satisfying Soups and Sides for Delicious Meals All Year
A year-round cookbook featuring one hundred soups and sides that makes soup the centerpiece of any meal.
Enjoy this free recipe for MIDNIGHT IN PARIS: ONION SOUP GRATINÉ
There's Always Room for Chocolate:
Recipes from Brooklyn's The Chocolate Room
The pure fun of classic American chocolate treats thanks to The Chocolate Room's simple mission: to create treats that bring back those original childhood memories of the pure joy of chocolate.
Enjoy this free recipe for BROWNIES.
---

Shop Cook Eat New York:
200 of the City's Best Food Shops, Plus Favorite Recipes
Shop Cook Eat New York provides an insider's tour of more than 150 of the best-loved and most-visited culinary outlets in the city.
Silver Oak Cookbook: Life in a Cabernet Kitchen
Seasonal Recipes from California's Celebrated Winery
In this cookbook, Chef Dominic Orsini shares over one hundred of the winery's favorite recipes, each paired with a different varietal. Filled with stunning photographs of the magical surrounding landscape, this gorgeous large-format cookbook is sure to make the perfect gift for any food and wine lover.
Cooking School: Mastering Classic and Modern French Cuisine
Presenting nearly 200 recipes, each illustrated with full-color, step-by-step photographs, and expert instruction from master chefs.
---
FOR THE HOST AND HOSTESS

The Art of Entertaining: Relais & Châteaux
Menus, Flowers, Table Settings, and More for Memorable Celebrations
For all seasons and all occasions, a comprehensive entertaining book that provides the best ideas for your parties, both intimate and grand.
The Art of the Cheese Plate:
Pairings, Recipes, Style, Attitude
Master delicious, sophisticated entertaining with foolproof pairings and quick recipes for elegant cheese plates and inspired accompaniments.
A Bride's Planner:
Organizer, Journal, Keepsake for the Year of the Wedding
Both a stylish organizer and a source of inspiration, A Bride's Planner is an indispensable resource for planning a wedding.
---
FOR THE ART AFICIONADO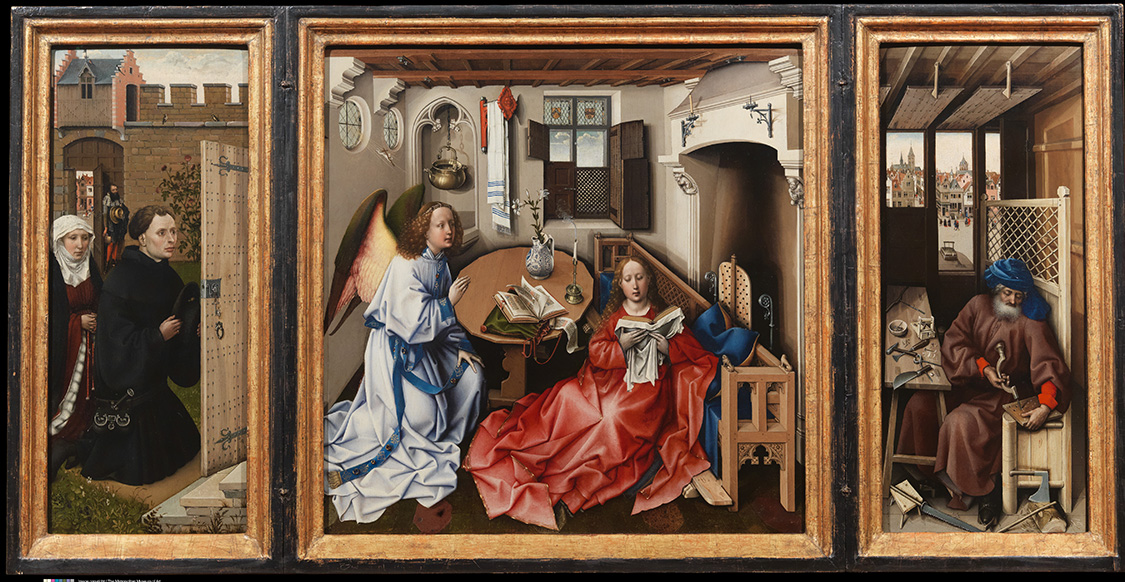 Annunciation Triptych (Merode Altarpiece), ca. 1427–32
The Metropolitan Museum of Art: Masterpiece Paintings
This monumental new book is the first to celebrate the greatest and most iconic paintings of one of the largest, most important, and most beloved museums in the world. This impressive volume's broad sweep of material makes it at once a universal history of painting and the ideal introduction to the iconic masterworks of this world-renowned institution. Lavish color illustrations and details of 500 masterpieces, created over 5,000 years in cultures across the globe, are presented chronologically from the dawn of civilization to the present. This important volume is sure to become a classic cherished by art lovers around the world.
---

Fairfield Porter: Selected Masterworks
The first comprehensive survey of the beloved figurative realist painter Fairfield Porter to be published in more than two decades.
Misty Copeland
This stunning volume of photographs captures the sculpturally exquisite and iconic ballerina.
Color Your Own Masterpiece:
30 Paintings from the Renaissance to Expressionism
This beautiful book brings together thirty major works of art history, from the fifteenth to the twentieth centuries, to discover and make one's own through the creative and meditative act of coloring.
---
FOR THE COLORING ADDICT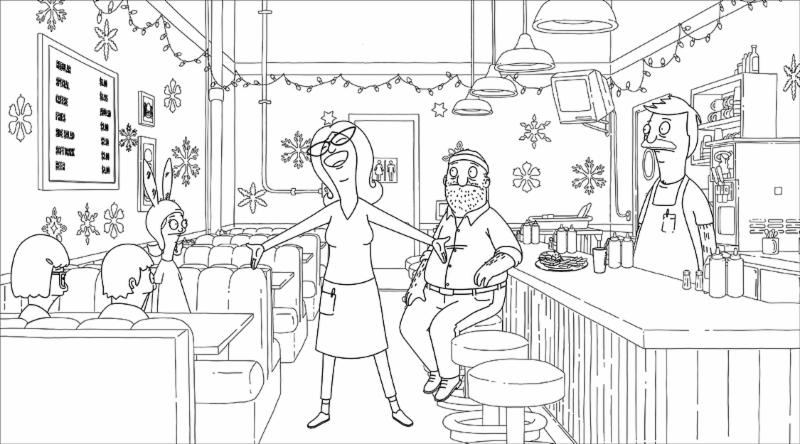 The Official Bob's Burgers Coloring Book
This coloring book serves up not only images of the best moments of the show, but also enough puns and fun to have the show's ravenous fans salivating with hunger and hilarity.
---
FOR THE POP CULTURE JUNKIE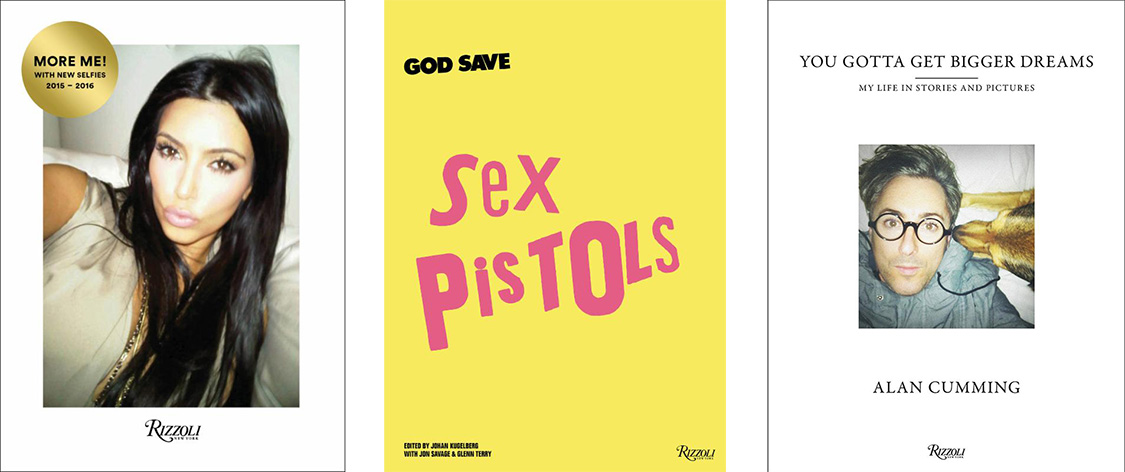 Kim Kardashian West:
Selfish: More Me! With New Selfies 2015-2016
The newly updated book dedicated to Kim Kardashian's selfies, featuring 64 new pages of the latest snaps of her children, family, and some of the world's most prominent figures.
Sex Pistols
Previously unseen material of the original punk band-the group that defined a movement, energized a generation, and brought punk music and the safety-pin aesthetic to the mainstream.
You Gotta Get Bigger Dreams: My Life in Stories and Pictures
A magical concoction of the mischievous, tender, whimsical, and debauched real-life adventures of Alan Cumming, told in his own words and pictures.
---
FOR THE LGBTQ COMMUNITY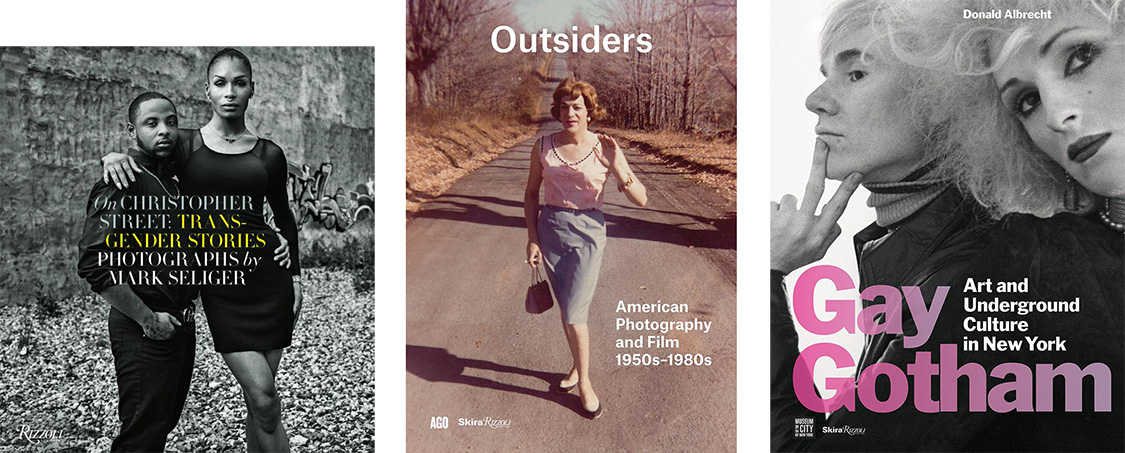 On Christopher Street: Transgender Stories
For his latest book, photographer Mark Seliger's documentary-style portraits capture the color, flamboyant characters, and theatre of a famous, but vanishing neighborhood.
Outsiders: American Photography and Film 1950s-1980s
Idealists, outsiders, and those brave enough to be themselves, as depicted by visionary photographers and filmmakers including Diane Arbus and Nan Goldin, reveal another America.
Gay Gotham: Art and Underground Culture in New York
Uncovering the lost history of gay, lesbian, bisexual, and transgender artists in New York City.
---
FOR THE ADVENTURER

Left: The Pacific Crest Trail: Exploring America's Wilderness Trail
This official book celebrates the history, beauty, and importance of the West Coast's most iconic hiking trail.
Right: The Arctic:
Reflecting the Landscape, Wildlife, and People of the Far North
Stunning scenery, magnificent wildlife, and native cultures in this unparalleled collection of photography.
---
FOR THE ANIMAL LOVER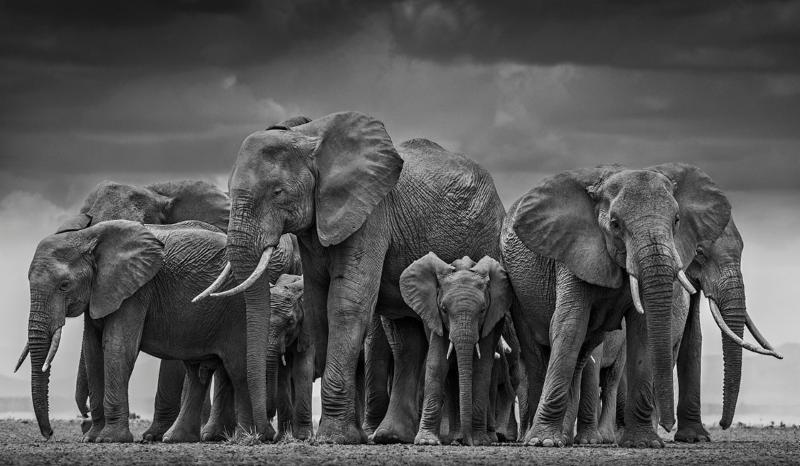 Wild Encounters:
Iconic Photographs of the World's Vanishing Animals and Cultures
From big cats to elephants and indigenous communities, Wild Encounters is a must-have for nature lovers, conservationists, and anyone who is inspired by all that remains wild. David Yarrow travels from pole to pole and continent to continent to visit frozen Arctic tundras, vast African deserts, primordial rain forests, and remote villages, inviting us to truly connect with subjects we mistakenly think we have seen before. Yarrow takes the familiar-lions, elephants, tigers, polar bears-and makes it new again by creating iconic images that deliberately connect with us at a highly emotional level.
---

Left: Neville Jacobs: I'm Marc's Dog
The Instagram photographs of the glamorous life of Neville, social-media superstar and esteemed companion of the fashion designer Marc Jacobs.
Right: Horses: Portraits by Derry Moore
A tribute to horses, their riders, stables, and the equestrian lifestyle around the world.
---
FOR THE GARDENER

Left: In Bloom: Creating and Living With Flowers
Inspiring new ways to connect with the beauty of flowers in everyday life.
Right: Capability Brown: Designing the English Landscape
In celebration of his 300th year, a definitive survey of Capability Brown's most famous gardens and landscapes in Britain.
---
FOR THE HISTORIAN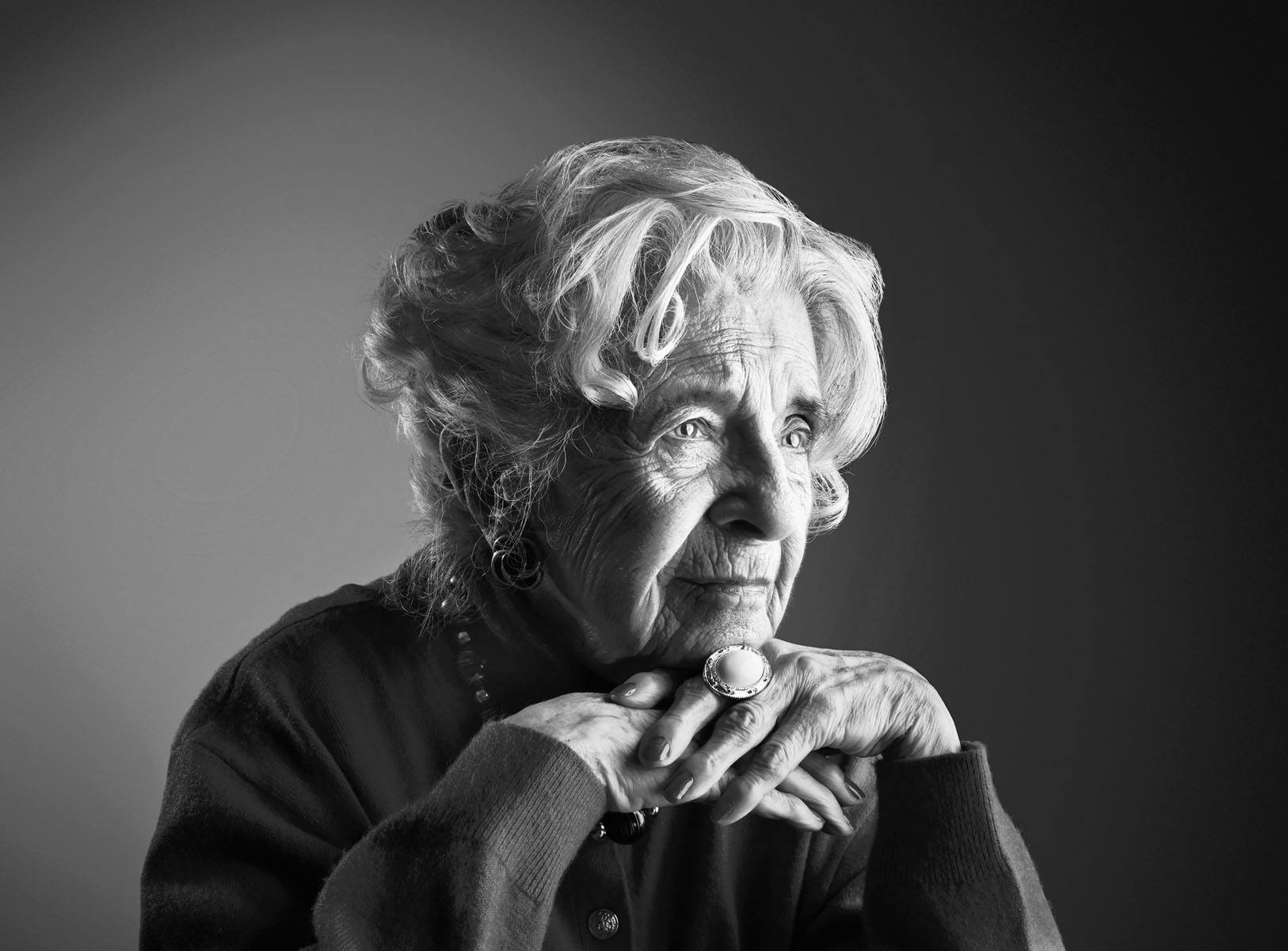 If I Live to Be 100: The Wisdom of Centenarians
Paul Mobley traveled to all fifty states to find these indomitable, extraordinary centenarians. In this inspiring collection of intimate and powerful portraits, direct quotes, and personal stories, we learn that wisdom is the reward for perseverance. The centenarians in Mobley's stunning portfolio are eyewitnesses to a century dominated by world wars and conflicts, space travel, and cultural and digital revolutions. Their stories are inspirational, educational, and deeply touching. In them, we are reminded that love, loss, hope, and grief are essential ingredients in a full life and that humor can get us through the worst of times.
---

1001 Quotations To Enlighten, Entertain, and Inspire
An invaluable tool for public speaking, writing, and anyone wishing to make a memorable impact with or be inspired by words.
10,000 Things You Need to Know: The Big Book of Lists
This treasure trove of facts, trivia, and bite-size summaries covering diverse areas of knowledge will delight the legions of fans of "best of" lists.
The Art of Hanukkah
A rich celebration of Hanukkah, featuring centuries of extraordinary art and artifacts.